August 28, 2015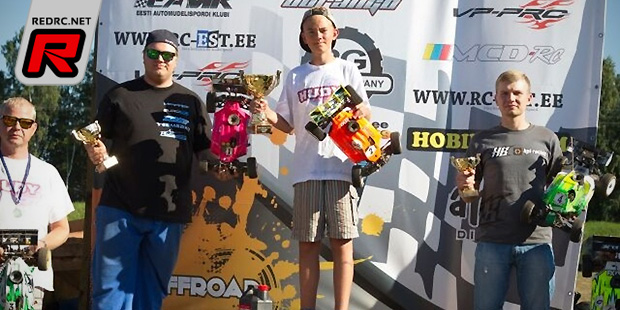 The 2015 Baltic Championships were held at the freshly renovated Tartu racetrack with drivers from Latvia, Lithuania and Finland in attendance. In the 1/8th Nitro Buggy class Rainer Ressar was able to grab the TQ by winning three of the five qualifiers. The 45 minute main final at first saw Rainer in the lead and even building a gap on the field but problems with backmarkers cost him some time later on, allowing Hendrik Lainemäe to catch up. After a pit incident when Rainer was blocked by another car Hendrik made it through and he was able to cruise to the win despite a chasing Rainer who started closing the gap to the leader. Ultimately Hendrik brought home the title from Rainer with Igoris Vilcinskas completing the top 3.
1/8 Nitro Buggy final result:
1. Hendrik Lainemäe
2. Rainer Ressar
3. Igoris Vilcinskas
4. Jaanus Saare
5. Rihard Lainemäe
6. Risto Haug
7. Romet Virkus
8. Reimo Kosk
9. T. Lattik
10.Edgars Kikans
Elsewhere in the 1/8th E-Buggy class it was again Hendrik Lainemäe who came out successful, this time in front of Karl Kasekamp while Igoris Vilcinskas again completed the top 3 result.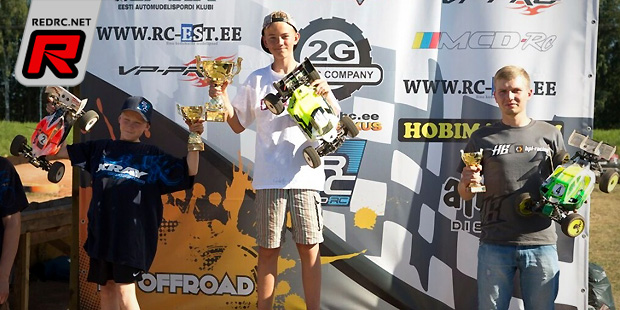 1/8 E-Buggy final result:
1. Hendrik Lainemäe
2. Karl Kasekamp
3. Igoris Vilcinskas
4. Hans Hannus
5. Toni Järvinen
6. Jaanus Saare
7. Domantas Cesiulis
8. Risto Haug
9. Rihard Lainemäe
10.Kristaps Kikans
Source: Xray [teamxray.com]
---