August 24, 2015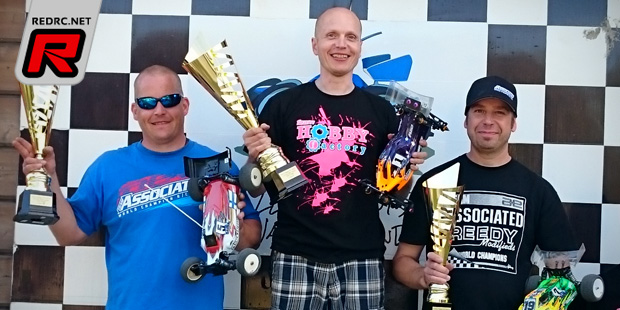 This past weekend the first ever unofficial 40+ 1/10th Electric Off-road World Championships were held in Vaasa, Finland. Run at the same track that hosted the 2011 IFMAR World Championships the event attracted a good amount of drivers. Finnish racer Jari Itävuori made a clean sweep in the 4WD qualifiers to take the overall TQ by winning all four qualifying rounds. Sami Salmela started from second on the grid and Peter Ylikorpi came in third. The opening 4WD A-main then had Itävuori scoring the win with Salmela second and Ylikorpi third.

A2 and the standings were mixed-up a bit as the top drivers made mistakes, allowing Jori Mykkänen to take the win. For the third and final leg four drivers had the chance to take the title and it looked like TQ Jari Itävuori would be in control of the race until he had a coming together with a back marker. Salmela and Ylikorpi were then be hot on the heels of Itävuori in closing stages and the final corner, some 1.5 meters before the finishing line, was the decisive point of the race. Itävuori tipped the car and Salmela did the same and the final leg winner had to be announced by video referee. Ultimately it was Itävuori who crossed the line first to take the unofficial 40+ Worlds title from Jori Mykkänen and Sami Salmela.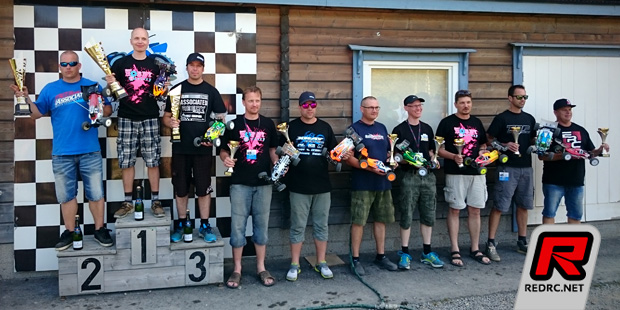 In the 2WD class Finnish driver Sami "Grandpa" Salmela grabbed the TQ from his fellow countryman Peter Ylikorpi and Jori "Fireman" Mykkänen. In the finals Salmela controlled the opening A-main with a clean drive although Ylikorpi gave him a lot of pressure on the first laps. Ylikorpi then scored in the second main after a very exciting leg. Salmela finishing second and this meant the title decision would have to wait until the third A-main. Ylikorpi made a mistake in the first jump combination after the start and dropped to 5th which made Salmela's race easier although Mykkänen was pressing hard on Salmela who was able to conserve the position to the end to cruise to the title. Peter Ylikorpi ended the 2WD class on the runner-up spot, Jori Mykkänen came in third to complete the podium result.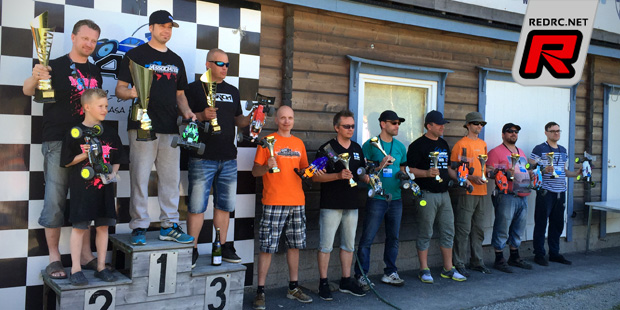 Thanks to Juha Mäki for the report.
---