August 4, 2015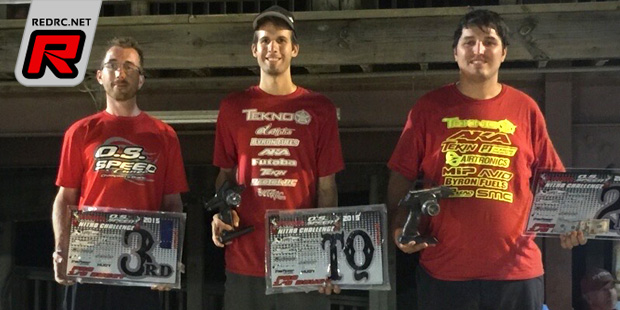 The OS/Futaba Nitro Challenge was held at the St. Louis Dirtburners track with a turnout of over 200 entries. The Levi Jackson built track was a lot of fun, watered and the grip level was pretty decent. As the sun got strong though the track began to dry quicker and it was made a decision to let it groove in early and hopes were it would hold together. By the end of practice on Friday everyone became aware that this wasn't going as planned. The track got super dry and while there was a nice groove it had little holes in that groove that continually grew and spit out sand, dirt, and rocks. By the end of the weekend the track was a complete challenge as finding a setup to traverse the conditions was tricky. Everyone bemoaned about finding consistency and some found themselves using medium hardness tires, even though the conditions were loose.

Friday night though was where the competition began with the first round of qualifiers getting under way, mostly under the lights. Out of the gate in Q1 Ryan Lutz got off to a great start with a TQ in all three classes. Q2 started on Saturday and in E-Buggy though Lutz made some mistakes and Joe Bornhorst eked out the TQ by 0.3 tenths. In Nitro Buggy Lutz TQ'd the round for the overall. So going into round 3 Ryan just needed to TQ E-Buggy to TQ all three classes. It was between Joe and Ryan and as Joe made some mistakes early Ryan was able to seal the deal and take the Hat Trick of TQs.
Sunday brought the hottest day of the weekend and the main were on tap. The opening A-main of Nitro Buggy for the first 7 minutes or so was a 5-way battle. TQ Ryan found himself in all those positions throughout that time as everyone was struggling with the surface. Lutz did get out front though and was able to run a clean finish to take a 20 second victory as most others had flame outs in the pits. Ryan Lutz' goal for A2 then was to finish top 3 and be within one position and 20 seconds of Joe. At the start Ryan held the lead for a few minutes. Wheeler though was on a mission and he got by when Lutz made a mistake. Ryan would follow him the remainder of the race and take a solid 2nd. Overall though he would take the victory with the first and the second. Joe Bornhorst would finish 2nd, Josh Wheeler 3rd.
A-main 1 of  Truggy was a dialed race for Ryan Lutz. He was able to get out and pull away to a lap and a half victory after the 20-minute race. A2 was a rinse and repeat of A1. With the win Ryan would take the overall victory from Joe Bornhorst and Josh Wheeler.
In A-main 1 of E-Buggy Ryan Lutz held off Joe Bornhorst for a couple laps at the start but that setup Lutz went for made his buggy very hard to drive. He did what he could to hold on but Joe got by and put in a good run and ultimately Ryan finished 2.5 seconds back in second. A2 of E-Buggy was next and Ryan Lutz needed to beat Joe Bornhorst. Ryan put himself in a hole on the first lap straddling the pipe and flipping over and falling back to 5th. He would crash again the next lap and soon found himself over half a lap down and out of contention even though his buggy felt better than in A1 due to softening the shocks a bit, but he just made too many mistakes. His battle now became to preserve 2nd overall so he fought back the whole race. On the last lap Ryan had moved to 3rd and had 2nd in his sights. He reeled him in and Ryan thought they beat the loop but it caught both and he finished just tenths behind in 3rd, but overall Ryan would take 2nd behind Joe Bornhorst.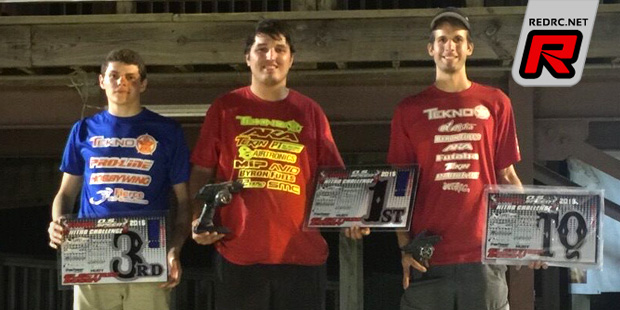 Source: Ryan Lutz [lutzinator.com]
---