August 12, 2015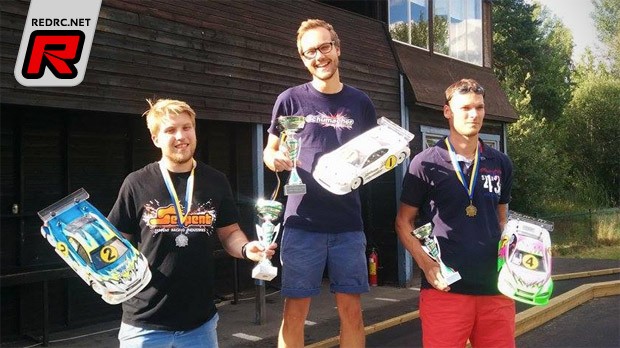 Last weekend the Swedish Nationals was held at the newly resurfaced Skarpnack track in Stockholm. The track was really in super condition, super flat and high traction and the weather was also great with the sun out all weekend. The total entries was quite low it was a quality field with Niclas Nilsson (Serpent), Alex Andersson (Yokomo), Andreas Johansson (Serpent), Markus Elmerfors (Xray) and Magnus Vässmar (Schumacher) all looking fast after Friday's practise. Qualifying kicked off on Saturday with 3 out of 5 rounds counting and it was Magnus who took 2 from 3 rounds on Saturday leaving the TQ to be decided in Sunday's 2 remaining rounds. Niclas had 1 TQ and Alex two 2nds overnight.
On Sunday Magnus took the 4th round in the morning and thereby secured the overall TQ with Niclas Nilsson lining up 2nd on the grid, Alex Andersson in 3rd and Andreas Johansson in 4th. In the first final Magnus led from start to finish and had around 4 seconds gap to Niclas with Alex finishing in 3rd. In the second final Magnus led the way again with Niclas making an early mistake that put him way down the field. Alex, Andreas and Markus had a good fight for 2nd and 3rd but Magnus took a win by around 10 seconds, thereby securing the overall win. For the 3rd and final it was very open for the podium places but in the end it was Niclas who took 2nd overall with Andreas taking 3rd tied on points with Alex.
Thanks to Magnus Vässmar for the report.
---