August 24, 2015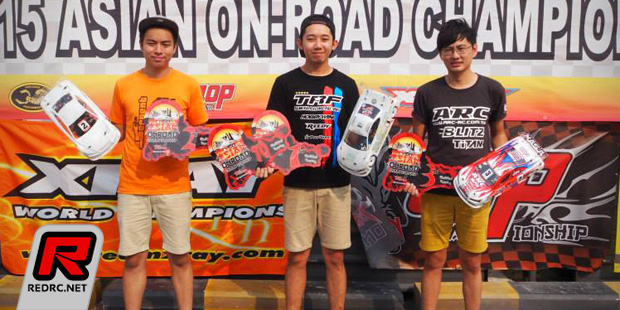 The 3rd round of the Asian On-Road Championships was held at the Urban Playspace track in Singapore. Despite a low turnout of drivers for the event, competition was high with most of Singapore's top drivers present along with a few racers from Malaysia. The race format saw six qualifying rounds of which four counted toward the qualifying result. Nicholas Lee was the man to beat in the Touring Car Modified class and he would take the TQ in front of Daryl Thong who battled it out with PY Tang for the 2nd place on the grid.
Touring Car Modified qualifying top 8:
1. Nicholas Lee
2. Daryl Thong
3. PY Tang
4. Esmail Apandi
5. Norazam
6. Shahrin
7. Dominic Quek
8. Dennis Chiang
The race had a unique format, with only the top 6 qualifiers making the main final as direct qualifiers while the top 2 drivers from the B-main would proceed to the A-main. The main finals then would see a clean sweep from Nicholas Lee (Tamiya) who scored wins in A1 and A2 to grab the overall win early. Sitting out A3 Nicholas made way for Daryl Thong (Serpent) who was under pressure from PY Tang and Esmail Apandi but he was able to take the win in order to cement his overall runner-up spot. PY Tang (ARC) would then round out the top 3 result.
Touring Car Modified A-main result:
1. Nicholas Lee
2. Daryl Thong
3. PY Tang
4. Esmail Apandi
5. Norazam
6. Shahrin
7. Dominic Quek
8. Dennis Chiang
Source: Serpent [serpent.com]
---