August 10, 2015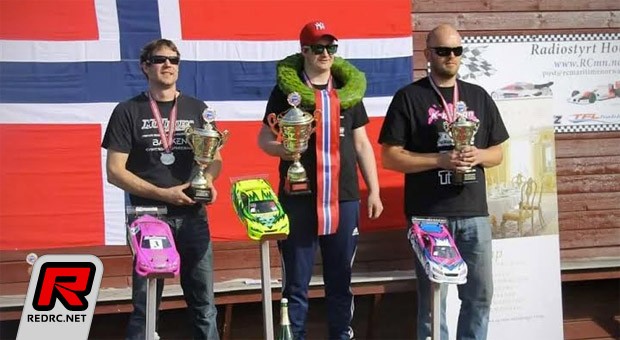 The Norwegian national championship was held at Lorenskogs track just out side of Oslo over the weekend. The race format saw 5 rounds of round by round qualifiers followed by triple mains. From early on in the qualifiers it was clear that it would be a race between local ARC driver Helge Johannessen and Schumacher driver Nikolai Haaheim for the TQ. Nikolai went on to take the first two qualifiers, from Helge in second. Helge then made some drastic changes to his setup, upped his pace and took round 3 and 4. Also setting the fastest time, securing overnight TQ. Xray driver Rune Svetol was sitting in third.
On Sunday morning, Nikolai set a new TQ time in his heat, a tenth faster than Helges fastest time for Saturday in his early heat. Helge, running in the last heat got his game on and beat that time again by 1.7seconds. Unfortunately for Helge he arrived late to marshalling and lost his fastest result, handing the TQ spot to Nikolai. Rune Svestol went on to secure third on the grid in front of the Serpent of Oyvind.
In the first final Nikolai ran a safe run with Helge close on his tail all of the 5 minutes, leaving no room for Helge to pass. Oyvind and Rune came together on the opening lap, and would both eventually retire. Local driver Geir Bjarte secured third in the first final. In the second final Nikolai once again went on to run a near perfect 5 minutes not giving Helge any room to pass. Helge made a small mistake towards the end, giving Nikolai a rest from the pressure securing the title. Helge finished the final second in front of Rune and Oyvind. In the last final Helge and Nikolai would drop down the field after coming together when Nikolai closed the door a little bit too late. This allowed Rune Svestol and Oyvind to get away up front. Running almost identical lap times Rune would eventually go on to take the last final from Oyvind and Helge.
Overall results:
1. Nikolai Haaheim – Schumacher
2. Rune Svestol – Xray
3. Helge Johannesen – ARC
4. Oyvind Stusdal – Serpent
5. Geir Bjarte Terum – ARC
6. Morten Bremsrund – Yokomo
7. Oskar Fjeld – Xray
8. Lars A. Andersen – ARC
9. Tobias Sanden – Yokomo
10. Andre Roine – Xray
Thanks to Stusdal for the report.
---