August 11, 2015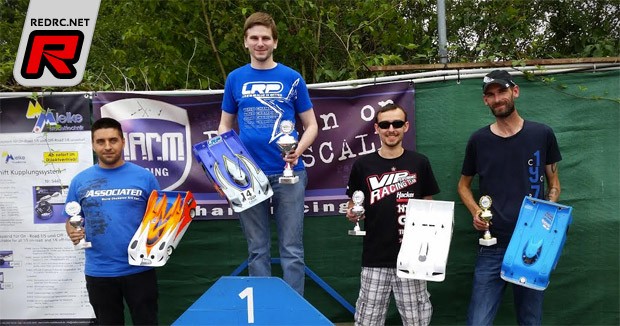 The 5th round of the Pro10 RC Lemans series was held this past weekend at the track from the MCC Rhein Ahr in Bad Breisig/Germany. The event was also the warm up for the upcoming Pro10 Nationals in 4 weeks. The track had high traction and got more over the weekend however with rain in the 4th and final heat of the fastest Modified group the other groups could take advantage of it. With 2 rounds counted, in the modified class it was defending Champion Tobias Weist took the TQ spot in front of Tim Altmann, both from Germany and Patrick Miltat from France in 3rd with Andreas Dick and Kai Altmann completing the Top 5.
In the finals, Tim Altmann benefitted from mistakes of pole-sitter Tobias Weist and won easily in all finals. Patrick Miltat made his first Podium place with the runner up spot in the RC Lemans while Tobias Weist completed the Podium in 3rd. With Tim ́s win, he is one of the main protagonists for the title at the Nationals, which take place at the weekend of 6th of September at the same venue where he claimed his 2nd of 3rd titles back in 2009. The 3rd place was enough for Tobias to defend his RC Lemans title early, with 2 races remaining.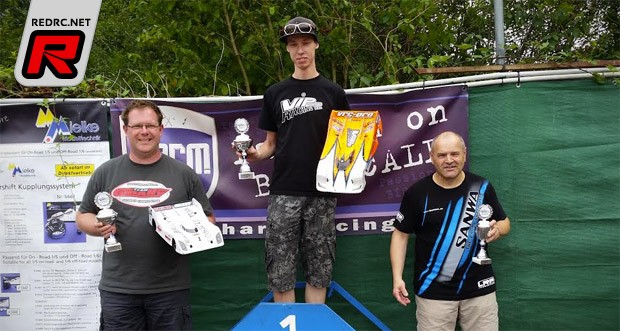 In the stock class Timo Schad took an easy TQ in front of Championship Leader Sascha Lennartz and Joachim Graul, all from Germany. Timo drove to an easy win in all 3 legs with a margin of more than 1 lap. The podium was completed by Sascha Lennartz, who extended his lead in the ranking, with Joachim Graul taking 3rd.
The 6th round of the RC Lemans takes place at the fast track from the MCC Hamm club in Germany, beginning of October.
Source: RC Lemans [rc-lemans.de]
---