September 28, 2015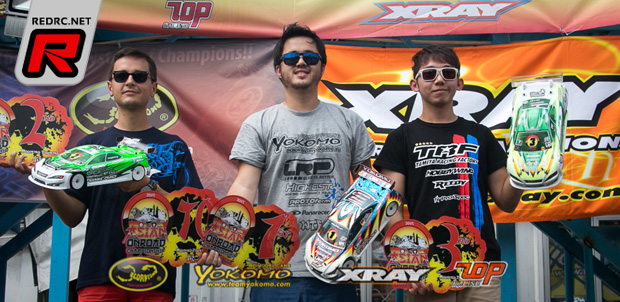 After Saturday's thunderstorm and rain scare, the sun was back for Sunday allowing the race to proceed with the final two rounds of mains to decide Asia On-road Championship's 4th round champions. It was do or die time for Xray's Alexander Hagberg with Yokomo's Ronald Volker taking a close win in A1. Much like in A1, Volker pushed hard on the 1st lap to get a comfortable gap between him and his rivals. Trading lap for lap, Volker's lead remained 0.8 seconds throughout the race. With time running out, Hagberg was pushing maximum and unfortunately caught the curb and rolled his car with a minute left. This would allow Volker to cruise to his 2nd win and take the overall in the Modified Sedan class. Hagberg would finish just 1.7 seconds back from Volker for 2nd followed by Nicholas Lee in 3rd.

In the 13.5 Boosted Sedan class, TQ and local favorite Ian Lee was on a mission to recover from an unfavorable A1 finish. With Yokomo's Araya already having one win, the pressure was on. While getting on the straightaway Araya would roll his car and was forced to retire. This gave Lee the ability to drive his own pace and uncontested and winning A2 with relative ease. PBoy would just edge out Yeung Wai Ho to finish 2nd and 3rd respectively.
The action had started from 9 am with round two of 17.5 Stock Sedan. Having taken the win in a close battle with Sven Boehringer in A1, FC Wu was looking to repeat his win for A2. However, with a wide turn in the first corner, Boehringer was able to take the lead early on and never looked back. By taking the win in A2 the decisive showdown was set for A3. 14 year old Bevan Chan would finish 2nd and Autumn Chan in 3rd for A2.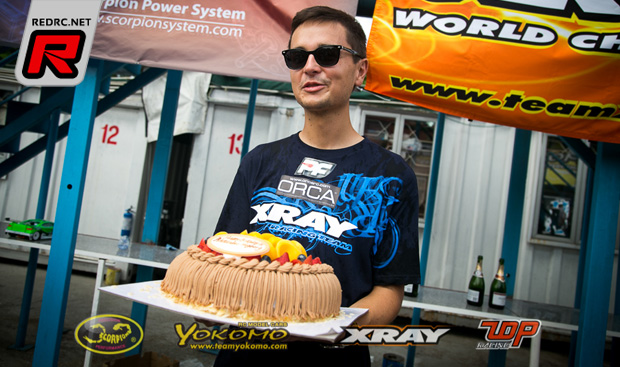 The third A-main of Modified Sedan was all Hagberg. Leading from start to finish and putting in a flawless drive, Alexander, who was celebrating his Birthday on Sunday, was able win his first main with Volker sitting out. Posting a 5:07.1 during the hottest part of the day, Hagberg's time was the fastest run of the triple a-mains and even eclipsing Volker's previous A1 and A2 times. From Singapore, Nicholas Lee would finish 2nd and Yokomo's Meen Vejrak 3rd in A3.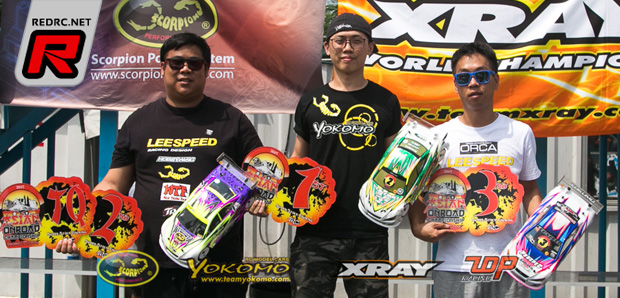 The start of 13.5 Boosted sedan saw Leespeed's Ian Lee shoot wide right from the start allowing A1 winner, Yokomo's Araya to sneak past and take the lead. From there, it was a constant attack from Lee, but cool, collected Araya was unshaken and was able to fend off multiple attacks from Lee to take the win and the overall. Lee would finish 2nd giving him 2nd on the podium followed by PBoy with an excellent 3rd place finish.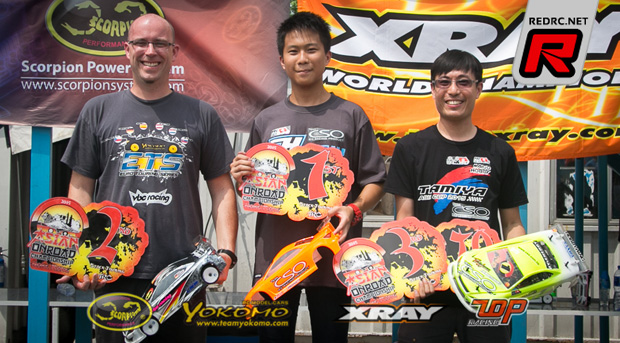 The final showdown in 17.5 Stock Sedan had an interesting twist. FC Wu would lead the group around and start to gap himself from the field with a clean start relative to his competition. Boehringer would get shuffled back in the field after a rough first lap giving 2nd place to Bevan Chan. Chan would eventually start to reel in Wu and pressure him into a mistake. Wu would enter the chicane section with the wrong line and kart-wheel his car giving the lead to Chan. From then on, Chan was on cruise control to take the win making it a 3-way tie for the overall between Wu, Boehringer, and Chan. After the tie-breaker results, Chan would be crowned your 17.5 Stock Sedan champion, Boehringer 2nd and Wu in 3rd.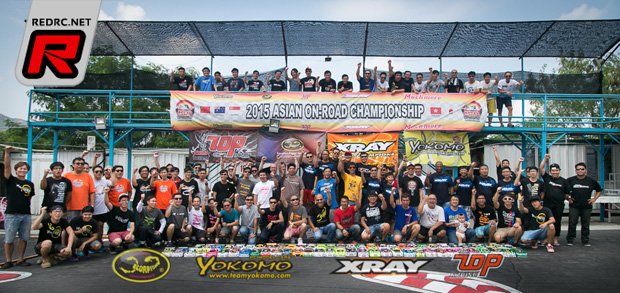 Thanks to Thomas Tran for the report.
---