September 9, 2015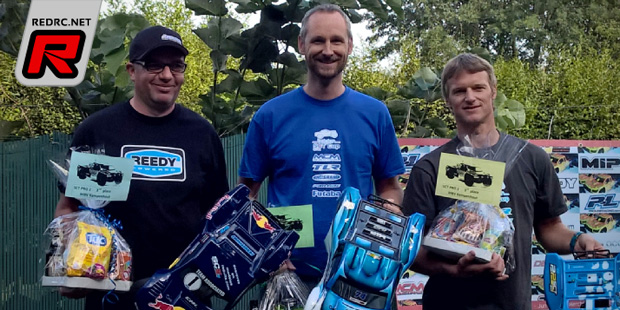 The MBV Kampenhout played host for the fifth round of the Belgian SCT Cup on their fun yet selective astro turf track. The day started off wet and slippery and the track would stay like this until the fourth qualifying round. In the Pro2 class, Laurent Halluin (Team Associated) would take three of the four qualifiers to grab the overall TQ with the only 12 laps run. Runner-up Nicolas Evens (TLR) scored one round TQ and two second places to obtain the 2 spot on the grid in front of Tom Pierard (TLR) who completed the top 3 result.
Pro2 qualifying top 3:
1. Halluin Laurent – Team Associated
2. Evens Nicolas – TLR
3. Pierard Tom – TLR
In the Pro4 class, Sam Puttevils (Losi) would bring home three rounds to take the pole position for the finals from Willem-Jan Keyaerts (Team Durango) who scored one round TQ. With two second places Hans Vranckx (Tekno) would start from third on the grid.
Pro4 qualifying top 3:
1. Sam Puttevils – Losi
2. Keyaerts Willem-Jan – Team Durango
3. Vranckx Hans – Tekno
The opening Pro2 A-final started out very clean. Laurent Halluin, Nicolas Evens and Tom Pierard would run like a freight train in the opening stages until Laurent and Nicolas shifted into second gear and slightly pulled away. On lap 4 Laurent made a mistake, allowing Nicolas to pass and to win the leg. In A2, Laurent and Nicolas had an even closer battle, with Nicolas taking the inside on the wall. Laurent would maintain the pressure for the race but he would not come close enough to take back the lead. Tom ended up third, compensating for his retirement in first round. Nicolas then stepped out from final leg which Laurent won easily. Tom followed at a distance, with David Pauwels (Team Durango) on his tails.
Pro2 A-final top 3:
1. Evens Nicolas – TLR
2. Halluin Laurent – Team Associated
3. Pierard Tom – TLR
In Pro4, Sam Puttevils converted his TQ into a win in the opening leg. But it wasn't an easy task as Nick Vranckx (Team Durango) ended up only 3 tenth of a second behind Sam. Frédéric Fontaine (TeamC) would follow in third at his first race in the class. In the second leg, Willem-Jan Keyaerts would score a clean win. Behind him, Frédéric and Sam were battling for second and they would finish in that order. The last round again would be taken by Willem-Jan, closely followed by Nick and Frédéric.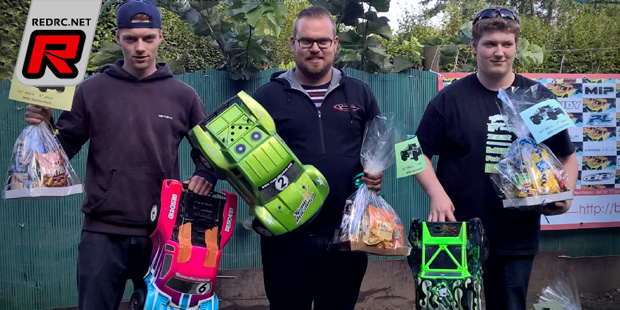 Pro4 A-final top 3:
1. Keyaerts Willem-Jan – Team Durango
2. Puttevils Sam – Losi
3. Vranckx Nick – Team Durango
With five of the seven rounds completed Nicolas Evens is sitting in front but Laurent Halluin in Pro2 and Sam Puttevils in Pro4 are hot on his heels for the championship.
Source: Belgian SCT Cup [belgiansctcup.be]
---