September 8, 2015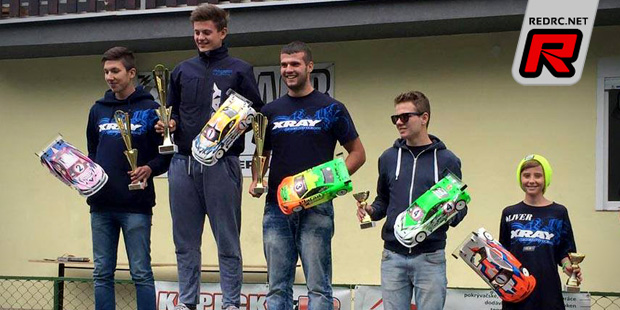 The Summer portion of the Czech Electric On-road Nationals was held at the Blansko track in the central part of the Czech Republic. The Touring Car classes would use LRP's G36 tyres and everyone was eager to get as many practice laps as possible and so already in Friday many drivers attended. The schedule was pretty similar to the Winter portion with two timed practice session followed by a reseeding and five qualification rounds all of which would be held on Saturday with Sunday being reserved for the mains only.

The fastest class of the weekend was of course Touring Car Modified where a close fight for the TQ between Marek Cerny and Kuba Simurda arose. Marek closely took TQ by two points but in the first final Kuba Simurda was able to win and the situation started to become interesting. In the second final Kuba Simurda lead, but a mistake allowed Marek to overtake and Kuba also suffered a body tuck which meant David Nemcek would take the second place while Kuba finished third. Before the final A-main everything was open. Marek took the lead right from the beginning ahead of Kuba, David and Jiri Vysin and none of them looked like they would be able to grab the win and once Kuba made a mistake, Marek was able to cruise to the win to take the Czech national title. Kuba Simurda and David Nemcek finished in second and third to make it a Xray podium lock-out.
Touring Car Modified A-final result:
1. Marek Černý – Xray
2. Kuba Šimurda – Xray
3. David Němček – Xray
4. Jiří Vyšín – Xray
5. Oliver Havránek – Xray
6. Karel Doležal – VBC Racing
7. Vítězslav Hola – Xray
8. Marcel Dostál – Xray
9. Pavel Martinec – Xray
10.Matěj Bábovský – Xray
The Touring Car Stock class held nice fights between young Oliver Havranek and local hero Jaroslav Kopecky. Oliver grabbed the TQ and for the finals he would expect huge pressure from Jaroslav who started in second. Finally Oliver was able to defend his position successfully and he snatched the title ahead of Jaroslav. Jakub Dalecky, coming from the 6 spot on the grid, made it another Xray podium lock-out.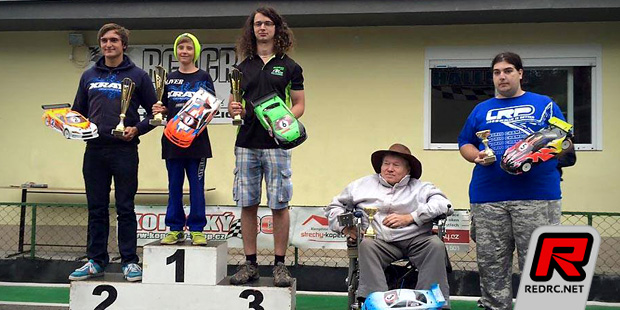 Touring Car Stock A-final result:
1. Oliver Havránek – Xray
2. Jaroslav Kopecký – Xray
3. Jakub Dalecký – Xray
4. Vlastimil Švec – Xray
5. David Měšťan – Xray
6. Pavel Magda – Xray
7. Martin Bábovský ml. – Xray
8. Zdeněk Šafář – Yokomo
9. Ondřej Kohoutek – Yokomo
10.Miroslav Loupý – VBC Racing
The Formula class was a 4-way battle between Andrej Vnucko, Vitezslav Hola, Ivo Gombik and Ludek Szostek. At the end Andrej took win from Vitezslav and Ivo in second and third respectively.
The opportunity for the hobby drivers to take part in Czech nationals was slightly overheard so only three drivers attended. Best of them was Vojtech Sehnal, who beat Vilem Augustynek and Martin Cerny.
Only five drivers attended the dying GT class. Andrej Vnucko, who already won the Formula class, was about to became double champ and he finally took the win from up and coming Ondrej Kohoutek and Jan Szostek.
Source: Xray [teamxray.com]
---