September 25, 2015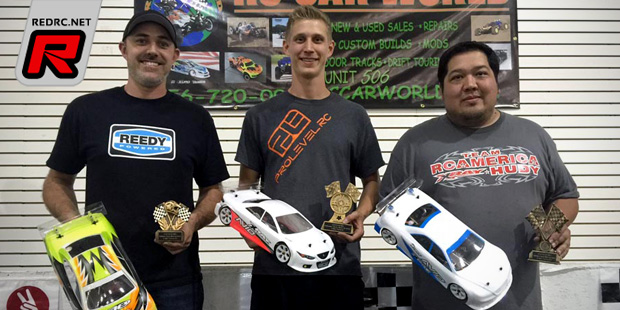 Round two of the RC Car World/Middle River Hobbies Halloween Classic Warm-up Series was held at RC Car World in New Jersey, with race number one held at Middle River hobbies in Maryland a week earlier. Many of the nation's fastest drivers came in preparation of the Annual Halloween Classic held in OH. With 55 total entries, Stock 17.5 Touring Car was the largest class with 31 entries and it featured many of the Northeast corridor's fastest drivers like Mike Gee, Craig Xavier, and Jeff Cuffs. Fresh off his TQ run at the previous warm-up race held at MRH the prior week, Xray driver Robbie Dodge came to the race looking to build on his momentum. Robbie would need his car to perform at its best to follow up his previous performance.

In the first round of qualifying Robbie dominated the field early, setting a TQ of 43/6:07.8, he was the only racer of the round to break the 43 lap barrier. Mike Gee (Awesomatix) with a 42/6:02 and Danny Jenkins (Xray) with a 42/6:05 rounded out the top three runs of the first heat. Round two would not be so easy for Mr. Dodge to hold on to his TQ as three additional drivers broke the 43 lap barrier, with Sam Issacs resetting TQ at 43/6:07.6 prior to Robbie's second run. Robbie's second run saw him paired with 2015 ROAR National Champion Mike Gee and fellow teammate Craig Xavier. Both had 43 lap runs, and help propel to a new TQ run of 43 6:02.3.
With such close competition the previous rounds, round three of qualifying promised to be full of excitement as Robbie, Mike, Sam and Craig all had their sights set on capturing TQ. With a reshuffle after round two the seven fastest drivers would all be driving together and one mistake, one bobble could prove costly as they made their assault on the TQ pace. Round three didn't disappoint with Sam Issacs running a 43/6:04.0, Mike Gee running a 43/6:02.2 and Robbie resetting TQ yet again with a 43/6:01.2. This would set the stage for an exciting A-main of Stock TC racing.
In the A-main Robbie had pole position and used to it to his advantage as Mike Gee attempted to run him down. These two old friends battled for the first 12 laps as Robbie was ahead to Mike. Robbie was on a 43/6:00 to Mikes 43/6:03 when a stroke of bad luck struck Mike to he tapped a barrier to end his run moving follow Xray Driver Craig Xavier into the second position and privateer Patrick Clark driving a Team Associated 3rd. With Robbie having a very comfortable lead over second place, the attention turned to the battle between Craig and Patrick for the final quarter of the race. On lap 18 Xavier had a 3.9 second lead on Clark, however, Patrick was able to find a rhythm and cut Craig's lead down 1.2 seconds before running out of time finishing third while Robbie Dodge successful completed the wire to wire TQ and win.
17.5 Touring A-main results:
1. Robbie Dodge – Xray
2. Craig Xavier – Xray
3. Patrick Clark – Team Associated
4. Manny Flores – Awesomatix
5. Danny Jenkins – Xray
6. Micheal Hanulec – Awesomatix
7. Mike Gee – Awesomatix
8. Sam Issacs – n/a
Source: Xray [teamxray.com]
---