September 7, 2015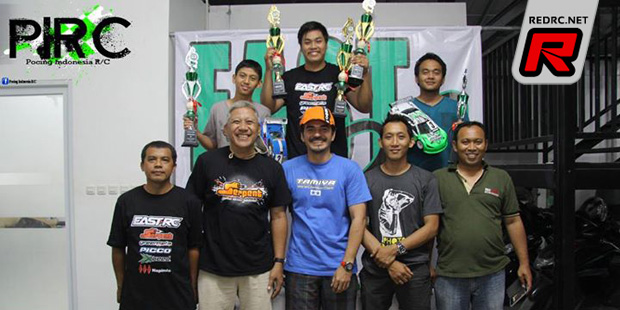 The East Speedway pre-opening race was held with a total of 45 racers attending in the 1/10th 13.5T Boosted, FWD and Mini classes. In the 13.5T Boosted TC category Bowie Ginting was able to grab the TQ with the only 27-lap run from Muhammad Izzah in second, who narrowly missed the 27-lap barrier with a 26 laps 5:00 run. Arya Seta and Christian Mamesah came in third and fourth after the qualifiers. In the FWD class Muhammad Izzah took the TQ from Bowie Ginting and Arya Seta.

In the opening 13.5T Boosted A-main TQ holder Bowie made a costly mistake as he rolled his car over a curb which allowed Muhammad to slip through and to take the win from Bowie. A2 then saw Muhammad making a similar mistake than Bowie in A1 and his gave Ginting the room needed to take the win, shifting the decision about the overall win to the third and decisive A-main. In the warm-up time before the race disaster stroke for Muhammad as he broke a shock end on his car so he needed to call for a time out and this meant he would have to start dead last. Up front Bowie Ginting was able to cruise to the win and to the overall victory ahead of Muhammad Izzah and Arya Seta.
Touring 13.5T Boosted A-main result:
1. Bowie Ginting
2. Muhammad Izzah
3. Arya Seta
4. Andy Sanjaya
5. Ronald Kasengkang
6. Christian Mamesah
7. Dede
8. Robert Hendrawan
9. Agung
10.Yusuf
In the opening FWD A-main Bowie was able to get past Izzah at the 3-minute mark and he cruised to the win some 4 seconds clear of Muhammad. Come leg 2 and it was again the package of Muhammad and Bowie who battled for the top spot and this time Bowie ran into problems while making contact with a backmarker. With an out-of-pace car he wasn't able to challenge Muhammad so again the third A-main would decide about the overall win. At first things looked good for Bowie who would profit from a mistake by Izzah but mechanical issues on Bowie's car allowed Arya to take the win. The tie-breaker then handed Muhammad the overall win from Bowie and Arya.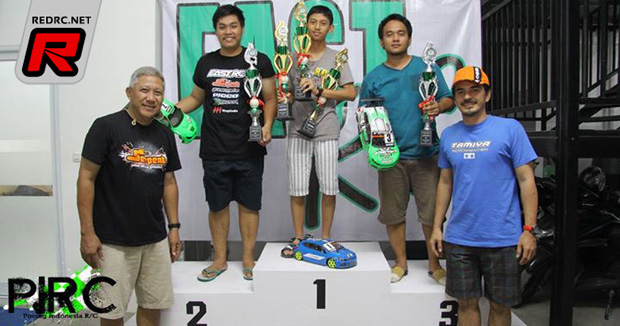 Touring FWD A-main result:
1. Muhammad Izzah
2. Bowie Ginting
3. Arya Seta
4. Dony Dobu
5. Fadil
6. Asep Dian
7. Agung
8. Reynaldi
9. Arie
10.Deny Rusli
Source: Serpent [serpent.com]
---