September 4, 2015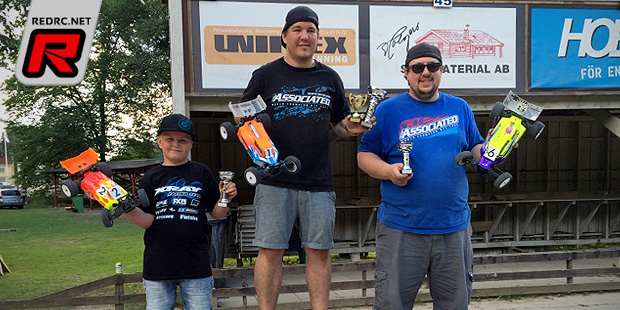 Round three of Swedish National Cup series was held in the small village of Viskafors, hosted by the Boras MRK club. Usually used for 1/8th off-road racing the track was pretty big for the 1/10th scale buggies and also the jump sections held some difficulties for the drivers as these were critical to score consistent and fast lap times. In the 4WD qualifiers Alexander Landen was able to TQ the first two rounds, but Niclas Mansson stroke back and took round three and four and he was also able to grab the overall TQ with a better tie-breaker to line up on the pole position for the triple A-mains.

The opening A-main was a pretty easy affair for Niclas after Alexander made an early mistake that cost him dearly. The young man was able to recover and he also scored the fastest lap with a 33.312 while all other driver did not scratch the 33s mark but it wasn't enough and Alex had to settle for third. In the second main Alexander started out a bit more conservatively, and this time it was Niclas Mansson's turn to make an early mistake. Alexander took it easy and let the number three car by and had to wait for a couple of laps before he could find a way past. He was then able to comfortably control the rest of the final from the front and he finished first with almost a full 14 seconds margin, again lapping in the lower 33's. The third and decisive final was all about Niclas and Alexander. After a clean start Alexander was running second after breaking free from the number three car. Later Alex traction rolled in the concrete section after the pace tightened and so he had to settle for second overall while Niclas Mansson took the win and with it the overall victory.
Swedish National Cup 4WD top 3 result:
1. Niclas Mansson – Team Associated
2. Alexander Landen – Xray
3. Michael Kronoström – Team Associated
Overall the series was won by Malin Karlsen (Xray) from Niclas Mansson (Team Associated) in second and Alexander Landen (Xray) who was able to secure the third place by coming in second at this third round.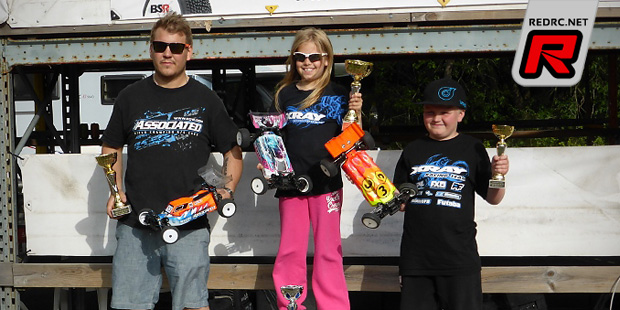 Source: Xray [teamxray.com]
---