September 21, 2015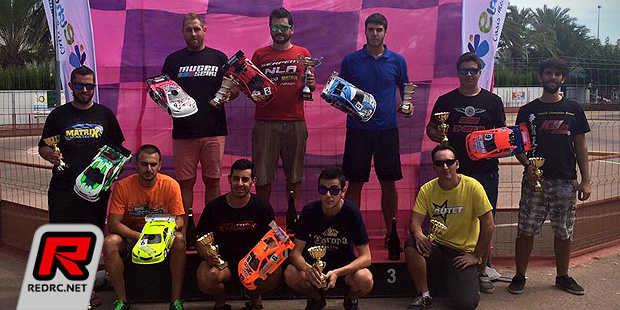 The fourth and final round of the Spanish 1/10th 200mm Nationals was held at the tight and technical Carsol track in Elche. Going into the final round four drivers, Nacho Lopez, Victor Pelaez, Jonnhy Pastor, and Carlos Ferrando had the chance to grab the overall championship title. The weekend started out with free practice on Friday on a very slippery track due to heavy rain the week before the race. From the start of the controlled practice on it became clear that the fight for the TQ would be between Nacho Lopez and Sergi Franch. After the qualifiers Sergi and Nacho were tie on points but with the better end for Sergi in the tie-breaker. Also directly qualified for the final were Carlos Ferrando and Jonnhy Pastor in third and fourth respectively. Victor Pelaez had a tough qualifying and ended in 6th place so far so he had to go through the semifinals to maintain his chance to grab the title.

The semifinal B was the faster of the two with Jose Miguel Blanco, Victor Pelaez, David Cuesta and Jose Luis Sanchez bumping up along Adrian Ortiz and Rubén Olivares. The A-final started with a flame out of the TQ driver and stop and go penalty for Carlos Ferrando. This made way for Nacho Lopez who had Jonnhy, Victor and Jose Miguel in tow. Nacho was in the lead till the second pit stop when his mechanics were not sure if they got the refuelling right and so they planned a safety stop to make sure Nacho would not run out of fuel. Later and with about 15 minutes to go Nacho's gap to his competitors was virtually not existing. In the closing stages Nacho was in a close fight with Jonnhy Pastor and after the 30 minute race both were only separated by less than a second. Ultimately Nacho was able to bring home the win and with the the overall title. Jonnhy ended the race on the runner-up spot, Jose Miguel Blanco rounded out the podium in third.
Final result:
1. Nacho Lopez – Serpent/Picco/Matrix
2. Jonnhy Pastor – Mugen/Novarossi/Matrix
3. Jose Miguel Blanco – Shepherd/Ielasi Tuned/APC
4. Victor Pelaez – Serpent/Tesla/Contact
5. Carlos Ferrando – Serpent/Novarossi/Matrix
6. Adrian Ortiz – Shepherd/Picco/APC
7. David Cuesta – Mugen/Novarossi/Matrix
8. Jose Luis Sanchez – Serpent/Novarossi/Matrix
9. Ruben Olivares – Shepherd/Novarossi/APC
10.Sergi Franch – KM/Novarossi/Matrix
Thanks to Nacho Lopez for the report.
---