September 4, 2015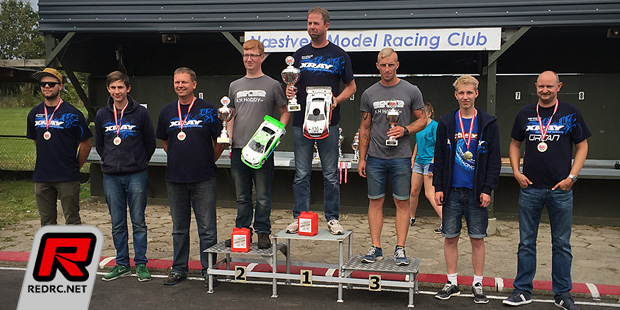 The 4th round of the Danish Nitro On-road Nationals was held in Naestved, Zealand, around 100 kilometres from Copenhagen. During Saturday's qualifying local hero Martin NO. Hansen was flying round his home track and Ramus B. Nielsen did the best he could to follow but he made some mistakes and went off of the track. Another fast guy, Claus Ryeskov, stayed concentrated and was able to grab the 2 spot after qualifying while Rasmus made it to third in the 1/10th 200mm class.
Qualification result:
1. Martin N.O Hansen
2. Claus Ryeskov
3. Rasmus B. Nielsen
4. Jack Holger Sörensen
5. Tom Limkilde
6. Bo Morten Larsen
7. Claus Jensen
8. Johan Larsen
9. Rene Kjellerup
Unfortunately the final day was rainy and Martin NO looked like he would bring home the win but Rene was running good, he had the best tires and he just had to keep his car on the track. At the end of the main Rene got his car and nerves under control and could drive to victory one lap ahead of Martin.
Final result:
1. Rene Kjellerup
2. Martin N.O Hansen
3. Claus Jensen
4. Claus Ryeskov
5. Rasmus B. Nielsen
6. Jack Holger Sörensen
7. Tom Limkilde
8. Bo Morten Larsen
9. Johan Larsen
Source: Xray [teamxray.com]
---