September 30, 2015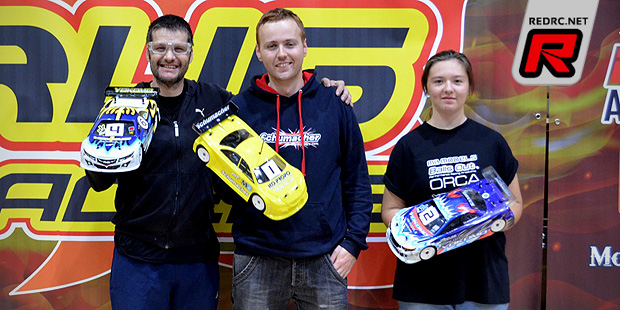 This past weekend the famous Rug Racers race returned to Wodson Park, although for those familiar with the series it looked somewhat different. This was a one off event called Rug Racers Reloaded, which the organisers felt needed to be dedicated to Martin Laxton for his vivacious love for HRCC and Rug Racers and the sport. Martin loved to help bring youngsters into RC racing, which was his forté, and those youngsters are still at HRCC to this day, be it a few years older. "The Martin Laxton Memorial Cup" was a one off Trophy, which was presented to Martin's son Stuart by his Mum Vicky, to look after, like his Dad looked after HRCC and Rug Racers.

It was obvious to see as soon as racers arrived that this year was different, the RR team had been releasing information over the last few months leading up to the event so most people had a good idea of what was in store. A new layout, rostrum, black "ETS" carpet, track perimeter and other more subtle changes are what greeted everyone. Onto the racing then, this year saw a change in the classes 13.5 has been dropped in favour of Modified in the TC classes to run alongside 17.5 Blinky, the GT class again features the growing GT12 class alongside this year's guest class of GT10.
Qualifying got under way with what is now a familiar sight at Rug Racers and HRCC with a podium full of kids, the future of our sport. This year there is no separate kids heat for GT12 as will be seen later they are holding their own amongst the adults so deserve the chance to race where they qualify. Darcie Smith was the early pace setter storming off with all four rounds with her closest challenge coming from Jake Vincent.
At the sharp end the main challengers were between Chris Wilkinson and Ben Vincent with Ben taking R1 and 2 while Chris nudged ahead in R3 and R4, R4 saw the top 4 within 3 seconds of each other so close racing in the drive for pole.
17.5 Blinky again produced some very close racing, Matt Worton the defending Series champion looking to get a grip early found himself pegged back by Jimmy Maddison who was fastest in 3 of the 4 rounds he would have the close attention of Colin Jackson and Malc Hall as well to contend with what would be an interesting finals encounter.
Modified Open was, well fast, due to some late drop outs there was a mix of abilities but they managed to police themselves very well indeed these cars are so quick that during the qualifying rounds it was impossible to read who was in first place. At one point two tenths of second separated the top seven racers. Andy Murray was fastest in 3 of the 4 rounds with Brian Eldridge edging R2, Harley and Ashley were running them very close for the top positions.
GT10 the guest class for this year, with power and grip provided some interesting racing, Martin Southall was the early pace setter with R1, Chris Wilkinson with the next 3 rounds with the very close attention of Owen Smith another of the clubs young stars.
Modified Open leg 1, Andy Murray who had been imperious all day was leading them off the line, the battle behind was to be more mixed with various incidents putting the order out resulting in many good comeback drives. Harley Eldridge fought back to finish 2nd ahead of an impressive drive from Terry Yarranton having recently switched to Mod racing. Leg 2 was a close affair between Andy and Ashley Wiffen after Harley fell back through the field on the opening lap, Brian Eldridge pushed Ashely hard from 3rd place and got the job done on lap 23 to take 2nd spot which he would hold until the end. Overall winner was Andy Murray from Harley Eldridge and Brian Eldridge in 3rd.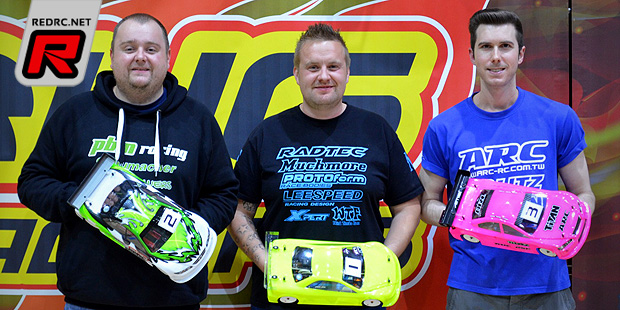 In the 17.5 A Final leg 1 Jimmy Maddison to lead off with the number 1 spot firmly affixed and lead from lights to flag with Matthew Worton 2nd and 2 tenths of a second separating them, Colin Jackson in 3rd. Leg 2 got off to a hairy start for everyone but the 1st two cars multiple incidents through the field let the two front runners break away leaving a mountain for the rest to climb. Jimmy and Colin raced hard for the duration with Jimmy taking the win for another perfect lights to flag display from Colin with Malc Hall a distant 3rd place. Jimmy Maddison took the overall win with Colin Jackson 2nd and the Matt Worton 3rd.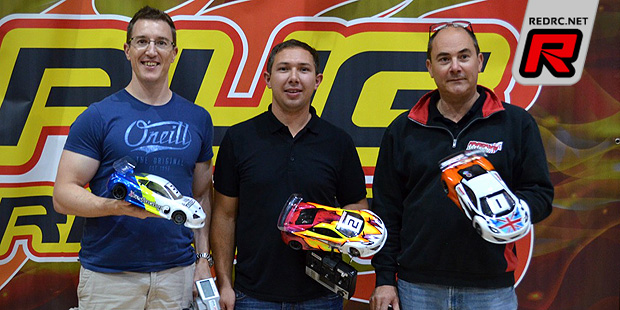 In the GT12 A-final leg 1 Chris Wilkinson on pole got away well but an incident on lap 2 left him chasing the field. The racing closed up in the final stages with Tim Hancock taking the win from Stuart Barber with the next four cars less than 10 seconds apart. Leg 2 got off to a flyer with Chris and Ben making a clean break from the field this left them in clear track to race for the full 5 minutes with the biggest moment coming on the line where Ben Vincent was able to take the win on the loop form Chris Wilkinson by 200ths of a second with Tim Hancock coming home in 3rd place.  Ben Vincent took the overall win for GT12 with Tim Hancock 2nd and Mr Mardave Chris Wilkinson in 3rd place.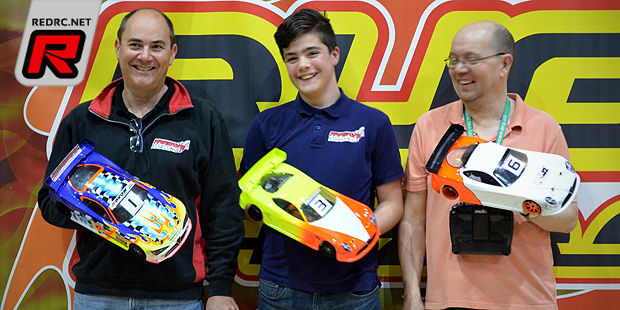 WGT Leg 1 saw Chris Wilkinson on pole, a 1st corner incident saw all cars behind involved in an accident that would allow Chris to scamper off up the track to a 7 second lead by the end of the 1st lap, once the carnage cleared Martin Southall gave chase but Chris took the win by 5 seconds.  Leg 2 was a clean start for all with Chris and Martin breaking form the field and building a gap while racing each other for the lead until lap 20 when 1st Chris Wilkinson's car stopped and less than half a lap later Martin Southall's car also stopped both with electrical gremlins. Michael Hull was able to power onto victory ahead of Owen Smith and Mark Passingham. Overall winner was the superb Owen Smith from Mark Passingham an Chris Wilkinson in 3rd place.
Source: The RC Racer [thercracer.com]
---