September 8, 2015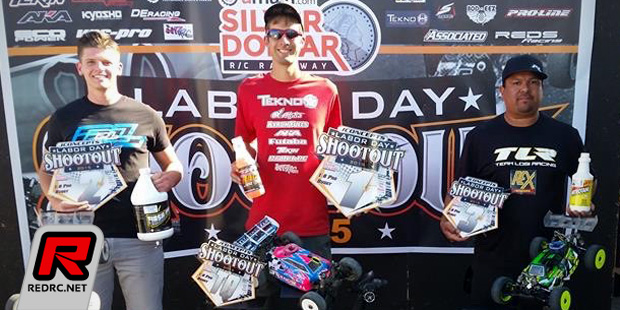 The Labour Day Shootout was held at A-Main's Silver Dollar Raceway with a good turnout of drivers from the West Coast in attendance. The track sported some sections left over from the ROAR Nationals and yet a few changes to make it feel completely different. The traction was a bit higher than at the Nationals with no real glossy slick areas. Saturday was qualifying proceedings and in E-Buggy and Nitro Truggy it was Ryan Lutz who would take the overall TQs early by taking round TQs in the first and second qualifier. Nitro Buggy was a different affair though and it would come down to the third qualifier between Curtis Door and Ryan. Curtis had a bad first lap and Ryan just got caught in traffic and made a mistake which allowed Atondo to take the round. Overall though based on the tie-breaker Ryan would TQ over Door.

The 30-minute Buggy A-main was a challenge for the TQ holder. At the start Ryan had a good first two laps before on the third lap he hit a rut, sending his car tumbling upside down on the back straight. Much of the field got by and it ended up being a 10 second crash. It took Lutz the next 9 laps to work his way back into 2nd place and he was about 11 seconds behind Door in the lead. Ryan got into a groove and slowly chipped away at his lead a few tenths a lap and he got down to 9 seconds and then Curtis crashed and Ryan got within 5 seconds. Then he put on the afterburners and reeled him in and on lap 39 Ryan put an inside pass on him before the line and took the lead and never looked back. By the end of the 58 laps Lutz had a 7 second victory over Door in 2nd and Atondo in 3rd.
E-buggy A1 and out of the gate Ryan Lutz flipped over on the triple upon landing and let the pack get by. It was now time to play catch up. He worked his way up to second and set his sights on teammate Mason Eppley. He reeled him in and got right behind him until coming onto the back straight he hit the same rut in the face of the jump as he did in Nitro Buggy and his car went nose high and landed on the wing sending him cartwheeling down the straight. Lutz ended up on his lid and Mason got a 10 second lead and he couldn't catch up again. So Mason won A1 by 8 seconds. In A2 it was a different story. Lutz stayed clean at the start and with the ride height adjustment before the main his car was working much better. Ryan ended up with a big victory beating his A1 time by 25 seconds and nearly dipping into the 29 second lap range with a 30.1, fastest of the weekend. Overall Ryan Lutz took the win over Mason Eppley in second and Charley Ross in third.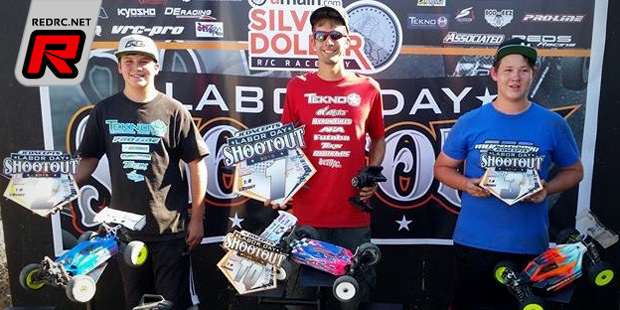 The 30-minute Truggy main went how most Truggy mains have gone for Ryan this year. He started on the pole and just pulled away. Ryan made one mistake in the main with every other lap being a 30 or 31 second lap time and he was able to take a 15 second lead over Door and Atondo as they battled throughout the race.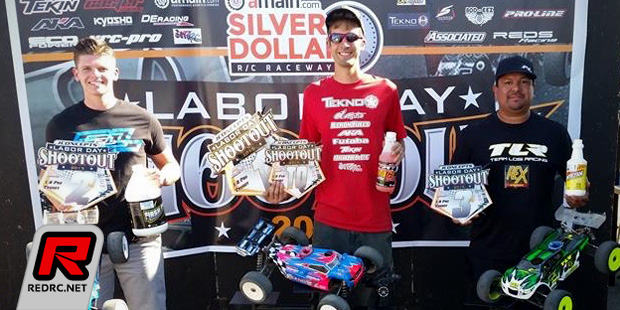 Source: Ryan Lutz [lutzinator.com]
---