September 15, 2015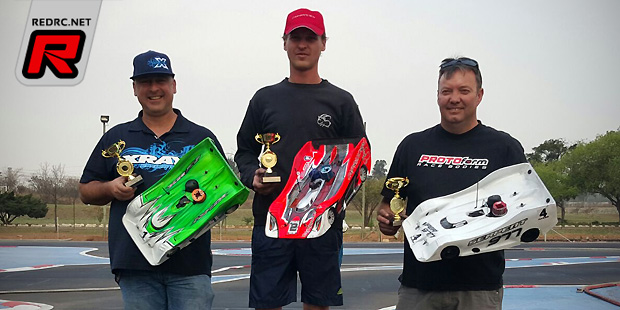 The TRAP RC Racing Venue just North of Tshwane, Pretoria played host to the 4th round of the South African Gas On-road Nationals. The penultimate round of the 2015 National series attracted around 50 entries to race in the premier 1/8th scale, as well as the 200mm Nitro Touring, 235mm and a new 1/8 Scale GT entry level class. The event was greeted with great weather, which kept track conditions consistent and drivers were happy to report that grip remained predictable for the 3-day event.

The event was not short of talent and experience with all the championship favourites in 1/8th scale and 200mm Nitro Touring ready to do battle. The Liebenberg brothers of Jacques and Conrad who have been dominant all year were ready to put the hammer down at their home track event, but competition was not easy in either the 1/8th scale or 200mm categories. 1/8th scale qualifying was not short of drama with South African 1/8th scale master Wayne Joelson (Mugen) suffering a collision with a marshall to dash his hopes of TQ. Joelson was set to fight hard at this event after a disappointing round 3 in Durban. In the end it was Antonio Cairoli (Xray) who would prove to be a potential championship contender, putting in the hot laps and consistency necessary to take the TQ in the fastest class. Jacques Liebenberg (Capricorn) was a close second followed by Joelson
The 200mm qualifiers showed some close racing between Conrad Liebenberg (Capricorn), Marius Stols (Capricorn), Warrick Atmore (Mugen) and youngster Kyle Munslow (Mugen). Munslow struggled a little bit for form in qualifiers after showing some incredibly quick times in practice but the overall battle for TQ would be between Atmore, Stols and Liebenberg. Liebenberg would win the battle after the first two rounds to take TQ for the fourth consecutive time, but not without some serious pressure from Atmore and Stols in the 3rd and 4th rounds. Liebenberg would also set a best time of 17:06 which showed he was in league of his own. 2nd and 3rd were taken by Stols and Atmore respectively.
235mm would see a dominant Mike Meyers (Capricorn) take TQ over a small field of Derrick Plank (Serpent), Tony George (Serpent) and Peter Plint (Serpent). 1/8 GT was also a small field of 4 drivers and it would be an experienced and consistent Wayne Breytenbach (Mugen), to take TQ over youngster Donovan Atmore (Mugen), Cathy Lester and Rodney Michael. Cathy would prove her skill to take a win in one of the qualifiers.
In 1/8th scale the top 3 battle would be the one to watch with Antonio Caroli, Jacques Liebenberg and Wayne Joelson, but the A-main was full to the brim with experience and talent including a number of drivers who will be present at the 1/8th scale Worlds in Brazil later this year. A clean start saw Liebenberg take the lead and he tried to pull a gap on Antonio and Joelson. An early knock on Caroli pushed him back to 7th leaving Joelson in 2nd and Caroli with a tough race ahead. This brought Mugen driver and Worlds participant Willie Noordman up into 3rd. Caroli kept focus and pushed back into 4th and put Noordman in the pressure zone to force a mistake and give Caroli 3rd, but still well behind Joelson and Liebenberg. Joelson kept the pressure on to the shorten the gap that Liebenberg had pulled, a quick fuel stop and capitalisation on a slow pit stop from team Liebenberg, put Joelson in the lead with a pit pass. Joelson pushed and put in some blistering laps, including a 17.16 and an estimated 150 lapper, but would sadly succumb to flame out on the 76th lap, giving the lead back to Liebenberg. This would not be the end of Joelsons woes as further trouble in the pits for a tyre change would end his top 3 contention for the race. Good battles between Noordman and Anderton Smith for 3rd and 4th and Beyers Hattingh and Shuan Schutte for 5th and 6th ensued further down. With Joelson out, Cairoli now had some clean air to chase Liebenberg and put the championship leader under pressure and reduce the gap for a pit pass during his tyre change. The rest of the race would continue as a pit battle and the team with the correct strategy would take the win. The Liebenberg's experienced pit crew would come out on top with a perfectly timed last pit stop, leaving Caroli with a splash and dash to give Liebenberg the well-deserved win. A race that went to show that its not always down to the driver, but the whole team.
1/8th scale A-main results:
1. Jacques Liebenberg – Capricorn – 147 Laps
2. Antonio Caroli – Xray – 147 Laps
3. Anderton Smith – Serpent – 141 Laps
4. Willie Noordman – Mugen – 140 Laps
5. Shaun Schutte – Xray – 133 Laps
6. Beyers Hattingh – Mugen – 132 Laps
7. Wayne Joelson – Mugen – 118 Laps
8. Henry Mostert – Mugen – 116 Laps
9. Johan Kirsten – Serpent – 37 Laps
10.Harold van Eeden – Capricorn – 14 Laps
Everyone was set for a tremendous pace in the 200mm A-mains but no one expected how much drama would unfold. A first corner tumble would see 2nd place qualifier Marius Stols be knocked to the back, it would mean a hard fight for him to get to the already ensuing battle between Conrad Liebenberg and Warrick Atmore. BRCCC driver Patrick Lester, who was starting show some much needed pace, was involved in a small scuffle with Stols which put him into the pit wall, ending his chances early on in the race. With Stols now free, he made short work of new comers Bjorn Boogard and Brent Alexander to continue his charge for the front. Kyle Munslow had upped his game to keep Atmore and Liebenberg in his sights, but a radio gear failure would sadly see his Mugen MTX6 involved in a run away on the 29th lap, bringing the youngsters race to an end. Liebenberg would continue to dominate, but not without pressure from Atmore, who racked up a fair share of sub 18 second laps to stay in the hunt, but a collision in the pit lane would leave his car unsettled and see his car crash into the pit wall shortly after. This would leave Liebenberg relatively unchallenged with Stols only 2 laps behind and a Capricorn one two three as a tidy drive by Boogard would give him well deserved 3rd well ahead of 4th place Alexander. The championship looks sewn up for Liebenberg, but things are still very interesting lower down.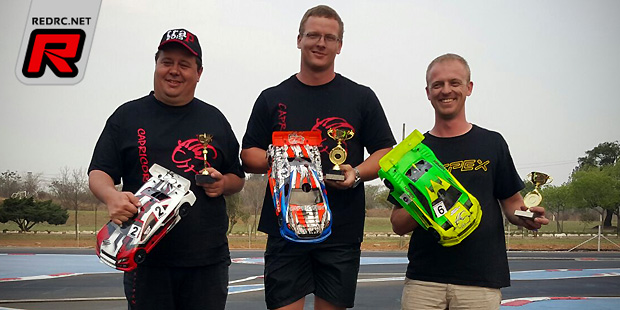 1/10th 200mm A-main results:
1. Conrad Liebenberg – Capricorn – 98 Laps
2. Marius Stols – Capricorn – 96 Laps
3. Bjorn Boogard – Capricorn – 91 Laps
4. Brent Alexander – Serpent – 86 Laps
5. Warrick Atmore – Mugen – 69 Laps
6. Kyle Munslow – Mugen – 29 Laps
7. Patrick Lester – Mugen – 11 Laps
Capricorn racer Mike Meyers would prove dominant over the small contingent of 235mm drivers. He would run a flawless race from start to finish.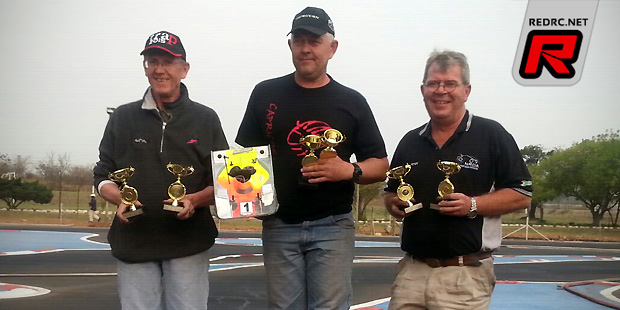 1/10th 235mm results:
1. Mike Meyers – Capricorn – 88 laps
2. Derrick Plank – Serpent – 85 laps
3. Peter Plint – Serpent – 81 laps
4. Tony George – Serpent – 34 laps
The newly introduced 1/8th scale GT class which was showcased at the event showed its potential. Young driver Donovan Atmore showed his talent in his debut race in the class, keeping a close second behind the more experienced and first place driver Wayne Breytenbach. Cathy Lester who had showed great skill in qualifiers would suffer radio trouble and have to settle for 4th behind Rodney Michael.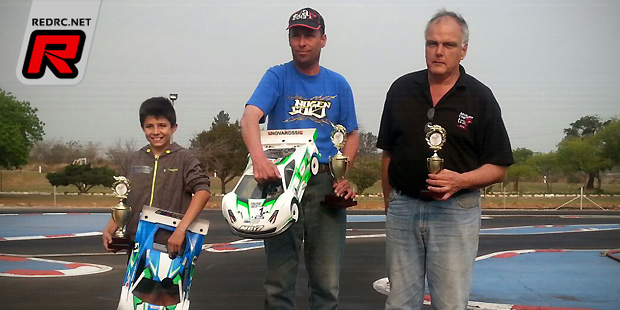 1/8th GT results:
1. Wayne Breytenbach – Mugen – 51 Laps
2. Donovan Atmore – Mugen – 50 Laps
3. Rodney Micheal – Team C – 49 Laps
4. Cathy Lester – Z Car – 35 Laps
The final round will be held at the RC Zone track in Middleburg on October 24th to 25th.
Source: SARDA [sarda.org.za]
---