September 30, 2015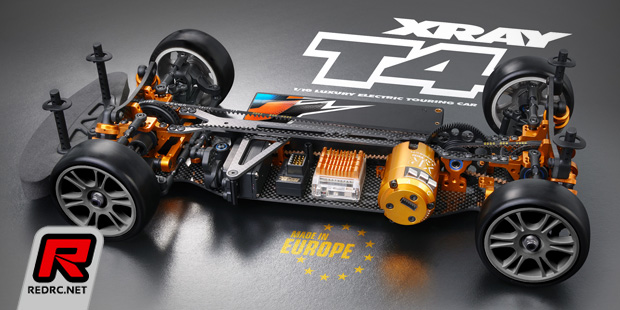 Xray have introduced the latest incarnation of highly successful T4 platform. The 2016 specification car received some subtle changes to make the European Championships and IFMAR Vice-World Championship title winning car even better. The backbone of the '16 is a redesigned lower chassis plate made from 2.2mm high-grade carbon fibre. Only 86mm wide the chassis offers optimised flex characteristics and it features new mounting positions for the updated motor mount to make for equal left-to-right flex and greatly reduced chassis tweak. Weight distribution and balance characteristics have also been optimised to allow the battery to sit as closely to the car's centre line as possible which was made necessary due to today's heavy, high-capacity LiPo battery packs. The chassis also sports pre-drilled holes for optional parts such as chassis weights, graphite motor guard, graphite adjustable battery holder, and battery strap.


The updated motor mount of he 2016 kit sports two additional mounting positions to fine-tune the rear flex and thus traction and side bite. On top of this the 2-piece design does away with tweak issues associated with single-piece setups.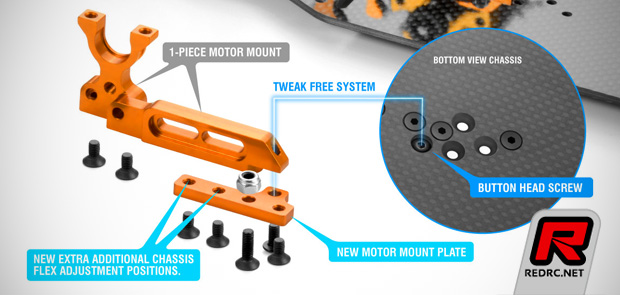 The layshaft part of the motor mount bulkhead allows the removal of the front or rear – or both – screws which connect the top deck, as the bearing is clamped by the layshaft bulkhead and does not move. This improves the flex adjustability of the car to better suit different track conditions.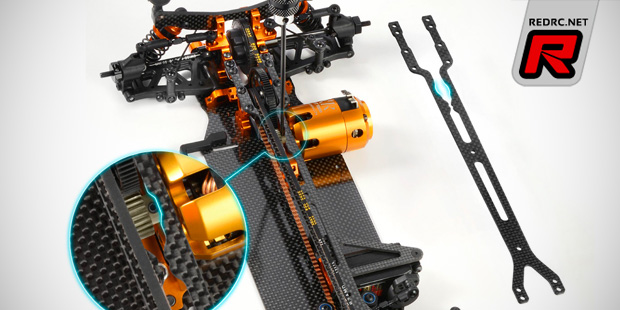 Also new for 2016 is a refined top deck made from 2.0mm carbon fibre. The new design grants easier access to the pinion's grub screw while the shape of the rear portion of the top deck has been specifically designed to achieve maximum traction and in-corner steering.

Next up are updated rear-front split suspension mounts on the rear of the car. The all-new parts incorporate mounting positions for the ARS suspension which does away with the fiddly bushings of the predecessor. The CNC machined parts come orange anodised and they utilise the standard composite suspension inserts.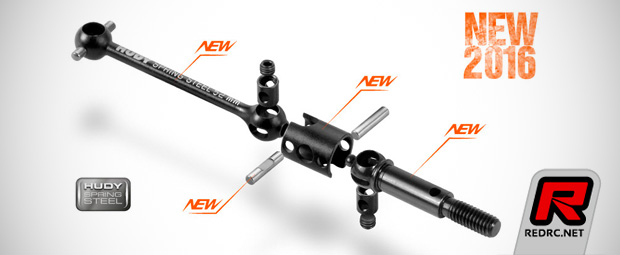 Another edition to the 2016 car are genuine ECS ES dual joint driveshafts for the front of the car. A class standard, the design of the extra strong shafts does away with wheel chatter at high steering angles, improving traction, side-bite and drivetrain efficiency both for stock and modified classes. So far racers had to buy them separately but with the T4'16 these parts come right from stock.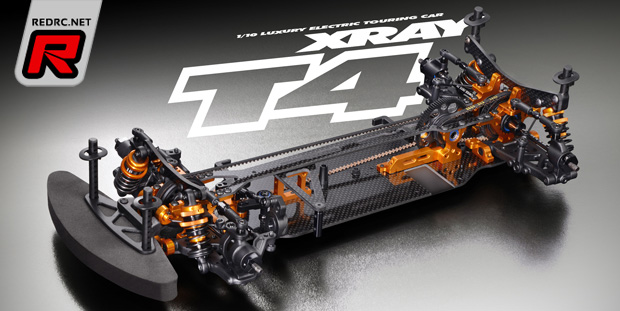 The remainder of the car was pretty much left untouched compared to the 2015 version with the 2016 updates making for improved traction and steering characteristics. The kit should become available by the time you read this.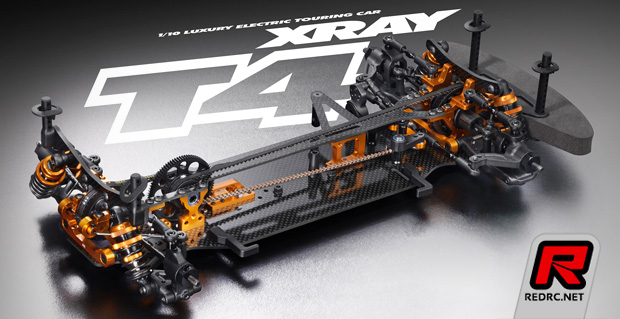 New 2016 features:
– All-new chassis design
– All-new motor mount flex system
– All-new top deck
– All-new rear suspension mount for ARS rear suspension
– All-new front ECS drive shafts
– Improved traction
– Improved steering characteristics
Source: Xray [teamxray.com]
---