October 20, 2015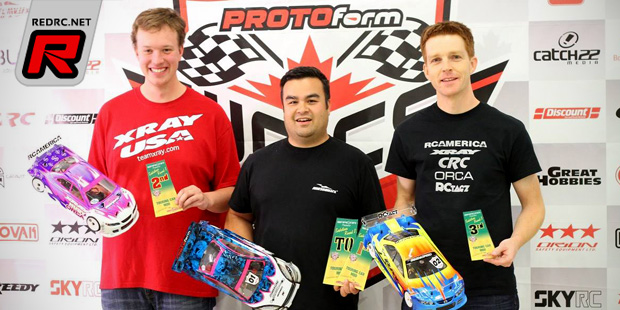 The Western Canadian Indoor Championship Series 2015/2016 season recently opened with a bang in the flatlands of Saskatoon, SK. This year the guys at SARCAR took it to the next level by arranging for a professional camera crew to document the weekend and boy did it turn out great. The coverage can be found on WCICS' website here. As usual the first race of the season brought out everyone's excitement to get back on the carpet and the racing was proof. Modified Touring Car really is the pinnacle of RC and the WCICS series has some seriously good drivers in this class and the Saskatoon race was no exception. As usual Wayne Mah and Danny Buck were doing their dance, but this time Blake Bell, Matt Wilfort and Josh Carter all joined to make things a bit more interesting.

Wayne started out front and never even bothered to check his rearview to see that Danny was navigating his way through the battle between second place qualifier Blake Bell and third place qualifier Matt Wilfort. Once Danny found his way into second place he fought hard to catch up to Wayne but wasn't quite able to and that's how the race finished. Wayne Mah would come in first with Danny Buck and Blace Bell in tow. Matt Wilfort and Josh Carter would round out the top 5.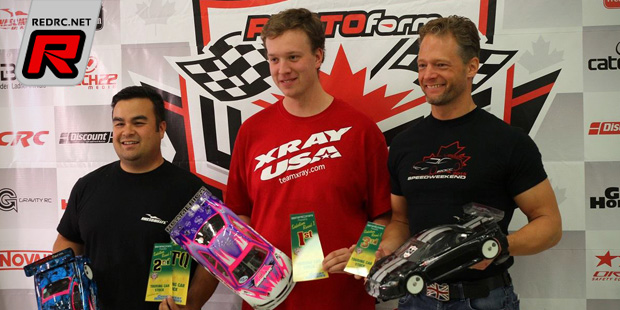 Five heats of Touring Stock made this the biggest class at this race and all the heats had some excellent battles, but everyone knows the battle to watch is Danny Buck and Wayne Mah and these two did not hold anything back. Wayne started as TQ and held first up until the 13th lap when a slight misstep gave Danny the opportunity to slip in front. Danny then drove nearly perfect for the remaining 16 laps to take the top podium position. Josh Carter started in the fourth spot but jumped up to third quickly in the run and held it until the end. The overall top five would the be Danny Buck, Wayne Mah, Josh Carter, Luke Pittman and Gary Lanzer.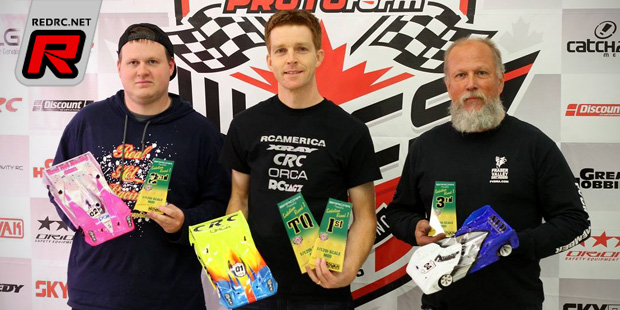 The fastest and hardest class to drive had the smallest turnout of the weekend but it was still a pleasure to watch Blake Bell wheel his car with ease in the 1/12 Scale Modified category. Jason Lochthwe and Jim Rogers were also running with Blake, as was Josh Carter but unfortunately Josh had a mechanical issue on the 7th lap and had to drop out of the race. Ultimately Blake Bell took the win from Jason Lochthwe and Jim Rogers with Josh Carter coming in fourth.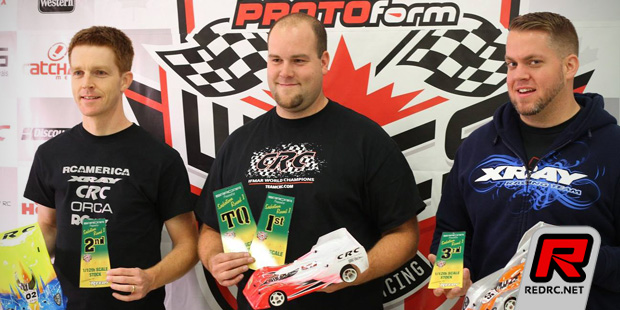 Defending WCICS 1/12th Stock Champ and Canadian National 1/12th Stock Champ Blake Bell had his work cut out for him this weekend as Adam Balk from North Dakota made the trip up to show us Canadians how things are done down South and he didn't disappoint. Adam ran away in the main finishing two laps ahead of Blake, who also had to worry about last year's second place finisher Luke Pittman attempting to get ahead of him. In the end Blake defended his second place and Luke took the third place. Ken Miller, Matt Wilfort and Jason Lochthwe were also all running well and there were great battles happening all over this race. Ken Miller and Matt Wilfort finished in fourth and fifth respectively.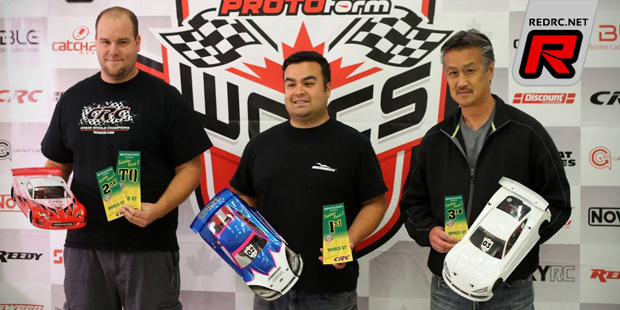 American pan car man Adam Balk was working on schooling Canada in yet another class when he set TQ in World GT but Wayne Mah graduated early and fought his way to first place after dropping back to sixth early in the race. He then gave Adam a free post­secondary education in keeping the door closed corner, after corner, after corner for 16+ laps. This race definitely drew the most "oohs" and "awes" from the crowd. Meanwhile Way Mah, Ken Miller and Josh Carter all battled it out for third, fourth and fifth with all three drivers turning almost identical lap times it came down to who made the fewest mistakes and at the end they would finish in that order.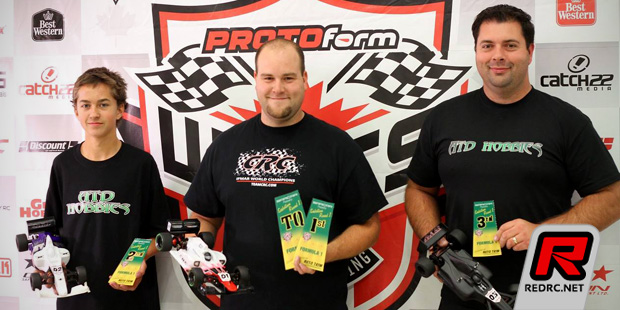 The Formula class had a bit smaller turnout, with only one heat, but the racing in this class was some of the best we saw all weekend. While Adam Balk showed us his speed in 12th scale he also decided to give the field some lessons on how to wheel an Formula car. Adam took TQ which started him out front, followed by Brandon Rogers and Anthony Hobbs and while the race finished in that order it could have been Brandon out front at any moment as he was turning consistently faster laps than Adam, however a few errors and some bad luck kept Brandon from passing Adam. In the end all the drivers finished in their qualifying order except for 7th and 8th.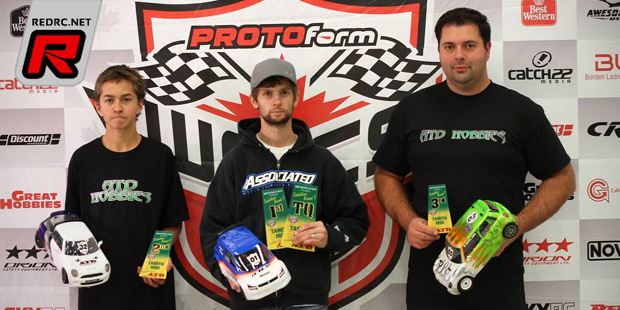 The grace and elegance of Tamiya Mini cars was a treat to watch as Matt Wilfort drove his way to the top of the podium but not without a battle from second place Brandon Rogers. Brandon is a young racer who has been putting in a ton of track time and his driving shows it. These two battled back and forth all weekend but Matt got the best of Brandon in the end. Not to be outdone, Anthony Hobbs was close behind, always waiting for the two ahead of him to make a mistake so he could sneak through, but he never got that chance and took third place. Tyson Schlechter came in fourth, Jim Rogers would round out the top 5.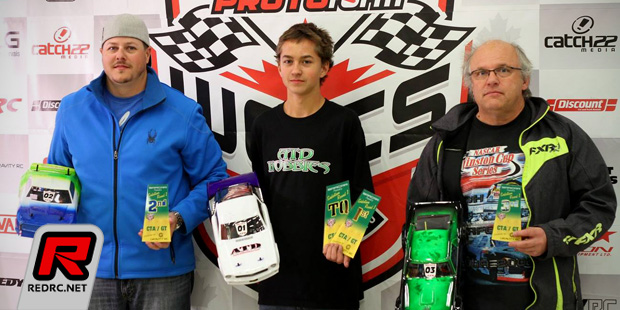 The CTA/GT class once again saw the name Brandon Rogers but this time it is in the number one position and it was well deserved. Brandon TQ'd with a lightning fast 26 laps in 5:10, but then shaved off another second in the final to defeat local Cam Spence. Dale Ruptash from Edmonton held onto his third place position with sheer determination as Daryl Siba and Taylor Mogard nipped at his heels.
Source: WCICS [wcics.ca]
---