October 7, 2015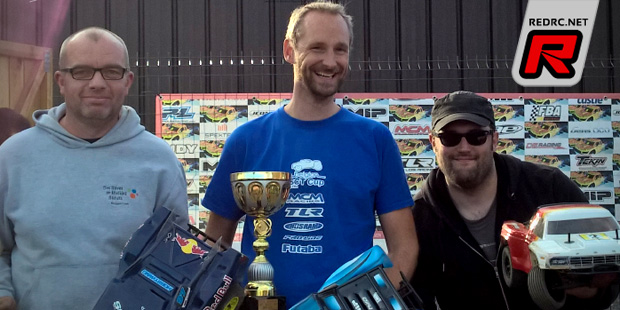 Round six of the 2015 Belgian SCT Cup was held on the dirt track in Seraing. Despite being quite late in the year the race could be run on a dry track, making for good racing conditions for the several drivers present. In Pro2 qualification, Nicolas Evens (TLR) took round TQ in the first and third qualifier to grab the overall TQ from Martin Vierin (Team Associated) who started from the 2 spot after winning Q2. Laurent Halluin (Team Associated) completed the top 3.

The Pro4 class had again Nicolas Evens (TLR) putting his truck on the pole position for the finals, this time in front of Q3 TQ Sam Puttevils (TLR). Frank Devos (Tekno) completed the top 3 after the qualifiers.
In opening Pro2 A-final, runner-up after the qualifiers, Martin Vierin showed a quick pace but mistakes in the first couple of laps allowed Nicolas and Laurent to battle for the top spot. On lap 9, Nicolas had a bobble which allowed Laurent and Martin, coming from the back of the field, to pass and the leg would end up in this order. In the second A-final four drivers battled for the whole race with everybody making a mistake here and there. At the end Nicolas, Tom Pierard (TLR), Laurent and Martin finished the race in five second intervals. In the last and decisive A-final Nicolas and Martin battle for the lead until Martin made a mistake on lap 4 but he would come back at end the race but ultimately Nicolas would grab the day's win.
Pro2 A-final top 3:
1. Nicolas Evens – TLR 22SCT
2. Laurent Halluin – Team Associated SC5M
3. Martin Vierin – Team Associated SC10
In Pro4, Nicolas converted his TQ into an easy win in the opening leg with Sam and Frédéric Fontaine (Team C) in tow. The second leg then proved to be much more intense with Sam and Nicolas battling very closely until the very last lap. Nicolas then made a final pass to take the win. Philip De Keersmaker (Tekno) finished in third just ahead of Frank and Frédéric. With the overall win already secured Nicolas opted to sit out the last A-final to not disturb the battle for the runner-up spot. At the end Sam would win ahead of Frank and Frédéric.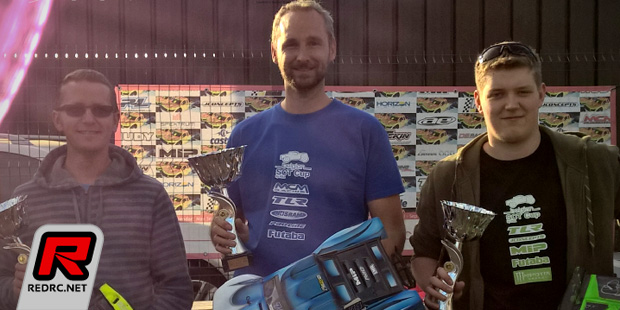 Pro4 A-final top 3:
1. Nicolas Evens – Losi Ten-SCTE
2. Sam Puttevils – Losi Ten-SCTE
3. Frank Devos – Tekno 410SCT
Source: Belgian SCT Cup [belgiansctcup.be]
---