October 13, 2015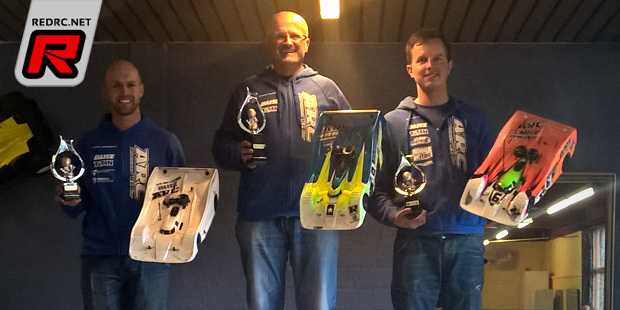 Utrecht's RACO 2000 track played host to last weekend's sixth and final round of the Dutch National 1/8th Nitro On-road Championships. Saturday's practise started off dry and partially cloudy, while Sunday morning's qualifying started under sunny but much colder conditions. In both the premier NK class and the Nomac class, the championship still was to be decided. In the NK class it was Frank Baggen (ARC/Reds) who was fastest after the qualifiers, followed by Arie Manten (Shepherd/Picco), Joey Sorber (Shepherd/Maxima) and Ad Vissenberg (ARC/Reds).

In the Nomac class, Jesse Keller (ARC) came out fastest, followed by Robbin Hertong (ARC), Stephan van Rooijen (ARC) and Andy Muijres while in the Promo class it was Jeffrey Rietveld who came out fastest followed by Kristof Smets, Edwin Busschers and Jeffrey de Man. In the semifinals, and with no direct qualifying spots, disaster almost struck for NK title competitor Frank Baggen who flamed out halfway through the race due to a broken glow plug, but thanks to fast pit work and decent driving he managed to just grab the 10th spot for the main final. Right after the start of the NK main final, title competitor Martin Zevenhoven, starting from the 3 spot, fell victim of a start crash which damaged both his rear tyres. Several flame-outs during the final then saw his title changes vaporise quickly. Ultimately, Frank Baggen claimed the NK title in style by winning the race.
NK final result:
1. Frank Baggen – ARC – 121L 30:03.488
2. Benny Ciere – ARC – 117L 30:07.408
3. Ad Vissenberg – ARC – 116L 30:02.843
4. Jeroen van Iperen – Mugen – 116L 30:05.484
5. Arie Manten – Shepherd – 116L 30:09.718
6. Marcel Schouten – Mugen – 113L 30:11.892
7. Marc Meijer – Serpent – 111L 30:15.832
8. Joey Sorber – Shepherd – 106L 30:00.146
9. Martin Zevenhoven – Serpent – 66L 22:07.495
10.Donny Blommers – Mugen – 60L 30:14.018
In the Nomac class Jesse Keller claimed the title by coming in second in the 30 minute final while Robbin Hertong up front took the win. The podium was rounded out by Martijn Smits in third place.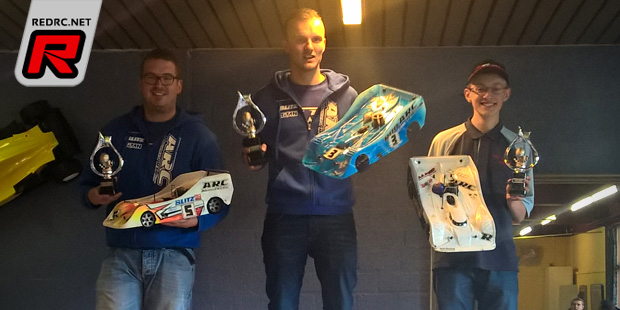 Nomac final result:
1. Robbin Hertong – ARC – 116L 30:03.954
2. Jesse Keller – ARC – 114L 30:05.983
3. Martijn Smits – ARC – 110L 30:05.417
4. Peter van Marion – Shepherd – 108L 30:09.235
5. Stephan van Rooijen – ARC – 88L 30:00.927
6. Janwillem Gons – Shepherd – 76L 30:07.547
7. Stanley Bauer – Serpent – 62L 17:46.279
8. Freek van Delft – Mugen – 54L 14:23.520
9. Ad Arents – Mugen – 11L 3:16.693
10.Chef Rijcks – serpent – 0L 0:00.000
The Promo class had Jeffrey Rietveld taking the day's win from Kristof Smets and Jeffrey de Man in second and third respectively. Already in the previous round Dennis Verhoeven claimed the Promo class title.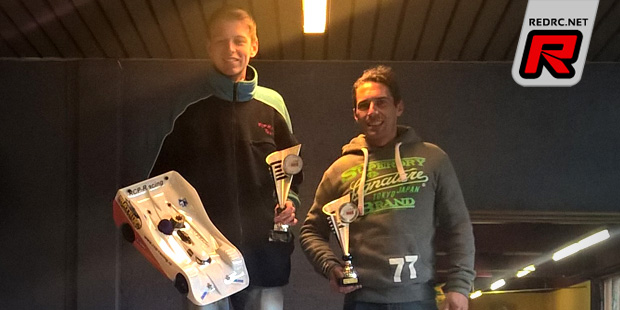 Promo final result:
1. Jeffrey Rietveld – 81L 20:13.307
2. Kristof Smets– 72L 20:01.957
3. Jeffrey de Man– 62L 20:09.610
4. Marvin Theeuwen– 47L 16:21.058
5. Danny Kastermans– 44L 20:12.818
6. Edwin Busschers– 5L 2:15.718
Thanks to Martin for the report.
---