October 8, 2015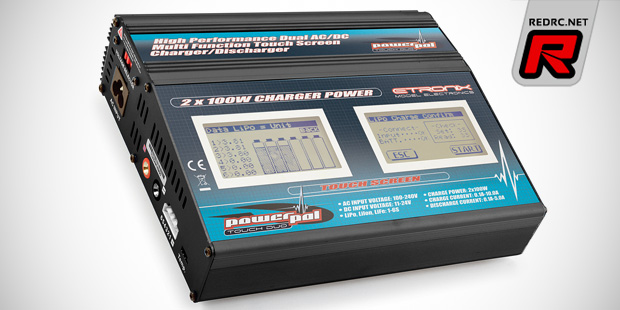 CML Distribution have introduced the new Etronix PowerPal Touch Pro Duo and EZ-4 chargers. Starting with the Touch Pro Duo, the multi-chemistry device is providing two chargers directly from one AC/DC powered unit. Featuring the latest in touch screen technology for ease of use, a full scope of adjustable parameters are available via the touch screen using the supplied stylus for slick and quick operation. With input from either AC or DC voltage and a charge rate of up to 10A the PowerPal Touch is suitable for most needs and applications. Once the charger is set to the specific battery charging requirements via the simple main screen selection, the screen can display a range of data during charging from battery curve voltage to individual cell charge state.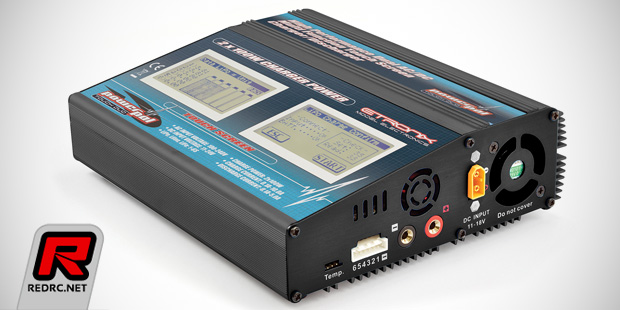 Features & specifications:
– Microprocessor controlled
– Delta-peak sensitivity
– Individual cell balancing
– LiIo, LiPo, LiFe, NiCd and NiMH capable
– Large range of charge current
– Store function
– Time limit function
– Input voltage monitoring
– Battery cycling
– Automatic charging function
– AC Input voltage AC 100V-240V
– DC Input voltage DC 11.0V-18.0V
– Charge current 0.1A-10.0A
– Discharge current 0.1A-5.0A
– Charge power max. 100W
– Discharge power max. 12W
– Balance current max. 350mA
– Balance tolerance ±0.01V
– NiCd/NiMH battery cell count 1-16 cells
– Lithium battery types LiPo, LiIon, LiFe
– Lithium battery cell count 1-6 series
– Pb battery voltage 2V-20V
– Operation system Graphical display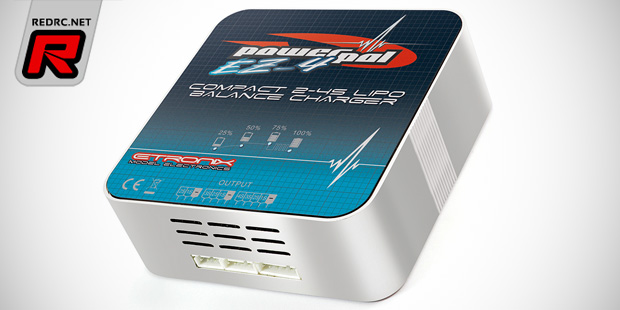 The second new charger is the PowerPal EZ-4, a new compact 2-4S LiPo balance charger ideal for everyday hobbyists. Measuring in at a portable, handheld size of 98x98mm, the EZ-4 is ideally suited to any RC category – car, boat, aircraft, heli or drone. Its 50W rated 4 Ampere charging power provides an ideal output for any small to medium capacity 2S to 4S LiPo batteries. Housed in a fan assisted aluminium case and sporting four LEDs that indicate battery capacity during the charging process the charger is very simple to use.
Features & specifications:
– 50W 4.0Amp charge rate
– 2-4S LiPo compatible only
– 00-240v AC power compatible
– LED capacity indicator
– Internal fan
– Aluminium casing
– Balance current: 400mA
– Dimension: 98 x 98 x 36mm
– Weight: 278g
– Available with UK or EU mains plug lead
Source: CML Distribution [cmldistribution.co.uk]
---