October 7, 2015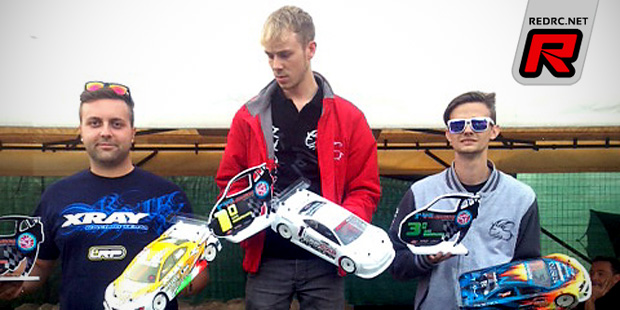 The Italian Race of Champions was held in Leno, Italy in the four classes of Touring Car Modified, Touring Car Stock, 1/10th Pan Car and Formula. As the event started out wet the organisers decided to eliminate the usual round by round qualifying by a super pole race, counting the three fastest consecutive laps. In the Touring Modified class Kyle Branson took the TQ from Dario Balestri. The opening final then had Kyle coming out successful with Alessio Menicucci in second while in A2 Alessio grabbed the win as Kyle and Dario had a coming together. The decisive third A-main had Alessio, Dario and Kyle running into tyre issues but at the end Kyle was able to take the overall win from Alessio Menicucci and Stefan Chodzynski.
Touring Modified A-final result:
1. Kyle Branson
2. Alessio Menicucci
3. Stefan Chodzynski
4. Enrico Avoni
5. Dario Balestri
6. Marco Puleo
7. Silvio Boni
8. Nico Catelani
9. Alessandro Arisi
10.Luca Baronchelli
The 13.5T Blinky class had Luca Giovannoni taking the win, coming from third on the grid. Danny Giacomelli in second and Davide Tomasoni in third would round out the top 3 result.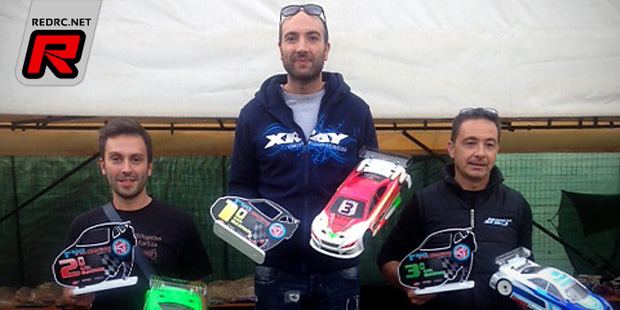 Touring Stock 13.5 A-final result:
1. Luca Giovannoni
2. Danny Giacomelli
3. Davide Tomasoni
4. Erik Fagnocchi
5. Gianni Franzetti
6. Manuel Carusio
7. Gabriele Peafrini
8. Roberto Masotto
9. Alessandro Rota
10.Stefano Luppi
The 1/10th Pan Car class was dominated by Luca Giussani who took the TQ and the overall win from Domenico Putignano. Gianni Martinelli completed the podium result in third, coming from the 8 spot on the grid.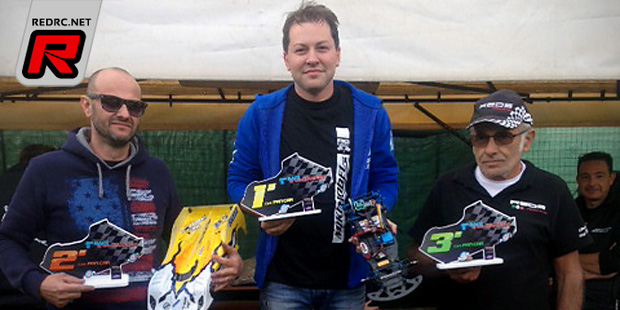 Pan Car A-final result:
1. Luca Giussani
2. Domenico Putignano
3. Gianni Martinelli
4. Cristiano Ciarlone
5. Alessandro Rampini
6. Nicolò Grisenti
7. Roberto Rampini
8. Lorenzo Sandonini
9. Marco Marini
10.Mauro Grandi
Source: Xray [teamxray.com]
---