October 12, 2015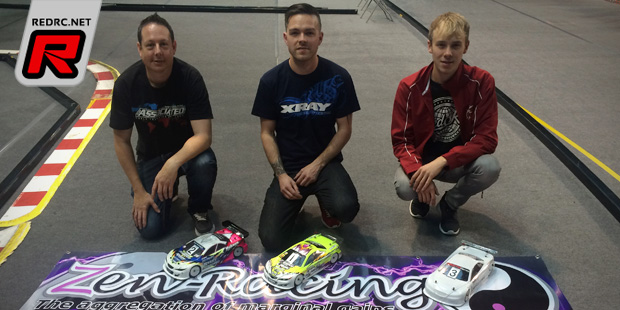 The first round of the Essex Winter Series championship took place this weekend. Recognised as one of the largest on-road championships, once again a near-capacity entry kicked off the fifth edition of the series. In the Modified class, defending champion Stefan Chodzynski would have his work cut out for him, as most of the UK's top drivers had committed to competing the full championship, in an effort to take the crown away from the Capricorn driver. In the opening qualifier, Olly Jefferies showed he meant business, taking his new Xray T4'16 to the fastest time, in front of the Capricorn of Kyle Branson and the Schumacher of new BRCA national champion Elliott Harper.

Olly continued his form to top the second round, with Kyle once again second and Team Associated's Chris Grainger third. The overall pole position was decided in the third round with Olly again going fastest, this time with Chris in second in front of his Team Associated team-mates Alan Bickerstaff, again making the trip to Essex from Northern Ireland, and Matthew White. The final round looked like Olly was about to take a clean sweep, only to roll his car with less than a minute to go. That allowed Chris through to take the win, Olly finishing up second, and Alan and Matthew again taking third and fourth respectively.
The sensible money was on Olly Jefferies to continue his form and take the A-final win, but Chris Grainger clearly had other ideas. Olly's car didn't seem quite as settled in the finals as it had in qualifying – Olly later saying that changing to a different set of tyres gave his Xray a different feeling in the final, with the grip also rising throughout the day. Chris remained within a few meters of Olly throughout the entire run, and Kyle Branson initially looked like making it a three-way fight, until he dropped back slightly after the first two minutes. Chris continued to hound Olly, never quite close enough to make a passing attempt, but close enough for Olly to know that any mistake would see him likely lose the lead. In the final thirty seconds, Chris finally closed the gap down, and parked his Associated underneath the rear wing of Olly's car – but Olly drove a perfect set of racing lines to keep the door firmly closed and secure the overall win. Kyle had a lonely drive to take the final podium spot, with the Team Assocaited drivers of Alan Bickerstaff and Matthew White fighting with Elliott Harper and his Schumacher for fourth.
Modified A-final result:
1. Olly Jefferies – Xray/LRP – 22/306.46
2. Chris Grainger – Team Associated/Reedy – 22/306.58
3. Kyle Branson – Capricorn/LRP – 22/310.55
4. Matthew White – Team Associated/Reedy – 22/312.65
5. Alan Bickerstaff – Team Associated/Reedy – 22/313.03
6. Elliott Harper – Schumacher/GForce – 22/313.19
7. Stefan Chodzynski – Capricorn/GForce – 21/301.51
8. Andrew Carter – Yokomo/Hobbywing – 21/302.33
9. Paul Pinkney – Schumacher/Hobbywing – 21/307.65
10.Phil Chambers – Capricorn/LRP – 21/311.39
The Super Stock class featured a battle for pole position between defending champion Tony Broad, and fellow Xray driver Jimmy Maddison. Tony took the first round after a mistake from Jimmy, with Shaun Batt piloting his Xray to third ahead of EWS team-member Rob Sawell's HPI. Jimmy went fastest in the second round, with Tony second, Shaun third and Nathan Morgan fourth to make an all-Xray top four. Jimmy moved a step closer to pole position by taking round three, ahead of Tony and another Xray driver, Jamie Hickin and the Yokomo of Nathan Wilson. Jimmy secured the overall TQ by taking the final qualifier, with Jamie second, Tony third and Matthew Worton securing an A-Final place for ARC with a fourth in the round.
Jimmy and Tony led the A Final off, and Jamie Hickin surprised most of the spectators by not only hanging on to the two drivers who had been the class of qualifying, but looking capable of challenging for the win. It was Tony who blinked first, a mistake from the defending champion allowing Jamie into second. A later mistake from Jamie gave Jimmy a comfortable lead, allowing him to switch onto cruise mode. Jamie held second, whilst Tony now had to deal with the attentions from Shaun in fourth. As the five minutes ran down, Jamie closed in on Jimmy, but the former Vegas and DHI Cup winner had things under control and cruised to the win in the first round of the five-round championship.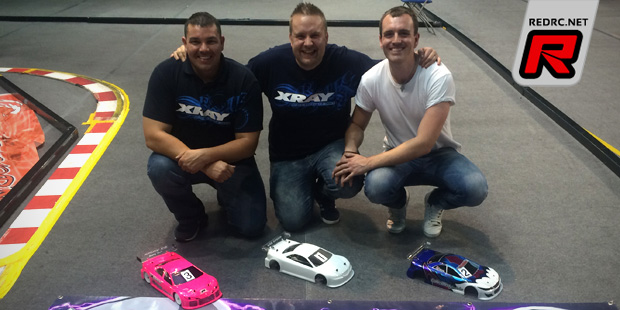 Stock A-final result:
1. Jimmy Maddison – Xray – 21/307.32
2. Jamie Hickin – Xray – 21/307.42
3. Tony Broad – Xray – 21/313.29
4. Shaun Batt – Xray – 21/314.33
5. Rich White – Xray – 20/302.72
6. Matthew Worton – ARC – 20/303.28
7. Nathan Morgan – Xray – 20/305.99
8. Nathan Wilson – Yokomo – 20/308.14
9. Rob Sawell – HPI – 20/310.59
10.Matt Chandler – Yokomo – DNF
Finally, the Junior championship saw Terry Yarranton and Harley Eldridge both making the B-final in the Modified class, with Terry finishing out on top, whilst in the Super Stock class, Bradley Coaker secured the top junior position with his D-final place.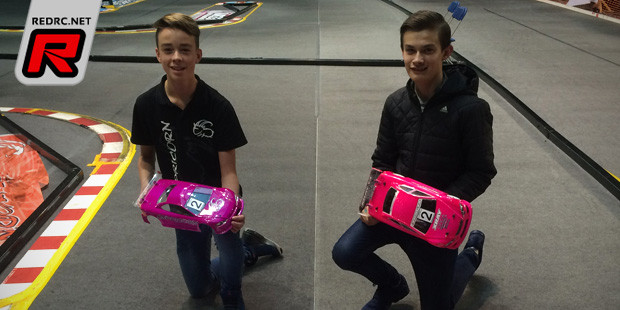 Thanks to Oli Meggitt for the report.
---