October 30, 2015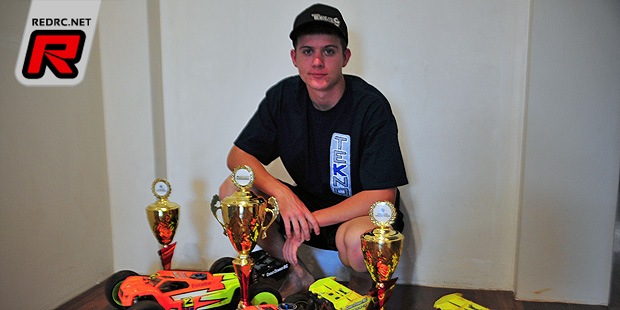 For the first time the Western Australia titles were held outside the metropolitan area in Kalgoorlie, some 580km from the Capital, Perth. In the Nitro Buggy Kyle Francis took the win in the main final after an eventful 45 minutes. Coming from the 3 spot on the grid, Kyle got caught up in someone else's crash, dropping him to 11th. Slowly the comeback started and he began gaining positions and the gap to the first placed driver was 18 seconds. A few laps later and it was back to 15, then 12. Kyle had the fastest car out there, it was just a case of keeping it on four wheels and having enough time to reel in the leader. Another 10 minutes passed and the gap was down to 6 seconds, then 3 seconds. The race commentator was getting excited.

Over the next 10 minutes the lead changed a few times with neither driver getting the ascendancy until the 38 minute mark when Kyle was called in early for his last fuel stop, a strategy that would prove decisive as Kyle got to the lead when the lead car pitted for his final fuel stop at the 40 minute mark. With 3 minutes to go Kyle had built up a 10 second lead and it was just a matter of staying out of trouble until the 45 minute mark. In the end Kyle was victorious by a lap having crossed the line 3 seconds before time ran out and ensuring he got a final victory lap.
The Truggy final saw Kyle get caught up in other drivers mistakes and ended the first lap a few positions further back than where he started. For the next 20 minutes Kyle drove consistently and patiently, gradually working his way forward until hitting the lead and maintaining it. Kyle would end up winning the Truggy final by two laps to take his second title of the weekend.
In leg one of three of the E-Buggy class Kyle got a good start and a consistent smooth run on a deteriorating track saw him take the race win. An hour later leg 2 took place, unfortunately at the start a mistake by the top qualifier saw Kyle get caught up trying to avoid him dropping him to 8th after the opening lap. With nothing to lose Kyle put his head down and slowly reeled in the front markers, passing a car or two each lap until hitting the front with just over a minute to go. Once in front he never surrendered the lead and by winning leg 2 he secured the third title of the weekend despite missing Friday's practice due to preparing for his High School graduation ceremony on the Friday evening.
Source: Tekno [teknorc.com]
---