October 7, 2015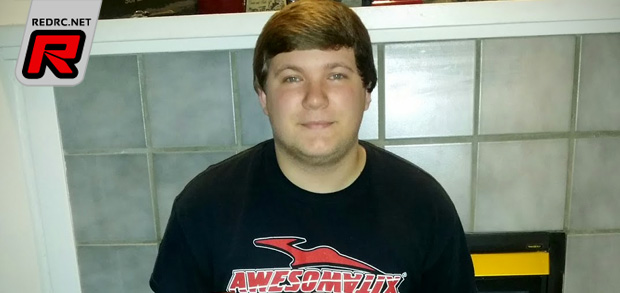 This past weekend NORCAR R/C Racing at The Gate hosted their 21st edition of the Halloween Classic. This year proved to be the largest Halloween Classic ever with IIC not happening in 2015. In the largest class, 17.5 Touring, Xray's Sam Issacs would take TQ in round 1 and re-set TQ in round 3. At the start of the main, a mini failnado would mix things up and out of the carnage, Sam Issacs lead Kyle Klingforth (Awesomatix) for the first few laps with Xray's Eric Anderson in 3rd. Early on Kyle and Eric would swap places once, and then give them back the lap later. On the 25th lap Sam would tap out allowing the hard charging Kyle to take over the lead. The rest of the podium would be decided with just four laps to go when Eric fell victim of team mate Dan Hamann which allowed last year's winner, Michael Hanulec (Awesomatix) to promote himself into 3rd after starting 9th.
17.5 Touring A-main result:
1. Kyle Klingforth
2. Sam Issacs
3. Michael Hanulec
4. Manny Flores
5. Dan Hamann
6. Brad Johnson
7. Eric Anderson
8. Mike Wise
9. Larry Fairtrace
10.Bill Sydor
In 13.5 Touring, Kyle Klingforth (Awesomatix) would take the TQ in the 4th round over Sam Issacs (Xray) and Brad Johnson (Awesomatix). The top 3 were separated by less than 0.8s so everyone knew the battle for the win would be exciting. During the A-main traffic would rob Brad Johnson of a chance at the win while lapping the mixed speed field. The battle for the lead would continue with Sam applying extreme pressure on Kyle throughout the run. Their battle would be nearly ruined by lap traffic during the mid way point, but Sam graciously let Kyle back into the lead so they could continue their battle. After 6 long minutes Kyle won with Sam less than 2 seconds behind.
13.5 Touring A-main result:
1. Kyle Klingforth
2. Sam Issacs
3. Drew Ellis
4. Bill Sydor
5. Dan Hamann
6. Patrick Clark
7. Tim Mclntyre
8. Brent Klingforth
9. Warren Weaver
10.Brad Johnson
Source: Awesomatix [awesomatixusa.com]
---