October 7, 2015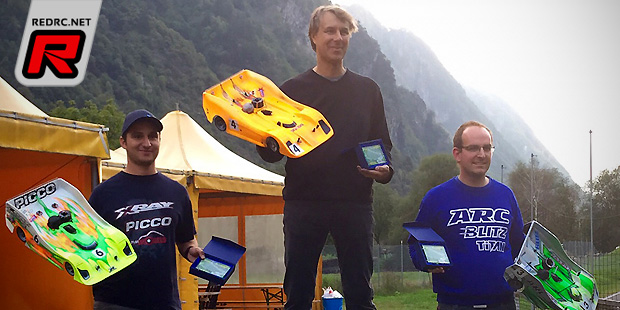 The final round of the Swiss Nitro On-road Nationals was held in Lostallo. With round TQs in the first and third qualifier as well as a second place behind Simon Kurzbuch (Shepherd) in the fourth qualifier Mattia Pesenti (Xray) was able to take the overall TQ in the 1/8th class from Luca Martinelli (ARC). Simon came in third while the ARC duo of Christophe Pethoud and Thomas Henzi completed the top 5 after the qualifiers.

In the final Kurzbuch and Haechler had a good start while Pesenti in 4th position was fighting with Martinelli and Pethoud for the podium until the first pitstops for tyres. At the 30 minute mark Haechler had to stop with a problem and behind the leader Martinelli and Pesenti fought for the runner-up spot pretty for most of the 45 minutes finale. Unfortunately after leading the race for 42 minutes, Kurzbuch had to stop due to a problem. So Mattia Pesenti and Luca Martinelli were now in the battle for the win but as both ran out of rubber Mattia wasn't able to challenge Luca for the lead, handing the ARC driver the win.
1/8th top 5 result:
1. Luca Martinelli – ARC
2. Mattia Pesenti – Xray
3. Christophe Pethoud – ARC
4. Daniel Bapst – ARC
5. Marco Rizzo – Capricorn
Overall in the championship Simon Kurzbuch took the title while the TQ and second place at the final round handed a lucky Mattia Pesenti the runner-up spot from Silvio Hächler.
Source: Xray [teamxray.com]
---