October 20, 2015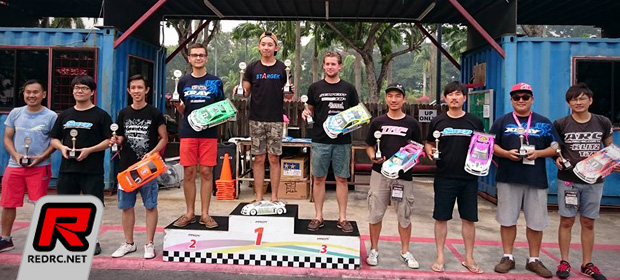 The final race of the 2015 PRCA series was held at the RCMC outdoor asphalt track in Singapore with drivers from Japan, Korea, Malaysia, Singapore and Sweden in attendance. Considered the second largest race in the country after the AOC, the event attracted international racers such as Xray's Alexander Hagberg and Serpent's Viktor Wilck while star announcer Scotty Ernst flew in to make for some more international flair. With the big names attending, the Modified class attracted the most drivers, making for a lot of on-track action. The Modified class qualifiers then saw a close battle between top Singapore driver Nicholas Lee (Tamiya), Alexander Hagberg (Xray) and Viktor Wilck (Serpent) with Nicholas nailing it on the TQ position with one qualifying round to spare while Alexander and Viktor lined up in second and third respectively.

The A-mains of the Modified class then offered nail-bitting action with Alexander putting continuous pressure on Nicholas with both drivers crossing the line with less then 0.4 seconds separating them in A1 and less then 0.08 seconds in A2, and at the end it was TQ holder Nicholas Lee who held the upper hand to take the win in both A1 and A2 and thus the overall title. Alexander Hagberg had to settle for 2nd, with Viktor Wilck rounding out the podium.
Modified A-main result:
1. Nicholas Lee
2. Alexander Hagberg
3. Viktor Wilck
4. Alvin Koh
5. Nelson Lee
6. Kim Byung Hwan
7. An Jong Hyun
8. Max Park
9. PY Tang
10.Ong Chee Yong
In the Open 13.5T Boosted class, it was a battle between local driver Daryl Thong (Serpent) and the defending champion, Japan's Masami Kiyomoto (ARC). Ultimately it was Daryl Thong taking the TQ spot with two rounds of qualifying to spare. Masami Kiyomoto and Alan Cher (Tamiya) lined up in second and third on the grid. The A-mains then held a lot of excitement as Daryl came out successful in the opening A-main with Masami striking back in A2. At the end Daryl Thong would grab the overall title in the 13.5T Boosted class from Masami Kiyomoto. Tan Yi Ming (Awesomatix) completing the podium in third. With the win in their respective classes Nicholas Lee and Daryl Thong also won an invitation for the 2016 PRCA finals.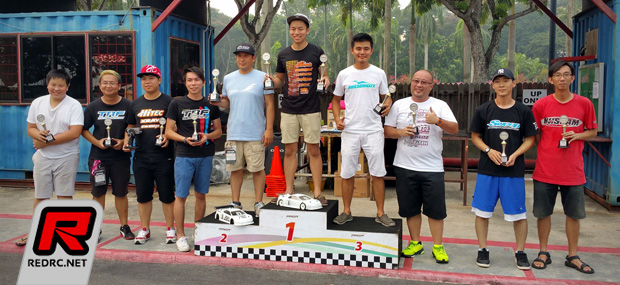 13.5T Boosted A-main result:
1. Daryl Thong
2. Masami Kiyomoto
3. Tan Yi Ming
4. Alan Cher
5. Leonard Kee
6. Chae Byung Ju
7. Lee Jae Deok
8. Chhua Joo Kiah
9. Terence Ang
10.Eugene Goh
In the supporting TRF Challenge class, it was Ong Chee Yong who emerged as the overall champion from a chasing Nelson Lee in second and Ng Wei Jian third.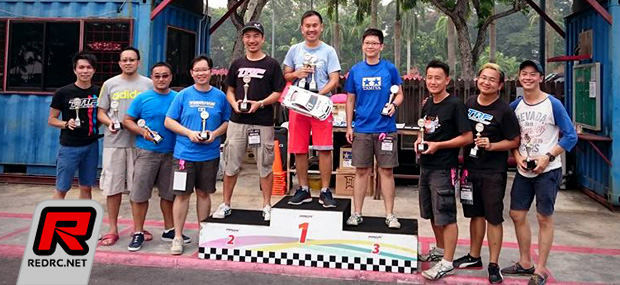 TRF Challenge A-main result:
1. Ong Chee Yong
2. Nelson Lee
3. Ng Wei Jian
4. Ng Wei Quan
5. Chee Lip Keong
6. Fabian Tan
7. Chhua Joo Kiah
8. Adrian Quek
9. Jonathan Chia
10.Alan Cher
Source: Stargek [stargek.com]
---