October 13, 2015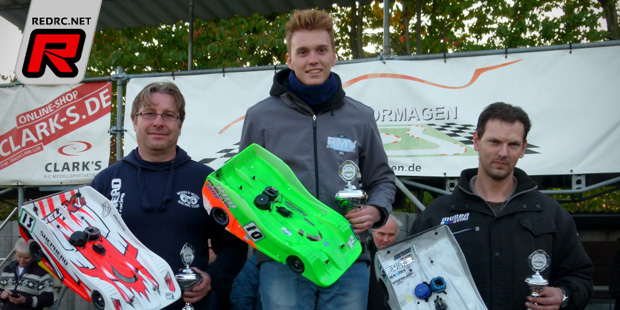 The final round and end of season finale of the Nitro-West-Masters was held at the Dormagen track with a record entry of 76 drivers. The weekend started out on Saturday with free practice and a driver's party with BBQ, beer and loads of nitro talk followed by some serious racing and the battles for the titles on Sunday in perfect Indian Summer weather conditions.

In the 1/8th Open class Tobias Hepp pushed his Reds-powered ARC to the limits and secured the TQ spot with a clear advantage over Shepherd racer Frank Schewiola. Behind Christian Wurst (Capricorn) on third position the Belgian talent Augustin Mejor (Mugen) set a surprising fourth fasted qualifying time. These four drivers would make it directly into the main race. Ingo Odenthal (Mugen) won the 15 minutes semifinal B with 53 laps and a 1.2 second advantage over Thomas Kroeger (Serpent) while the semifinal A was much quicker, winner Karl-Heinz Meister (Serpent) scored 55 laps as did Philipp Roemer (Mugen) and Uwe Baldes (Shepherd) – the trio was separated by less than six seconds. The 30 minutes finale then saw only five cars making it to the finish line on this challenging track, known as the "German RC Monaco". Meister was the victim of a second corner shunt of some cars already in the first lap. Young Mejor couldn't really show up in the main as he had to retire on lap 16. He was followed by Roemer after 29 and Kroeger after 41 laps. Hepp took advantage from his pole position and pulled away in the early stages of the race with Schewiola in second position, followed by Wurst and Baldes. Following his tire change at halftime Hepp was fighting to catch the lead again from the new frontrunner Schewiola. Finally Hepp won the race with 109 laps, with a new track record of 14.884 seconds, despite flipping his car in the closing stages which allowed Schewiola to catch up. As in Velp two weeks before when Schewiola lost against Wurst with a margin of less than a second, at Dormagen he was only one and a half seconds behind Hepp. With eight minutes to go the XRD power unit of Wurst collapsed and Wurst lost third place. So Baldes seemed to have third spot in his hands cruising with a two lap advantage but then hit the curb entering the back straight while talking with his mechanic to smash his Velox into the concrete wall and loose about five laps for repairs. A lucky Ingo Odenthal was promoted to the final step of the podium, well deserved in his second race with Mugen. Vahrenkamp finished on fourth ahead of an annoyed Baldes.
1/8 Open final result:
1. Tobias Hepp – ARC/Reds – 109 laps
2. Frank Schewiola – Shepherd/Picco – 109
3. Ingo Odenthal – Mugen/Novarossi – 105
4. Ralf Vahrenkamp – Mugen/Novarossi – 105
5. Uwe Baldes – Shepherd/Rex – 103
6. Christian Wurst – Capricorn/XRD – 79
7. Thomas Kroeger – Serpent/Novarossi – 41
8. Philipp Roemer – Mugen/RB – 29
9. Augustin Mejor – Mugen/Picco – 16
10.Karl-Heinz Meister – Serpent/Picco – 0
Ultimately the sixth place was enough for four-time winner Christian Wurst to become the 2015 Nitro-West-Masters champion in the 1/8 Open class with 599 points, followed by Ralf Vahrenkamp (590) and a dethroned Uwe Baldes (584). Among the 24 1/8th scale racers Thomas Kroeger (568) and old-dude Reinhard Zick (565) achieved the fourth and fifth position in the finale ranking respectively.
Once again the 1/10th 200mm Open class was mainly a Shepherd affair. Benny Lehmann captured the TQ, a surprising Marco Nenner and René Puepke took second and third with the same time. Behind three Velox V10 Daniel Toennessen brought his Mugen directly to the main kicking Bernd Rausch (Shepherd) out of direct qualification by only 17 thousands of a second. From the semifinal B Arndt Bernhardt (Shepherd) bumped up as well as Marco Muscara in his first race with Capricorn and Xray stalwart Hartmut Rose. Semifinal A was won by Andy Weyhoven testing a Velox V10 for the first time in front of Bernd Rausch and Faehd Labik (Xray). Lehmann was the early leader in the 30 minutes finale race in front of Nenner. Then Puepke passed Nenner for second and in lap 19 he already took the lead with Lehmann back on third. The fight for victory between Puepke and Nenner lasted until the end, both completing 101 laps with the better end for Puepke so again it was a 1-2-3 for Shepherd. Nenner had become a strong challenger since his move to Shepherd and impressed at the Dormagen round with the fastest lap of 16.816 seconds. Early in the race Rausch lost more than a minute in the pits and finally crossed the line on fifth, right behind a strong performing Rose and in front of Toennessen.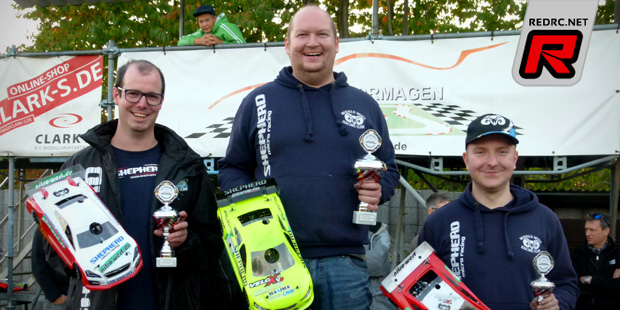 1/10 Open final result:
1. Rene Puepke – Shepherd/Orcan – 101 laps
2. Marco Nenner – Shepherd/Orcan – 101
3. Benjamin Lehmann – Shepherd/Orcan – 97
4. Hartmut Rose – Xray/Orcan – 96
5. Bernd Rausch – Shepherd/Picco – 95
6. Daniel Toennessen – Mugen/RB – 93
7. Faehd Labik – Xray/Orcan – 91
8. Andreas Weyhoven – Shepherd/Max – 45
9. Marco Muscara – Capricorn/O.S. – 28
10.Arndt Bernhardt – Shepherd/RB – 0
With four wins and a total of 602 points René Puepke is the most successful driver of the 2015 Nitro-West-Masters, having successfully defended his 1/10 scale crown. Runner-up in the final ranking is young Melvin Diekmann who is tie on points (588) with Daniel Toennessen. Among the 33 1/10 scale competitors Bernd Rausch (586) finished fourth ahead of Arndt Bernhardt (579).
In the 1/8 Stock class with standard engines from Novarossi and Sonic Waldemar Liedtke (Mugen) grabbed the TQ in front of Matthias Guenther (Shepherd), Christian Roenicke (Capricorn) and Ingo Braun (Shepherd). Only Holger Hinnendahl (Shepherd) and Andreas Klaus (Capricorn) made it from semifinal B into the main, while from semifinal A Helmut Hoessler (Serpent), Gerhard Bemelmans (KM), Joachim Kuehn (ARC) and Jens Kopetzki (Serpent) bumped up. In the 30 minute final only four racers only completed the full race distance. Roenicke and Guenther were racing in a class of their own, fighting for the day's win. Roenicke went into the lead at lap 14 and Guenther move to second at halftime. At the end Guenther was about half a lap down on Roenicke. Kopetzki was 14 laps behind the leader but enjoyed third spot on the podium. Following his start from pole position Liedke was the frontrunner for 14 laps before he dropped back to third. But he recovered and was leading again when he suffered from a driving error. Later the long-time Mugen racer couldn´t believe his own fault and was massively angry about himself.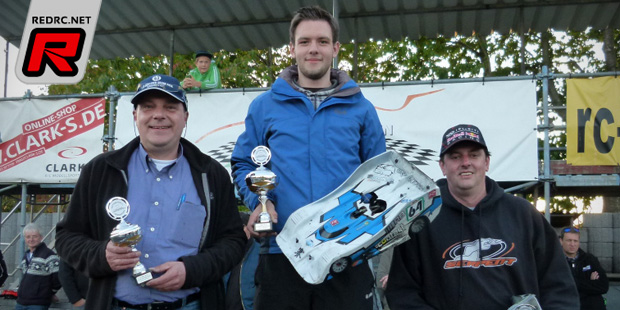 1/8 Open final result:
1. Christian Roenicke – Capricorn/Sonic – 105 laps
2. Matthias Guenther – Shepherd/Novarossi – 104
3. Jens Kopetzki – Serpent/Novarossi – 92
4. Waldemar Liedke – Mugen/Novarossi – 89
5. Joachim Kuehn – ARC/Novarossi – 84
6. Ingo Braun – Shepherd/Sonic – 66
7. Andreas Klaus – Capricorn/Novarossi – 65
8. Helmut Hoessler – Serpent/Novarossi – 29
9. Gerhard Bemelmans – KM/Novarossi – 19
10.Holger Hinnendahl – Shepherd/Sonic – 10
Finally Christian Roenicke and Matthias Guenther were tie on points (592) in the championship but three wins compared to one handed young Roenicke the championship title. Among the 27 competitors in the 1/8 Stock class Waldemar Liedke is ranked third (588) in front of Joachim Kuehn (576) and Jens Kopetzki (573).
In 1/10 Stock Majuran Tharmalingam pushed his Novarossi-powered KM to pole position again with teammate Arnon Laopreeda, lonely Kyosho racer Werner Vogel and KM team west boss Ursus lieder on positions two, three and four after the three qualifying heats. The single semifinal was won by Guido Burghartz (Shepherd) ahead of Marcel Beekman (Xray) and Sven Lommersum (Xray) in his first Nitro-West-Masters attendance. Already during warm-up for the main race Lieder lost a wheel and was out of the competition. Tharmalingam was leading in front of Laopreeda and had already built up a gap of about two laps when he had his first issue in lap 54. Even with a 54 second lap he stayed in front but following problems in lap 58 he lost four minutes, so he would end the race in seventh position. Laopreeda took over the lead and brought home the win with a two lap advantage over old-dude Werner Vogel who once again showed an impressive performance. The third place went to Marcel Beekman who left Ronald Karduck (Shepherd) and Sven Lommersum behind.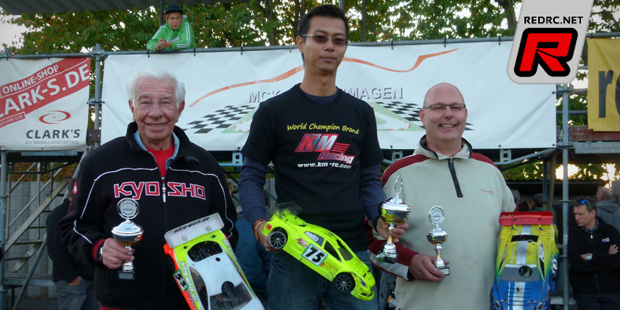 1/10 Open final result:
1. Arnon Laopreeda – Shepherd/Novarossi – 90 laps
2. Werner Vogel – Kyosho/Novarossi – 88
3. Marcel Beekman – Xray/Novarossi – 84
4. Roland Karduck – Shepehrd/Sonic – 83
5. Sven Lommersum – Xray/Sonic – 80
6. Hans-Werner Dietz – Xray/Novarossi – 77
7. Majuran Tharmalingam – KM/Novarossi – 68
8. Guido Burghartz – Shepherd/Sonic – 56
9. Philipp Wisniewski – Mugen/Sonic – 18
10.Ursus Lieder – KM/Novarossi – 0
Finishing in seventh at round six was enough for Majuran Tharmalingam in his first nitro season to become Nitro-West champion in the 1/10 Stock class with 594 points. Werner Vogel, who will turn 70 at the end of October made it to a strong second position in the ranking (589) and is followed by Hans-Werner Dietz (587), Guido Burghartz (574) and Marcel Beekman (573) among the 25 competitors in this class.
Source: Nitro-West [nitro-west.de]
---