October 8, 2015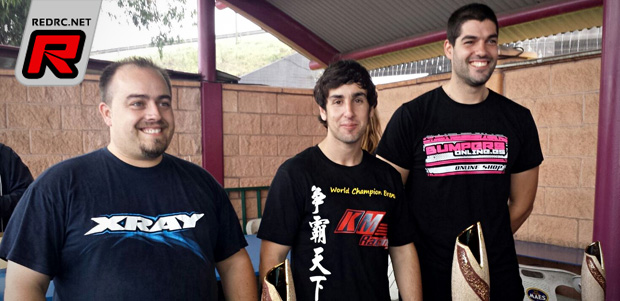 The Gijon track in the North of Spain played host for the second round of the Spanish Nitro Series. Saturday started out with five rounds of qualifying in which Edu Escandon (KM/Novarossi) came out fastest, taking the TQ honours with the fastest lap and also a new track record from Juan Hidalgo (Mugen/Novarossi). Jonhy Pastor (Mugen/Novarossi) and David Campos (Xray/Novarossi) completed the top 4 result. Following the qualifying the fun Defasio car chase challenge was held with José Aldudo (Xray/Novarossi) taking the win after a faultless drive over four minutes.

Sunday started in wet conditions and with Christian López (Xray/Novarossi), Adrian Santeiro (Xray/Novarossi) and Jesus Cueva (KM/Novarossi) bumping-up from the semifinal A as well as Rodrigo Diaz (KM/Novarossi), Jose Aldudo (Xray/Novarossi) and Marco Colomo (Km Racing/Novarossi) from the semifinal B making their way to the main final.
The A-main saw Edu running away from the field, with Juan and Jonhy fighting for the second spot and David in a close fourth. Some 10 minutes into the race rain started to fall, forcing the drivers to pit for new tyres. Edu was able to keep the lead but Juan was forced to retire, allowing David to take the second place. With the new track conditions Jonhy ran into problems while Adrian Santeiro moved up to third place with Christian in fourth. Finally Edu crossed the finish line in first place four laps ahead of David. Adrian rounded out the podium in third place.
A-Main top 5 results:
1.Edu Escandón – KM/Novarossi
2 David Campos – Xray/Novarossi
3.Adrian Santeiro – Xray/Novarossi
4.Christian Lopez – Xray/Novarossi
5.Jonhy Pastor – Mugen/Novarossi
Source: Spanish Nitro Series
---