November 3, 2015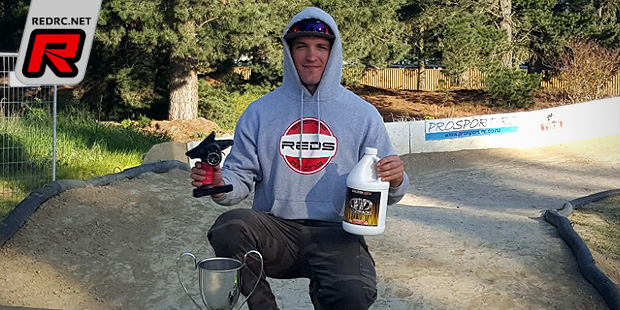 Christchurch recently played host for the recent New Zealand Buggy and Truggy National Championships. On Wednesday the track was very wet but the rain did manage to abate overnight and allowed some controlled practice until mid afternoon on Thursday when the skies opened up again and practice was done for the day. Friday there was to be four rounds of qualifying with the best two to count. It was clear from practice their were some fast local guys and a handful of fast Aussies had made the trip over. Friday dawned bright and sunny but very cold. The track was changing at an amazing rate making tire selection critical. After 3 rounds on Friday Aaron Stringer had two TQs for each class which gave him the overall TQ for both classes.

With only one round of qualifying left on Saturday and with the TQ rapped up the Stringer team tested some set options for the finals. Aaron managed another TQ in each class to make it 3 out of 4 TQ's for each class. Sunday rolled around with a very warm day predicted which would once again make tire choice critical. The semi warm up was held early in the morning with temps of around 7 degrees and with the finals being mid afternoon it was impossible to test any tires as the temps for around the finals time was around 24 degrees. Aaron managed to navigate though both 30 minute semis unscathed and take the pole for each final.
The Truggy class start left a little bit to be desired with the cars bunched up very tightly. Aaron got a bad start and allowed Kyosho driver Shane Van Gisenberg to get away at the start and saw Aaron back in 6th or 7th. Aaron manged to round up Shane over the next few minutes and after a tense battle Aaron managed a clean pass and started to pull away. Unfortunately with over a lap lead we suffered a mechanical failure which saw him DNF. Determined to make amends in the Buggy, Aaron drove a superb race to lead every lap and take the win by over 2 laps to 2nd and 4 laps to 3rd, handing him the New Zealand National Buggy title.
Source: Reds Racing [reds-racing.com]
---