November 9, 2015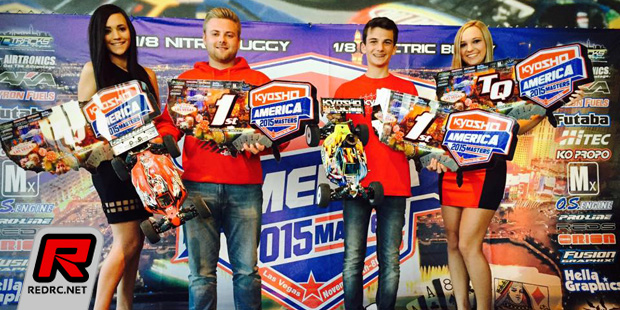 The 2015 Kyosho Masters USA were held this past weekend at RC Tracks of Las Vegas, home of the 2016 IFMAR 1/8th Buggy World Championships. The event saw the attendance not only of U.S. Kyosho drivers but also some swift guests from abroad such as Riccardo Berton, Elliott Boots and Kyosho's own Yuichi Kanai. In the premier Nitro Buggy class 2015 Italian Nitro Buggy Champion Riccardo Berton made a clean sweep by TQing three of the five qualifiers to take the overall TQ from Elliott Boots and Cody King who came out fastest in the remaining rounds. Jared Tebo and Kyle Johnson completed the top 5 after the qualifiers.
The E-Buggy class saw a tight battle between Elliott, Cody and Jared with the better end for Elliott who took the overall TQ in the tie-breaker from Cody. Jared lined up in third, Riccardo Berton and Wataru Takashiro came in fourth and fifth respectively.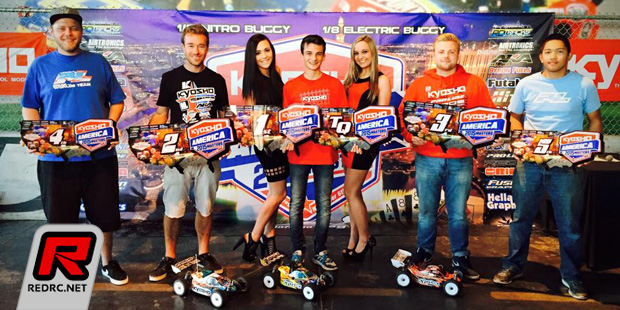 In the Nitro finals, run in a triple 20 minute A-main format, Riccardo made a clean sweep by winning A1 and A2, allowing him to take the overall win early and to sit out the third and final leg. With second place finishes in A1 and A2 as well as a win in A3 Jared grabbed himself the runner-up spot from Elliott, who ended in third in A1 and A2 but scored a DNF in A3. Cody King, who suffered from problems in the opening main, scored a fourth and a second place but a slower tie-breaker meant he had to settle for fourth behind Boots.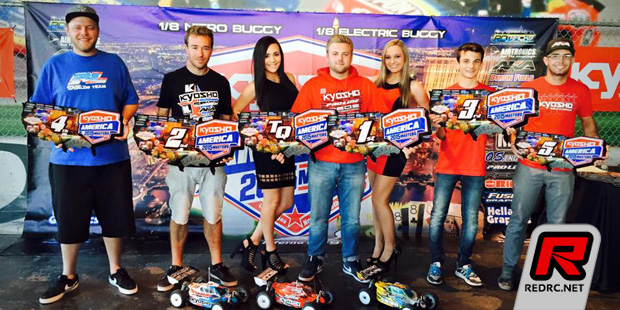 In the E-Buggy category it was again the TQ holder who would make for an early decision as Elliott easily won the first and second 8 minute A-main encounter to take the overall win with one main to spare. Jared Tebo came in second in A1 and fourth in A2 but a win in the third main meant the runner-up spot for him in front of Riccardo Berton. Cody King, second in A2 had a mixed remainder of mains so again he was again the best of the rest with a fourth place overall.
Source: Kyosho [kyoshoamerica.com]
---