November 11, 2015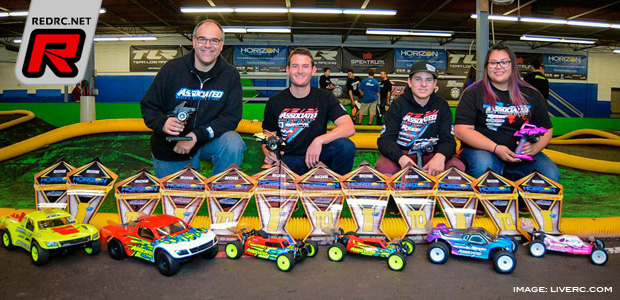 As the season turns from Summer to Fall, racers from the Midwest migrate indoors to race for the winter. One of the signature events of this time of year is hosted by Trackside Hobbies & Raceway just outside of Milwaukee, Wisconsin. Now re-branded as the Horizon Hobby Offroad Championships, racers from across the country visit the professionally run and maintained facility to see how they stack up against an impressive group of local talent. Covering the four major modified classes, the duo of 5-time 2015 ROAR National Champion Ryan Cavalieri and newly-crowned IFMAR 2WD World Champion, Spencer Rivkin top qualified all of them with Cavalieri starting first in 2WD, 4WD, and Short Course Modified with Rivkin taking the TQ in 2WD Truck Modified.

While Cavalieri won 2WD Modified Short Course and Rivkin won 2WD Modified Truck relatively unchallenged, the duo battled it out in the premier classes of 2WD and 4WD Modified Buggy. Tied for the overall win going in to A3 of 2WD Mod Buggy, Cavalieri made an early mistake that put Rivkin at the lead, who in turn bobbled, allowing Dustin Evans to inherit the lead while Rivkin and Cavalieri continued their battle. Ending up tied for the win, the IFMAR tiebreaker rules used by the event awarded the overall win to Cavalieri. If ROAR tiebreaker rules had been used, the award would have gone to Rivkin.
In 4WD Modified Buggy, Cavalieri went in to A3 with a victory and second place while Rivkin had suffered from a poor A1 and A2, but still had an outside shot at a podium finish. As the seconds ticked away it was clear that Rivkin had the pace to challenge Cavalieri for the victory, yet remained patient behind his teammate in order to secure the overall victory for Cavalieri. Rivkin just missed out on the third step of the podium that was occupied by teammate Corey Liebherr who received a warm round of applause from his fellow local racers for a job well done.
In the ultra-competitive 2WD 17.5 Buggy, it was Sarah Ann Ernst that rose above the rest. With the overall TQ and victories in A1 and A2, she showed her true speed and dominance in the most popular racing class in the U.S. right now. Also taking a victory for the Ernst family was Scotty Ernst in 2WD 17.5 Short Course.
Source: Team Associated [teamassociated.com]
---