November 11, 2015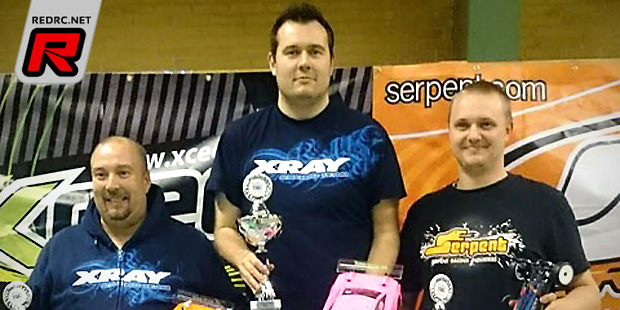 The third round of the the Danish DRCMU series was held in Tinglev, in the southern part of Denmark, close to the German border. This meant that the race attracted quite a few German racers, and therefore the driver lineup was the biggest of the series so far. In the Touring 17.5T Blinky class championship leader Chris Nielsen came out fastest after the practice from Bjarke Nyskov and Rasmus Skjoldborg Jakobsen. The qualifiers then had Bjarke coming out fastest by winning Q1 and Q2 while Chris was able to take the TQ in the final qualifier to grab the 2 spot on the grid. Nicolai Nielsen would end the qualifiers on the 3 spot, Mirko Scheuer rounded out the top 4 result.

The opening A-main had Bjarke and Chris taking off with no problem and on lap 3 Chris was able to pass into the lead that he would hold until he ran into trouble with a backmarker that crashed in front of him. Chris tried to avoid the crashed driver, clipped a curb and send his car on the roof, allowing Bjarke to take the lead again. With about one minute left on the race clock Chris started the hunt for Bjarke and with 10 seconds to go he was able to pass him for the win in A1.
A2 again saw a good start from the two front runners but later Chris made a costly mistake, allowing Bjarke to open a gap. Chris tried everything to close on the leader but another mistake mean Bjarke would be able to cruise to the win despite Chris setting a new lap record of 13.428s.
For A3 Chris tried a few setup changes to make sure he could maximise the pressure on the leader. Right from the tone Chris was able to chase Bjarke until a tumbling car, coming out of nowhere, collected both. While Chris was able to continue, Bjarke needed marshalling and from that moment on Chris tried to manage the gap on the field to bring home the win. Ultimately it worked out for him and he would take the win in A3 with a new track record and he would also snatch the overall victory from Bjarke Nyskov and Nicolai Nielsen.
17.5T final result:
1. Chris Nielsen
2. Bjarke Nyskov
3. Nicolai Nielsen
4. Emil Tranberg
5. Mirko Schreuer
6. Niels Ole Klinge
7. Per Dissing
8. Victor Nielsen
9. Holger Stannek
10.Mads Groth
Source: Xray [teamxray.com]
---