November 17, 2015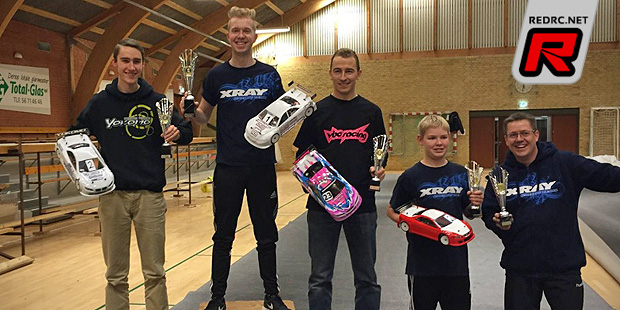 Round two of the Danish Electric On-road Nationals were held in Faxe on a purpose-built track. In the Touring Car class Mike Gosvig (Xray) dominated the qualifiers by winning all three rounds with a margin of four to eight seconds on the second place driver. Behind Mike, Frederik Brolos (Yokomo) and Soren Boy (VBC) had a good battle for the runner-up spot with Frederik taking three second place finishes while Soren ended the qualifiers in third. Young Xray driver Patrick Danielsen grabbed the 4 spot on the grid.

The triple A-mains saw Mike taking win in all three legs to secure an undefeated overall win. He was able to open a gap right from the start while behind him Frederik, Soren and also Patrick, who would come in third in the second main, battled for the remaining podium spots. Ultimately Frederik would hold the upper hand to take the runner-up spot from Soren. Patrick would finish in fourth from Kevin Nielsen (Xray) in fifth.
Touring Car A-final result:
1. Mike Gosvig – Xray
2. Frederik Brolos – Yokomo
3. Soren Boy Holst – VBC
4. Patrick Danielsen – Xray
5. Kevin Nielsen – Xray
6. Stefan Finnich – Xray
7. Daniel Bjerg – Gizmo
8. Gustav Pind – Yokomo
The drivers of the Formula class were both fighting with the large track with its technical sections and fast sweepers and also the somewhat slow 21.5T motors. This made for intense and exciting battles and on race day Christian Lehm (Xray) found the best combination of motor and additive to take the TQ and also the race win. Johnny Lyng (Xray) secured the runner-up spot from WRC driver Michael Priest who rounded out the top 3 result. All three drivers are now tie on points which promises an exciting championship.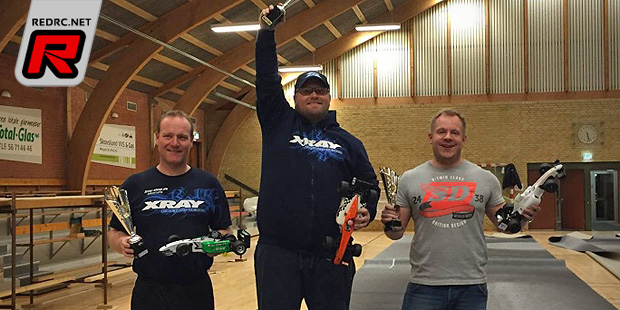 Formula A-final result:
1. Christian Lehm – Xray
2. Johnny Lyng – Xray
3. Michael Priest – WRC
4. Bo Larsen – Xray
5. Henrik Rasmussen – Xray
6. Jacob Lund – Xray
7. Torben Priest – Xray
The drivers of the 1/12th scale class had to cope with the somewhat bumpy track, forcing them to use pretty high ride height settings. At the end Jack Sorensen (Xray), who missed Saturday's practice due to celebrating his birthday, made a clean sweep by TQing and winning the race from CRC drivers Jon Pedersen and Bo Nielsen.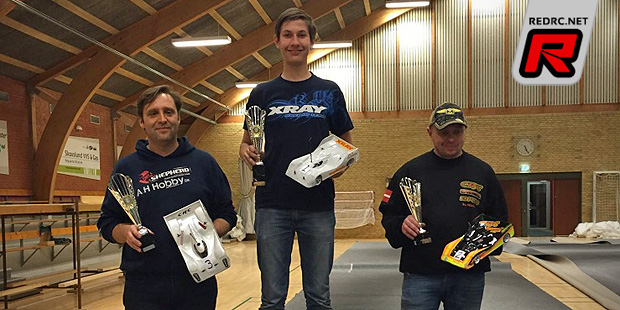 1/12th scale final results:
1. Jack Sørensen – Xray
2. Jon Pedersen – CRC
3. Bo Nielsen – CRC
4. Kenneth Hansen – CRC
5. Dennis Hansen – Xray
6. Rene Kjellerup – CRC
In the Stock Beginners class the race was on between Nicolai Nielsen (Serpent) and young Casper Lund (Xray). This time round 1 runner-up Bjarke Nyskov did not attend but the gap was filled by Soren B Sorensen who would be in the mix for the overall win. During practice Casper showed a very good pace, being 0.3 seconds faster than his closest rivalled. In qualifying Casper then took the TQ with two round wins from Soren B Sorensen who scored one TQ. In the finals Casper then again dominated the field although in A2 he had to battle a bit harder due to a setup change that did not perform to his liking. Behind Casper Soren B Sorensen came in second while Nicolai Nielsen rounded out the top 3 result.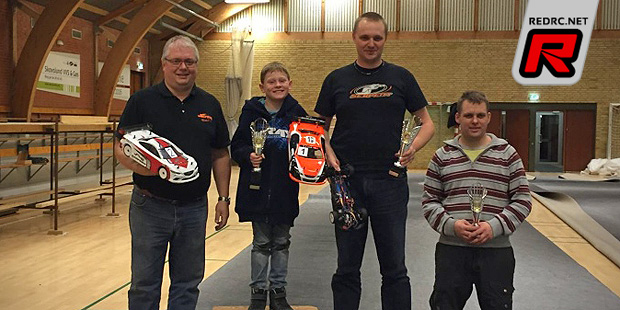 Stock Beginner A-final result:
1. Casper Lund – Xray
2. Soren B Sorensen – Serpent
3. Nicolai Nielsen – Serpent
4. Nicolai Holt – Xray
5. Johnny B. Goode – Xray
6. Willy Lehmann – Xray
7. Calle Rasmussen – Xray
8. Daniel Munk – TOP
Source: Xray [teamxray.com]
---