November 11, 2015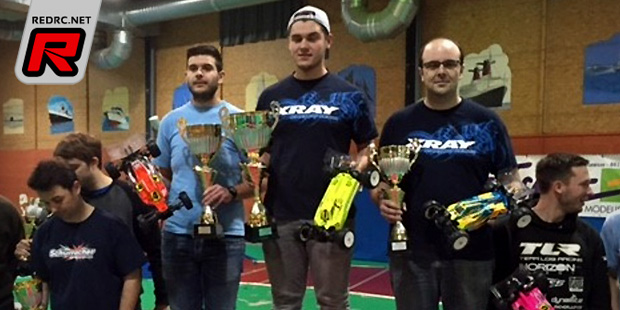 The final round of the French 1/10th Off-road National Championship was held in Neuvile de Poitou. High-grip carpet combined with low-grip sections made setup a bit tricky and in the 4WD class it was Lorenzo Crolla (Xray) who came out fastest from Xray teammate Mathieu Briere who both won two qualifiers but the better tie-breaker would hand Lorenzo the overall TQ. In the finals, Lorenzo was again super fast and he didn't make any mistakes, sweeping all three finals for the overall win. Behind him the race was on for the runner-up spot between Mathieu Briere and Julien Formentin (Team Associated) with the better end for Julien. Mathieu then would round out the top 3 result.
4WD final results:
1. Lorenzo Crolla – Xray
2. Julien Formentin – Team Associated
3. Mathieu Briere – Xray
4. Ludovic Valtier – Associated
5. Jean-Pierrick Sartel – TLR
6. Jean-Baptiste Geneau – Hot Bodies
7. Alexandre Privat – Hot Bodies
8. Florent Jadot – Team C
9. Olivier De Montfumat – Schumacher
10.Sylvain Gallo Selva – Yokomo
11.Kevin Seysen – Team Associated
12.Alexandre Dufau Cazenave – Team Durango
In the 2WD class Ludovic Valtier (Team Associated) and Lorenzo Crolla (Xray) came out fastest after the qualifiers with Mathieu Briere (Xray) in tow. In the finals Ludovic would take an early overall win by taking A1 and A2 with Mathieu climbing up one spot to take the second place. Julien Formentin (Team Associated) completed the top 3 result.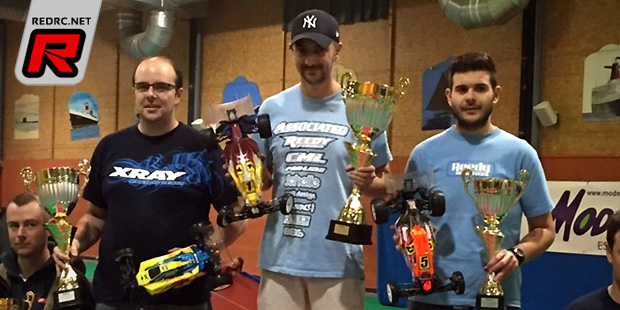 2WD final result:
1. Ludovic Valtier – Team Associated
2. Mathieu Briere – Xray
3. Julien Formentin – Team Associated
4. Vincent Heligoin – Team Associated
5. Olivier De Montfumat – Schumacher
6. Romain Legrain – Yokomo
7. Sylvain Gallo Selva – Yokomo
8. Jonathan Claux – Kyosho
9. Jean-Pierrick Sartel – TLR
10.Kevin Seysen – Team Associated
11.Crolla Lorenzo – Xray
12.Sam Bouterfas – n/a
Source: Xray [teamxray.com]
---