November 20, 2015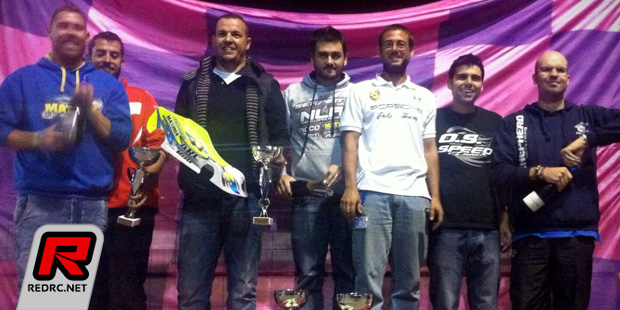 The Spanish 1/8th Nitro On-road Endurance Nationals were hosted by the Carsol club in Elche. The four hour Endurance race sees pretty simple rules with a limit of six sets of tyres and a 15 laps penalty for an extra set as well as 30 minute stints for 2-driver teams and 20 minute stints for 3-driver lineups. The race started in the afternoon and ended under floodlight to make for a very special atmosphere. Right before the start the team of Blanco and Sevilla ran into engine problems meaning they would loose around 15 minutes while up front Nacho Lopez and Pablo Macia set the early pace despite 5 minute fuel stints. In second place and on the same lap Alberto Alonso and Victor Gonzalez, on a 6 minute refuelling strategy, tried to keep up with the pace of the leaders. The team of Cuesta, Pastor and Revert would hold the third place in the opening stages.

Some two hours into the race the top 2 teams were still on the same lap until Alonso and Gonzalez ran into trouble as they first ran out of fuel, causing damage to the engine's glowplug and causing some flameouts later. More disaster stroke then they had a coming together with a backmarker, breaking their car's steering servo arm which resulted in a long pitstop for repair. Meanwhile Lopez and Macia were able to open a pretty comfortable gap on the field with Cuesta, Pastor and Revert running in second place which was in question though after they were involved in a crash, damaging the car's rear body mount which needed repair. At the end Nacho Lopez and Pablo Macia (Serpent/Picco/Matrix) would take the win with 957 laps from second placed Revert, Pastor and Cuesta (ARC/O.S./Matrix) with 939 laps and Victor Gonzalez and Alberto Alonso (Shepherd/O.S./APC) who would recover to grab the final podium spot with 877 laps completed.
Overall result:
1. Lopez/Marcia – Serpent/Picco/Matrix/Runner Time – 957 laps
2. Revert/Pastor/Cuesta – ARC/O.S./Matrix/Energy – 939 laps
3. Gonzalez/Alonso – Shepherd/O.S./APC/Roga – 877 laps
4. Signes/Guerrero/Espinosa – KM/Novarossi/Matrix/Delta – 875 laps
5. Garcia/Ascacibar/Cuesta – Mugen/O.S./VMR/Maxima – 829 laps
6. Boters/Nebot/Monferrer – Mugen/Novarossi/Matrix/Runner Time – 828 laps
7. Fenandez/Dos Santos – Serpent/O.S./Matrix/Tornado – 742 laps
8. Sevilla/Blanco – Shepherd/Picco/APC/King – 465 laps
Thanks to Nacho Lopez for the report.
---