November 29, 2015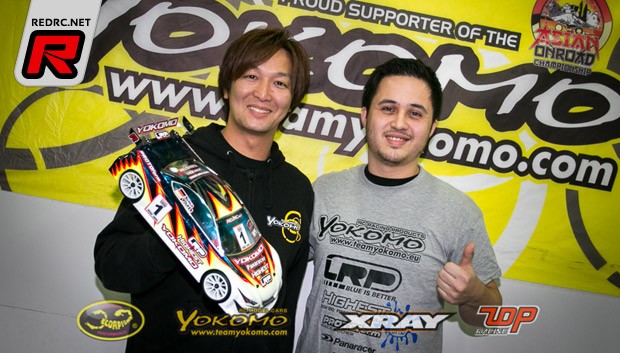 The 5th and final round of the Asian Onroad Championships has made its way to historic Yatabe Arena in Japan. The popularity of this race has exploded each and every year as the finale race was sold out months prior and hitting over 250 entries making this Yatabe's biggest race ever (by entry count).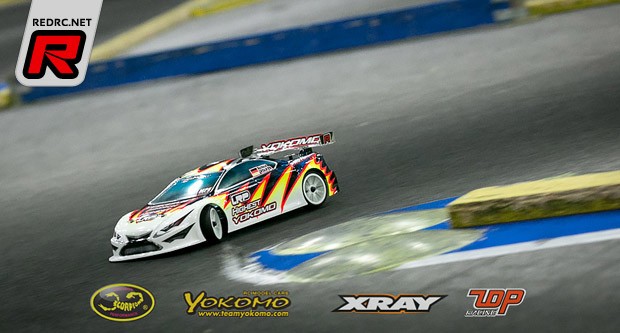 With 3 of 4 rounds of qualifying over, the action and intensity is starting to peak. The hot buzz in the pits has been all about the new Yokomo BD7 2016. With only 3 cars on hand and making its debut race here at the AOC, all eyes on the new ride. Ronald Volker, Nicholas Lee, and Meen Vejrak have been extremely happy with their cars and showing it's raw pace and potential by qualifying 1st, 2nd, and 4th after 3 rounds. Other hot news in the pits is that Tamiya is testing something new as well and has kept it well under wraps and away from the public's view.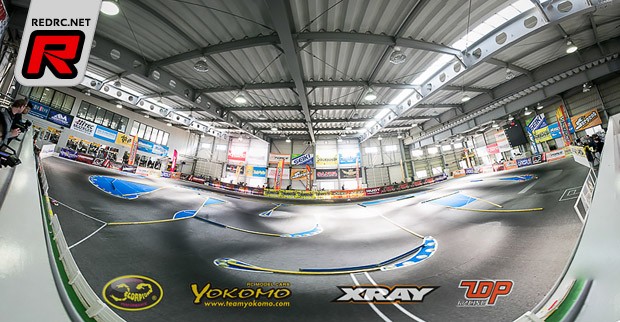 In the modified sedan class, it was Yokomo's Ronald Volker putting on a clinic here at Yatabe Arena and with every run, his times keep getting faster. So far, Volker's streak is perfect as he was able to win every round of qualifying with one left to go before Sunday's mains. Extremely happy and perhaps a bit surprised, Volker said he hasn't done any setup changes to his car and said, "It's practically perfect." Yokomo's newest driver signing, Singapore's Nicholas Lee has also commented on the BD7 2016 being "Supaaa Dialed." Lee is sitting 2nd so far behind his teammate Volker. Not backing down from the challenge, former world champion Hayato Matsuzaki has slotted himself in 3rd with the current BD7 2015 car showing it still has tremendous pace.
Moving on to 1/12th scale modified, Japanese ace Hideo Kitazawa is currently 1st on the overall list while Roche's newest pilot and multi 1/12th scale world champion, Naoto Matsukura is starting to figure out his new ride and definitely bringing the heat for TQ. Young Japanese CRC driver, Kosuke Suzuki put in an excellent drive and now sitting 3rd on the overall.

In the 13.5 boosted sedan class, it's Kyoichi Matsumoto sitting 1st by winning rounds 2 and 3 to move him to the front of the leader board in this ultra competitive class. Kohta Kawakami, who TQ'd the 1st round and finished 2nd in rounds 2 and 3, would put him 2nd behind his fellow Japanese driver. Toshiaki Hirata is currently in 3rd with two excellent 3rd place finishes and looking to improve his position in the final round of qualifying.
Hiroyuki Hayashi would lead the way in the 17.5 blinky class with his two best finishes so far being a 2nd and a 1st. Kojima Yoichi would also have a 2nd and 1st, but would have to settle for 2nd by the tie-breaker. Jimmy So is looking just as competitive as the top two by winning round 3 and can take the overall TQ if Jimmy is able to continue his momentum and take the win in the final round of qualifying.
With 1 more round of qualifying to go, a quick resort by fastest run will group the drivers together for a better qualifying round. The only class that is locked up is the modified sedan class. The final round could see a lot of people shifting around as only the best 2 of 4 rounds are taken to set the grid for the A mains.
Thanks to Thomas Tran for the report.
---