November 22, 2015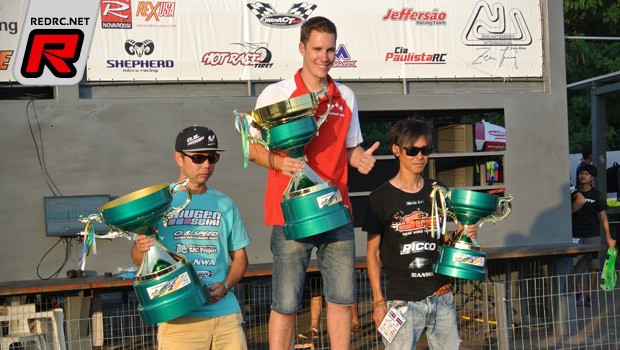 With some delays, due to rain on Saturday morning the last 5 finals of the 2015 IFMAR 1/8th onroad World Championships were run in the afternoon at the ZECA Elias track in Americana City SP. The final started just after 5pm with Simon Kurzbuch on pole position for Shepherd. Following a hard fought pair of Semi finals in which we lost contenders Balestri, Pietsch & Collari it would be Takaaki Shimo who would start from 2nd with fellow Japanese racer Yuya Sahashi in 3rd. Fourth on the grid was local favourite Flavio Elias starting ahead of reigning World Champion Tadahiko Sahashi in 5th, Sebastian Recio (coming from the 1/4 finals) 6th, Shinnosuke Yokoyama 7th, Henrique Winik (also from the Quarters) 8th, Robin D'Hondt 9th and Daniele Ielasi completing the grid in 10th, the only Italian in the final.
During the first 30 minutes it was Kurzbuch followed by Shimo and Daniele Ielasi who had worked his way up from last on the grid to 3rd. It took until lap 132 for Shimo to get passed when Simon made a small error but 5 laps later Simon retook the lead after a faster pit stop. In the following stop it was the crew of Shimo that faster, so it was Shimo again in the lead. The last pit stop was decisive when Shimo drove into the pitlane running on fumes, so it was Kurzbuch back into the lead again. Shimo could catch up to the rear of the Swiss driver but didn't enough speed or opportunities to make the pass, so as they crossed the line for the final time the pair were separated by just 0.2 seconds after 1 hour of racing. Meanwhile Ielasi who had to stop due to a driver error and mechanical failure allowed Yuya Sahashi into 3rd and the final podium position, with local hero Elias ending the race in 4th.
Final result:
1. Simon Kurzbuch (CH) – 202L 60:00:506 (Shepherd/Novarossi)
2. Takaaki Shimo (JP) – 202L 60:00:720 (Mugen/OS Speed)
3. Yuya Sahashi (JP) – 201L 60:11:670 (Serpent/Picco)
4. Flavio Elias (BR] – 200L 60:15:239 (Shepherd/Novarossi)
5. Tadahiko Sahashi (JP) – 200L 60:15:354 (Serpent/Picco)
6. Sebastian Recio (ARG) – 193L 59:51:325 (Capricorn/Novarossi)
7. Shinnosuke Yokoyama (JP) – 167L 59:49:810 (Mugen/OS Speed)
8. Henrique Winik (BR) – 143L 44:50:294 (Mugen/OS Speed)
9. Robin D'Hondt (BE) – 119L 36:48:966 (BMT/Picco)
10.Daniele Ieliasi (IT) – 96L 28:43:838 (WRC/Ielasi Tuned)
[youtube]https://www.youtube.com/watch?v=g8-BQyGFP5E[/youtube]
So the new World champion for the next 2 years is Simon Kurzbuch and let see if he can defend his title in 2 years when we will be in France for the 2017 edition of the fastest RC class within IFMAR.
Thanks to Sander de Graaf for the report.
---