November 24, 2015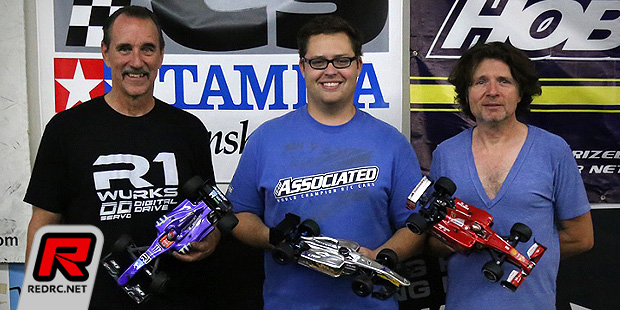 Round 1 of the SoCal RC Scale Series was held at TQ RC Racing in Chino. With Summer coming to an end, it was time to return to begin the second year of the popular Winter Series. Five race days comprise the series and a drivers' best four event results count toward the end of series awards for both Sportsman and Expert drivers. The Formula cars were first to set qualifying times for their race heats for the day. The series' unique system uses a three minute qualifying run to set the five best (non-consecutive) laps averaged together. Josh Tran would hold the initial TQ spot with his qualifying time of 11.320 in the first group but there were some heavy hitters eager to best Josh's time. When the dust settled, Craig "Cuda" Hammon, after a lot of hard work to get his carpet competitiveness close to his outdoor pace, took the top spot; narrowly besting Aaron Lane with a five lap average of 10.656 to Aaron's 10.667, just 0.011 second gap. Third qualifier would be Kevin "Panda" Cole with a 10.938 effort. The difference between 3rd to 9th qualifiers was only 0.2 seconds. The change this season from 21.5 to 25.5 motors has closed the overall gap and would make for some very exciting racing.

The GT Sedans rolled out next and top honors would go to Tony "Nemo" Tam running his familiar Nemo paint scheme with a 5 lap average of 10.179 seconds. A close second would be Dave Berger running his faithful blue NSX body that he won the 2014/15 Winter Series with a 10.258 average and rounding out the top three would be Brian "B-Ruff" Rutherford with an average 10.347. The action would be tight with 3rd thru 7th qualifying positions separated by just 0.052 seconds.

It was now time to start the heat races. Every Formula driver runs three 15 minute mains with two mandatory pit stops, while GT Sedan competitors race 10 minute mains each race with one mandatory pit stop. Each round is scored with a qual points system so a driver from the lowest group has the chance to make a fast run and put themselves in the top 10 for that round. At the end of the day, all three runs are totaled for final points. There are no throw outs in our format so the drivers have to be fast and reliable in order to achieve a top 10 finish.
Group B in Formula 1 hit the track and would be a group of highs and lows. Alex Morales, Tom Kahl, Steven Jackson and new to Formula this year, Josh Tran would swap the top positions in each of their three races. Tom Kahl suffered a catastrophic chassis failure in his first event just over one minute into the first fifteen minute race put him on the back foot early. However, wins in his second and third main helped propel him to 9th overall and second overall in Sportsman for the day. Alex would take the win in the first main followed by a second but a suspension failure early into his third race cut short a promising day that would leave him 12th overall and 4th in Sportsman. Josh Tran in his first season of Formula and out of retirement from racing for about four years put in some consistent runs to net two seconds and a fourth in his group to tie for 10th overall and third in Sportsman Formula 1 honors. Steven Jackson struggled with his Fornula ride after being away from carpet for a few months to post three 3rds in his group to tie with Josh for 10th overall and 8th in Expert class. Rounding out group 1 were three brand new drivers to Formula 1 and we were glad to have them racing with us today. The father and son duo of Dave and Peyton Hilton and Chuck Howell have all just started racing at TQ RC Racing this year and putting in some good battles on the track. Son Peyton would win the battle with this group with consistent 4th and 5th place finishes. Father Dave would finish right behind just 2 points overall a drift with Chuck rounding out the field just two points behind Dave in the overall points standing.
Formula 1 group A would bring out most of the Expert class drivers with Sportsman drive Doug Rebal making the top 8 and looking to mix things up. From qualifying, it looked like Craig "Cuda" Hammon and Aaron Lane would walk away with the event but Charles Lightfoot and Kevin "Panda" Cole would keep them honest and push them throughout the day. Aaron and Craig would split the first two mains setting up a show down in the final main. The Panda would run close behind the top two but pitting strategies would lead to some on track altercations with them that opened the door for Charles Lightfoot to take third in main 1 and 2 and a spot on the podium. In the final showdown, Aaron would take the lead from Kevin with about three minutes left to take two wins and secure the top honors for the day. The Cuda would tally a win, second and third plus his TQ point to finish in second just one point behind Aaron. Rounding out the podium with a clean and consistent day with two 3rds and a 5th would be Charles Lightfoot. The Panda would take a 4th overall with his second in the last race making up for his disastrous 8th in the second race running over half the race with suspension damage from an incident that dropped him 1-2 seconds a lap off pace. The second half of the group would trade places on track and overall each run with Mark Goldwater taking 5th overall honors showing vast improvement over last season and becoming a driver to watch out for in the expert class. Tied for 5th overall on points for the day would be 2014/15 season Formula champion Bill "Mr. Tuning Haus himself" Jeric. Bill has been spending the last few months working with his asphalt car on carpet but insiders are saying he will probably switch back to his championship winning chassis for the next round. Finishing seventh overall for the day mixing driving and photography duties for us today was Jason Huang. Jason has been away from carpet racing since last years' series so expect to see him pressuring for podiums over the balance of the season. Rounding out the group with a strong eighth overall and first overall in Sportsman class was Doug Rebal. Surprising us all by making it to the 15 minute mark in all three races, Doug is on his way to losing his nickname "Smokehouse", earned for his spectacular power unit implosions last season.
As for the race facts, Craig Hammon set fastest race lap at 10.602 in round 3 with Aaron Lane, Charles Lightfoot and Kevin Cole also posting 10.6 fast laps. Best run of the day went to Aaron Lane with an 81 lap/ 15:04.602 performance in round 1, the only driver hitting the 81 lap mark. Kevin Cole, Craig Hammon and Charles Lightfoot all made 80 lap runs. The top three in Formula  was Aaron Lane with his Exotek, Craig "Cuda" Hammon with an Xray and Charles Lightfoot also running an Xray. Doug Rebal was the top Sportsman finishing in eighth overall followed by Tom Kahl and Josh Tran. With the series' scoring system, if a Sportsman driver finishes with three of his top four finishes in the top eight for that day, they get automatically bumped up to Expert class.
GT Sedan Group C looked like the Fred Medel/Craig "Cuda" Hammon show but first time Series racer Todd Sincock would mix up the action in the first two mains. Cuda would lead from pole in the first main until his pit stop when Fred took over and led the pack to the finish. A front suspension failure to Cuda's machine in main 2 left him thinking "only if" as Fred took the second win but Craig came back to narrowly take the win in race 3. Fred's strong runs all three races would tie him for 7th overall for the day on points showing that even a bad qualifying run and starting in the C group could still net him an A group finish. For Cuda, his short-lived round 2 race dropped him to 14th overall for the day but still managed to hold onto 1st overall in Sportsman Sedan. Todd Sincock made a splash in his debut in the series with a 3rd in main 1 and a 2nd in main 2 but his DNS in race 2 dropped him to 3rd overall for the day in Sportsman. Todd could be the wild card in the Sportsman class this series. The second half of the field found John Christensen who has raced Formula and Minis for well over 10 years run his first ever Sedan race mixing it up with Erik Denk who made the haul out from Arizona and newcomers Dave and Peyton Hilton. John was finding his Sedan legs improving each race to finish with two 3rds and a 4th for 2nd overall in Sportsman GT today. Erik would have suspension issues in round 2 but some quick pit work by Tony "Nemo" Tam got Erik back out to finish the race. Father Dave Hilton was making improvements each round but son Peyton after having Sedan issues in qualifying choose to focus on his Formula machine for the day and finished up 19th and 21st respectively.
On to the B group and Paul Dabao, Tyree Phillips and Mark Santa Ines would be leaders of this pack during their 3 races. Mark would grab the lead just past the one minute mark in the first main, but a major incident with 1.5 minutes left in the race would hand the lead to Tyree who gladly accepted the gift and ran cleanly to win the first main with Paul Dabao close behind. Mark would make no mistakes in main 2 to take the win, needing a flawless run as Paul pressured him the entire race to take second again just 0.14 seconds behind. It was a tossup who would take the B group honors today but just less than 2 minutes into the final race saw Paul succumb to a mechanical failure that put an end to his solid runs. Paul's 15th place finish in race 3 would drop him to ninth overall for the day and we know he will be back even stronger for round 2. Mark would again pull out the win in race 3 with Tyree just two seconds behind at the end with the two finishing the day tied for 5th overall in points. Bensi Lopez, Jason Laurel and Steven Jackson battled closely throughout the day, with Jason heading the group in the first main while Bensi got the edge in the second. A race-ending suspension failure in his third main put Steven's car on the trailer as Jason took the fight to Bensi but came up 1.2 seconds short at the end as Bensi took the nod in race 3. Final results showed them tied for 11th overall with Steven's mechanical failure dropping him to 14th overall. This group was rounded out by Charles Lightfoot who, after having electronic issues in qualifying and race 1, chose to focus on his Formula program that earned a podium finish in that division.
The final group of GT Sedan saw the fastest qualifiers take to the track. Tony Tam, Dave Berger, JD Ramsey, Mike Molina, and Kevin "Panda" Cole all went into the final race with an opportunity to make the podium with Tony, Dave, and JD tied on points after two mains. Tony would take the win in race 1 but wins in race 2 and 3 would give the overall honors today to Dave with a total of 298 points to Tony's 297. A 4th place result in the final main would drop JD to 3rd overall to round out the podium just two points behind Tony. A solid 2nd in the final main would secure fourth overall for the Panda, matching his final position in the Formula 1 class as one of six drivers competing in both Formula and GT Sedan. Mike would suffer mechanical issues in his final main, and into a 7th place finish for the day. Brian "B-Ruff" Rutherford's day started well with his number 3 qualifying spot but bobbles in his first two runs and mechanical issues in race 3 prevented him from taking the start in Main 3, relegated him to a 10th place overall result. Calvin Simmons endured mechanical woes, stopping him short in his first race. A collision with a spun car reentering the track on just lap 3 served to end his second race prematurely as well, which would have parked most people. However, Calvin would not be deterred and in main 3 finally showed his normal speed to take 7th overall for that round and 13th overall for the day. As Calvin was quoted after the race, "that was my throw out". He'll certainly be courting Lady Luck to ride with him during the next four rounds, but expect to see him running strong again in the A group in Round 2. As for the race facts, Dave Berger set fastest race lap at 10.197 in round 3 with Tony Tam, Brian Rutherford and Calvin Simmons posting 10.2 fast laps. Best run of the day also went to Dave with a run of 57 laps/ 10:00.900 also in round 3. Drivers joining the 57 lap club today were Kevin Cole, JD Ramsey and Tony Tam. The top three in GT Sedan were Dave Berger (Yokomo) Tony Tam (Awesomatix) and JD Ramsey (Yokomo). Top Sportsman in the division would be Craig Hammon in 14th overall followed by John Christensen who after many years racing Formula  and Mini is racing Sedans for the first time ever. Rounding out the Sportsman podium would be newcomer Todd Sincock who made the decision to join the series on race day, demonstrating that it's never too late to join in on the fun.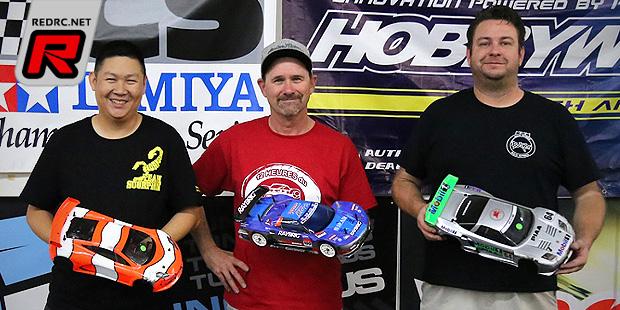 Round 2 of the series will be held on December 12th.
Source: Tuning Haus [tuninghaus.com]
---