November 19, 2015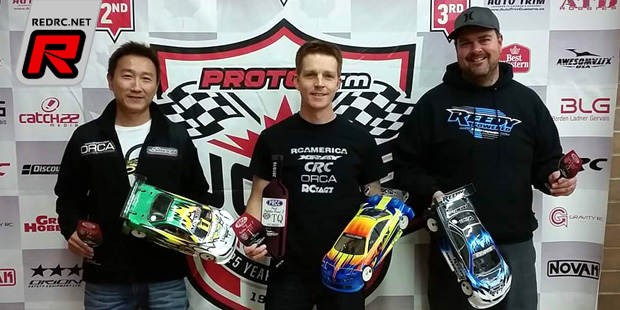 The Western Canadian Indoor Championship Series round 2 was held among the beautiful wine country of Penticton, British Columbia. Hosted by the PRCC Club, this race just keeps on growing. After doubling last year, they were again up an astounding 50 percent, due in large part to the amazing creativity of the organizers. This year, every racer received a WCICS 25th Anniversary pit towel, personalized with their name. In addition, as the race weekend fell on WCICS President Josh Carter's birthday, this club surprised him with a beautiful cake, and an entire gymnasium of RC racers singing Happy Birthday. On the racing side of things in the Modified Touring class National Champion, Xray driver Blake Bell drove his T4 from pole to checkered without looking back. But he was never alone, with Orca's Keith Yu close behind in 2nd, and Awesomatix's Korgae Scales in third, the three crossing the line just a few seconds apart, with almost exactly the same fast lap times.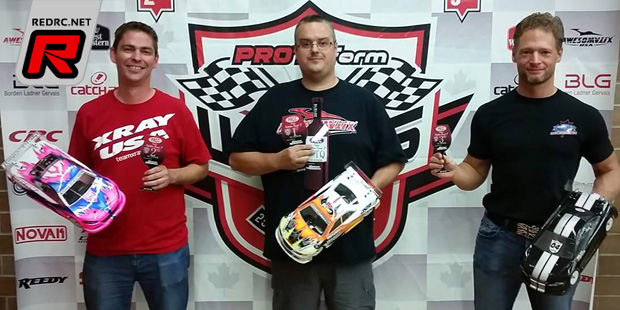 The biggest class of the weekend, Touring Stock, didn't hold back with great racing action. BC's Frank Bortolazzo was TQ in a hotly contested class, and led from tone to tone taking the win. Ryan Rice, having traveled all the way from Saskatoon, moved from 4th up to 2nd. Top privateer Josh Carter crossed the line in 3rd just a few tenths behind.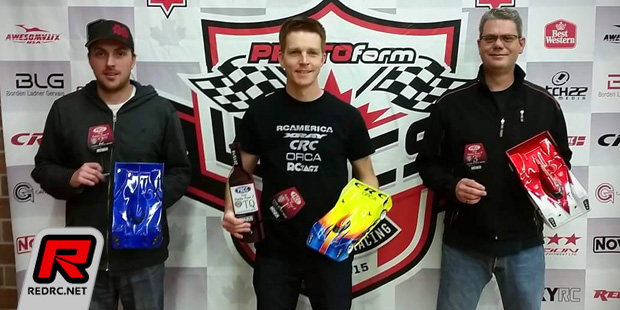 In 1/12th Modified "The Champ" Blake Bell drove his car to the TQ spot, and confidently later also drove to first place. BC's Jason Melynk had an amazing drive, and put his car in a solid 2nd place, also posting the fastest lap. Kelowna's Earl Towson drove his car across the line in 3rd, coming from 5th on the grid and getting by 3rd place qualifier Josh Carter early on, and holding on till the end even as Josh's car caught air midway down the straight and didn't touch carpet again until after slamming into the wall at turn 1.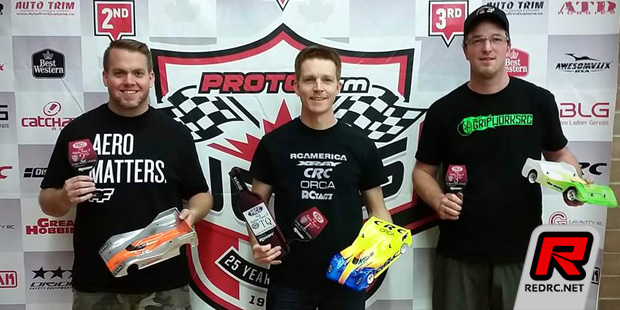 With reigning Canadian National Champion Blake Bell putting his CRC firmly in TQ in 1/12th Stock, all eyes were on the challengers. Xray's Luke Pittman had an amazing drive, besting Blake's fast lap by over a tenth, but 12th is about robot precision, and no mistakes, and that's what brought the Champ across the line in first place. Luke took a solid 2nd, half a lap in front of Alex Pate. Special mention to PRCC's Anthony Hobbs, the only driver to best the National Champions consistency.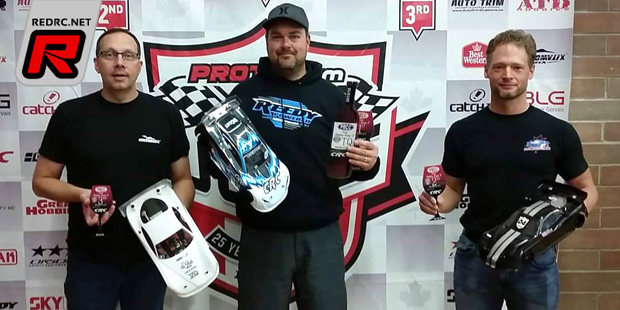 Multi-time WGT Champion Korgae Scales continued his domination of WGT, with an easy TQ and win. As a nice birthday present, top privateer Josh Carter drove to second place. Two BC racers, Greg Gherasim and Earl Towson, had the best battle of the main, crossing the line just a few tenths apart, with Greg following in 4th for most of the race, then getting by Earl with just a few laps left to claim the last podium spot.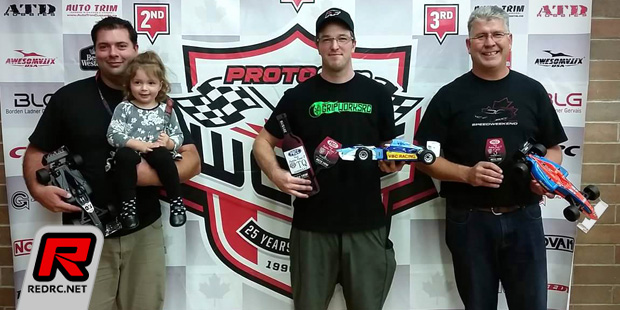 Alex Pate was again on the podium, this time claiming to top spot as his dominant Formula car blitzed the field by two laps. The battle was for 2nd between Anthony Hobbs and Gert Swart. Both drivers making up multiple spots, Anthony moving from 5th up to finish 2nd place, and after troubles on the start dropped Gert down to 9th place, he drove smooth and clean to get back within a few seconds of Anthony.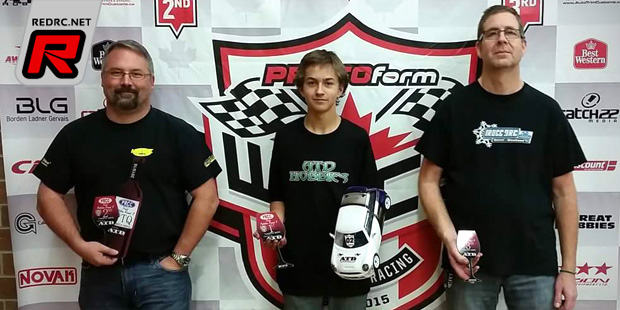 In the Tamiya Mini category TQ Scott West from Calgary appeared to be untouchable, having held TQ throughout the entire weekend, with a car several tenths faster than the rest of the field. But it's never over till they cross the line, and a suddenly ill handling car, which was later tracked down to a glitch in his radio settings, gave 16-year old hotshot Brandon Rogers with an opportunity that he absolutely capitalized on. Making the pass on lap 8, he would keep Scott behind and drive to the checkered flag by just a second. This young driver was cool under pressure, and deserves his first podium. BC's Brent Wende had his own race for third, holding off PRCC Exec Anthony Hobbs the entire race, clinching 3rd also by just over a second.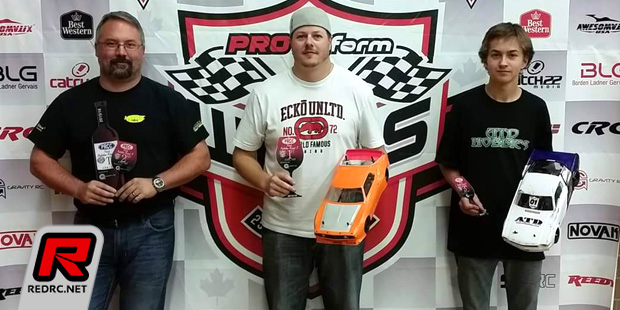 Sometimes you're the windshield, sometimes you're the bug. Scott West's luck didn't change much in the CTA main. After again dominating qualifying all weekend, an unassisted error compounded by a long 23 second marshal, dropped Scott from first to 7th. In an amazing drive, he was able to make up 6 spots to finish 2nd, but the win would go to 4th place qualifier Cam Spence, who kept it clean, avoided traffic, and moved up to first after a good battle with young Brandon Rogers, who had to stage his own comeback from 5th to finish 3rd.
Source: WCICS [wcics.ca]
---