November 24, 2015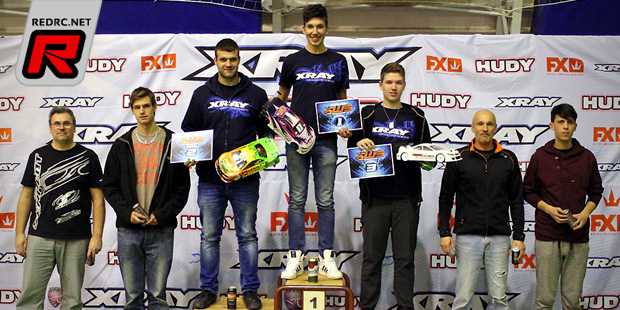 Round 2 of the Xray Winter Series Morava was again held at the Jedovnice sports hall. The event attracted 64 racers to compete in the five classes of Touring Open, Stock 17.5T, Hobby, Formula and GT. The Touring Open class was dominated by the fight between the two teammates David Nemcek and Kuba Simurda. In the finals Kuba held the upper hand over David to take the day's win while Michal Vitamvas would round out the top 3 result.
Touring Open top 5 result:
1. Kuba Simurda
2. David Nemcek
3. Michal Vitamvas
4. Petr Rovny
5. Ludvik Kurecka
The class with the largest field of drivers was again Touring Stock. Jaroslav Kopecky Jr. was the pre-event favorite and he would proof everyone right as he took the win from Jakub Dalecky on the runner-up spot. David Mestan grabbed the final podium spot while Tono Sloboda had to settle for fourth in the end. The only lady of the race, Marketa Vitamvasova, finished on a good fifth place.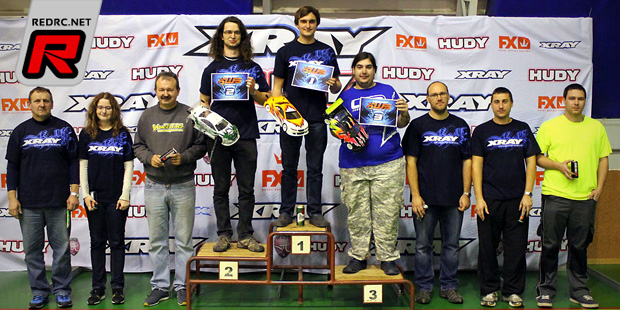 Touring Stock top 5 result:
1. Jaroslav Kopecky Jr.
2. Jakub Dalecky
3. David Mestan
4. Tono Sloboda
5. Marketa Vitamvasova
The Formula class had some entertaining battles to offer. Lukas Hoch and Jaroslav Vala showed some nice wheel-to-wheel racing and it would be Lukas who came out fastest from runner-up Jaroslav. Marek Sova came in third while Jiri Groch and Martin Janicek completed the top 5 result.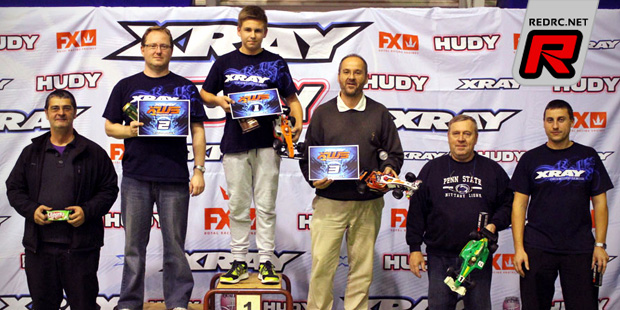 Formula top 5 result:
1. Lukas Hoch
2. Jaroslav Vala
3. Marek Sova
4. Jiri Groch
5. Martin Janicek
The GT class was another class entertaining to watch as many position swaps happened during the races. At the end Jindrich Kana would take the day's win from Jiri Groch. Miroslav Jurenka, TQ holder after the qualifiers, dropped to third overall.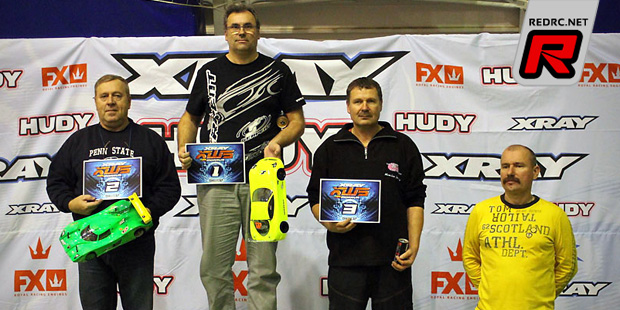 GT top 5 result:
1. Jindrich Kana
2. Jiri Groch
3. Miroslav Jurenka
4. Milan Cendelin
5. Petr Novacek
The supporting Hobby class was won by Karel Becicka who recovered from an unsuccessful outing in the GT class. Milan Cendelin ended the day on the second spot with David Kana grabbing the final podium position.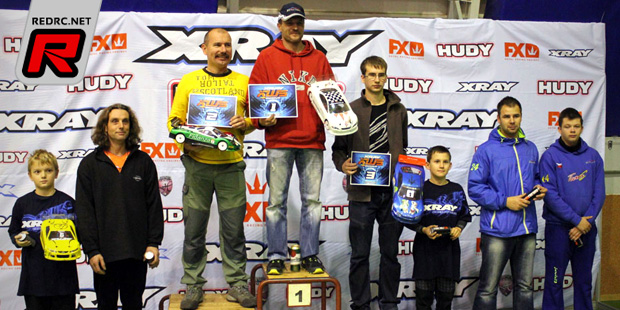 Hobby top 5 result:
1. Karel Becicka
2. Milan Cendelin
3. David Kana
4. Jakub Zvejska
5. Jan Zernicek
Source: Xray [teamxray.com]
---