December 7, 2015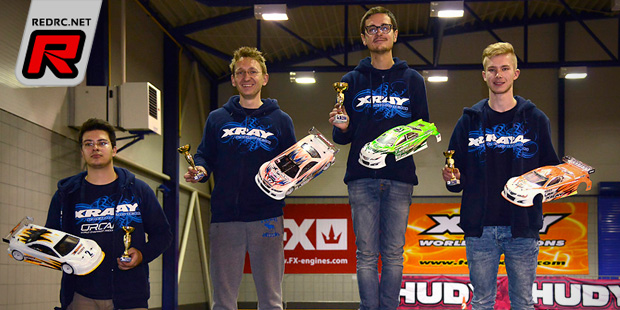 The third round of the Slovakia Cup was held at the Hudy Racing Arena in Trencin, Slovakia this past weekend. With the opening round of the 2015/16 ETS taking place at the iconic venue in only one week time, both national and international drivers used the event to get some last minute practice, making for a total of 97 entries for the weekend. In the Touring Modified class Xray's Alexander Hagberg would dominate the proceedings by taking the TQ and the win from Martin Hudy (Xray) with Germany's Dionys Stadler (Xray) rounding out the top 3 result.
Touring Modified results:
1. Alexander Hagberg – Xray
2. Martin Hudy – Xray
3. Dionys Stadler – Xray
4. Bruno Coelho – Xray
5. Mike Gosvig – Xray
6. Kunak Zdenko – Capricorn
7. Kuba Simurda – Xray
8. Mateusz Ogonowski – Yokomo
The Touring Stock class, run with 17.5T motors, had Danish star Mike Gosvig (Xray) taking the pole position for the triple A-mains but he was closely followed by Stock newcomer Tom Krägefiski (Xray) and American guest, Eric Anderson (Xray) and the latter would win the opening A-main after Mike got tangled up by some back markers. In A2, Mike stayed calm to take the win and in A3 it was again a close encounter, when Eric briefly managed to take the lead, only to hit a dot a few laps later. Tom managed to close the gap to Mike towards the end of the final, but he never was in the position to start an attack, meaning Mike would take the overall win from Eric with Tom rounding out the podium result.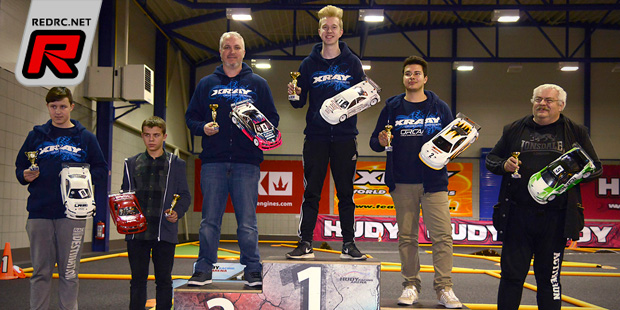 Touring Stock results:
1. Mike Gosvig – Xray
2. Eric Anderson – Xray
3. Tom Krägefski – Xray
4. Oliver Havranek – Xray
5. Tono Sloboda – Yokomo
6. Ladislav Toth – Yokomo
7. Mario Zila – Xray
8. Filip Obora – Xray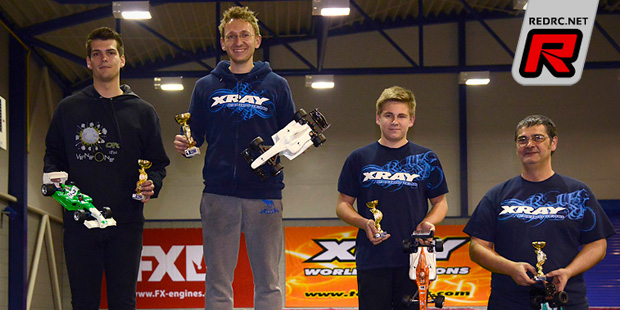 The Formula class had Martin Hudy (Xray) walking away with the day's win from Andrej Vnucko (Tamiya) and Lukas Hoch (Xray). Pavel Cervenka (Xray) and Martin Havlicek (Xray) completed the top 5 result.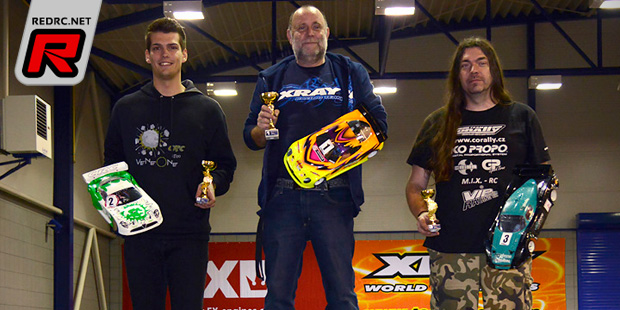 In the World GT pan car class it was Igor Liptak (Xray) who came out fastest in the finals from Andrej Vnucko (CRC) and Roman Krejci (Corally). Pavol Chovan (Xray) and Rudo Kadlecik (Xray) came in fourth and fifth respectively.
The 2WD Buggy category had Juraj Hudy (Xray) taking the day's win from Adam Janovic (Xray) and Igor Liptak (Xray). Roman Pudich (PR Racing) and Roman Pavlus (Xray) would round out the top 5 result and finally in the 4WD class it was again Juraj Hudy who ended the day on the highest step of the podium, leaving fellow Xray drivers Adam Janovic, Denis Kubik, Tomas Liptak and Ondrej Kulhanek behind.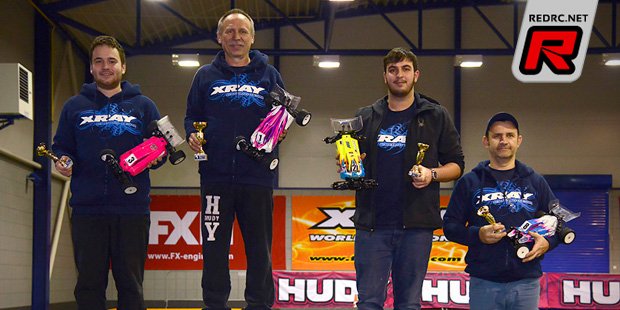 Source: Xray [teamxray.com]
---