December 9, 2015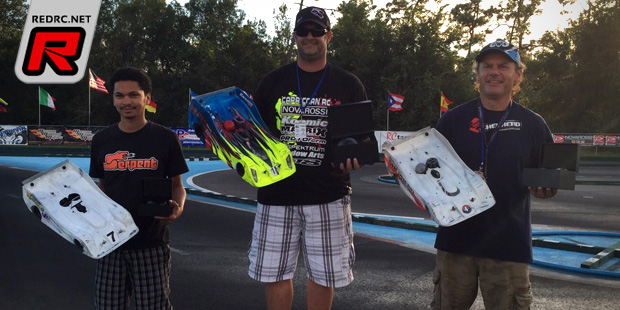 The annual US Nitro World Cup was held in Kissimmee, Florida with some of the nation's fastest racers as well as guests from abroad in attendance. In the premier 1/8th on-road class DJ Apolaro and Italy's Daniele Ielasi battled for the TQ with the better end for DJ who would grab the overall TQ by 3 seconds. In the 1/10th Sedan class the race for the TQ would be between Thilo Toedtmann, Scotty Gray and DJ Apolaro and ultimately it would be Thilo who would grab the overall TQ.

The finals were set up in a different format with three 20 minute mains and a points system like in electric. This made for fun times for the drivers, pitmen and spectators. In the 1/8th class DJ Apolaro (Capricorn) started with a pretty easy win thanks to quick pitstops but leg 2 was a lot closer. DJ was into the lead by about 7 seconds but he took thinks too relaxed and he lost a couple of seconds but swift pitstops of his pitman saved him about 2 seconds with the last two stops and this allowed DJ to keep the rest of the race error free and take the second win in the finals and the overall victory from Marco Vanni (Shepherd) and Vincent Jackson (Serpent).
1/8th scale results:
1. DJ Apolaro
2. Marco Vanni
3. Vincent Jackson
4. Chris Tosolini
5. Daniele Ielasi
6. Lazaro Alonzo
7. Raphael Angulo
8. Paolo Morganti
9. Mike McDaniels
10.Ted Hammer
In the 1/10th 200mm Sedan class Thilo Toedtmann (Capricorn) was able to defend the top spot despite a win of DJ Apolaro (Capricorn) in the opening A-main. A 3rd and a 4th place in A2 and A3 meant the runner-up spot for DJ while Chris Tosolini (Capricorn) rounded out the top 3 result.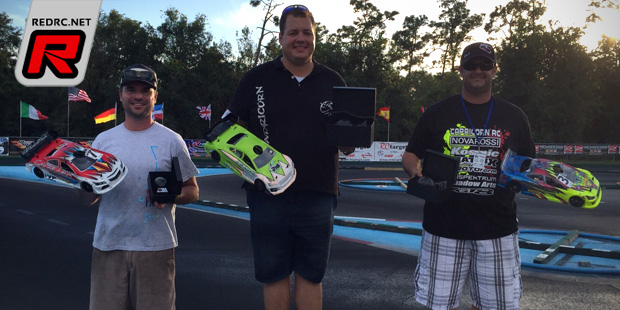 1/10th Sedan results:
1. Thilo Toedtmann
2. DJ Apolaro
3. Chris Tosolini
4. Scotty Gray
5. Uriah Murnan
6. Lon Burling
7. Diatta Collymore
8. Chay Blount
9. Steve McNichols
10.Eduardo Cabal
11.Steve Rossi
12.Loran Whiting
Source: Capricorn [capricornrc.com]
---