December 1, 2015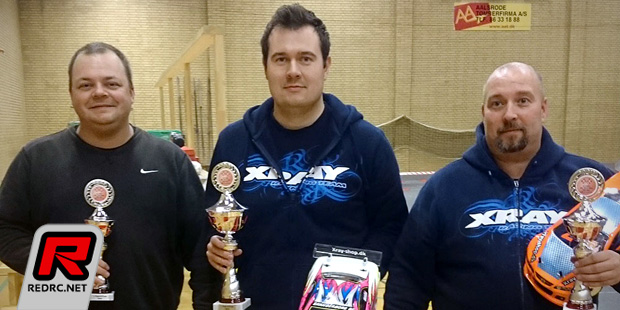 The fourth round of the Danish DRCMU series was hosted by the Djurs RC Racing Club on a fast and flowing track with decent grip. In the 17.5T Blinky Touring class Chris Nielsen was able to TQ all three qualifiers after pulling some fast laps during practice and going into the qualifiers from the top spot.
17.5T qualifying results:
1. Chris Nielsen
2. Bjarke Nyskov
3. Emil Tranberg
4. Mads Koue
5. Niels Ole Klinge
6. Palle Ostenfeldt
7. Rasmus Skjoldborg Jakobsen
8. Per Dissing
In the opening A-main Chris was able comfortably lead the proceedings until a marshal accidentally placed a car in front of him which caused Chris to crash. Although still in the lead, his rhythm was gone, something Bjarke did profit from. Later Chris hit a curb, flipping the car and promoting him into the lead. Chris and Bjarke would swap the lead a couple of times and at the end Bjarke would take the win in A1. The second leg then saw Chris pushing hard right from the start and he soon opened a gap on the field, allowing him to stay away from any trouble. At the end Chris took the win with a seven seconds margin on Bjarke and with a time five seconds faster than his A1 result. In the third and decisive main Chris again had a good start and he would take a pretty easy win from tone to tone to bring home the overall victory from Bjarke Nyskov and Palle Ostenfeldt, making it an all-Xray podium.
17.5T final results
1. Chris Nielsen
2. Bjarke Nyskov
3. Palle Ostenfeldt
4. Emil Tranberg
5. Niels Ole Klinge
6. Rasmus Skjoldborg Jakobsen
7. Mads Koue
8. Per Dissing
Source: Xray [teamxray.com]
---