December 21, 2015
The third round of the 2015/16 Essex Winter Series had the honour of being the last major event of 2015. The capacity entry again featured stars from all parts of the UK and even further afield, including no less than three A-Finalists form last weekend's ETS event. The Modified class saw EWS round 1 winner Olly Jefferies set the early pace with his Xray, narrowly pipping HB's Andy Moore and EWS round 2 winner Elliott Harper's Schumacher in the opening qualifier. Andy proved that his below-expectation result at the ETS was a one-off, topping the times in the second qualifying round, in front of the Xray duo of Olly and Alexander Hagberg. The third round saw Alexander setting the fastest time ahead of Kyle Branson, Olly and Elliott.  That left pole position, along with the entire A-Final grid to be set in the final round. After five intense minutes, Olly secured pole position by setting the quickest time in front of Kyle and Andy. Once the rest of the points were added up, Andy would line up second on the grid in front of Alexander, Kyle and Elliott. A special mention has to go to Harley Eldridge who secured a pair of sixth places to line her Yokomo up seventh on the grid, just behind multi-time BRCA champion Chris Grainger.

Olly Jefferies led the A-final off and opened a slight gap on the field in the early laps. The battle was made of a high-speed freight train of Andy, Alexander, Kyle and Elliott. Alexander nipped past Andy as the race approached the half way point, with Kyle also trying to take advantage.  The battle between Andy, Kyle and Elliott ended with a small mistake from the former IFMAR World Champ, promoting Kyle and Elliott up into third and fourth. As the race moved into the final minute, Olly made a small mistake, allowing his team-mate to close right in. But it wasn't quite enough to allow the EFRA champion to properly challenge for the lead, allowing Olly to run off the final few laps and take home the win.
Modified A-final result:
1. Olly Jefferies – Xray/LRP – 21L 301.77
2. Alexander Hagberg – Xray/Orca – 21L 302.42
3. Kyle Branson – -/LRP – 21L 302.71
4. Elliott Harper – Schumacher/Gforce – 21L 304.15
5. Alan Bickerstaff – Associated/Reedy – 21L 311.50
6. Harley Eldridge – Yokomo/LRP – 21L 312.04
7. Andy Moore – HB/Hobbywing – 21L 313.00
8. Phil Chambers – Capricorn/LRP – 20L 303.62
9. Chris Grainger – Associated/Reedy – 20L 304.79
10.Stefan Chodzynski – Capricorn/Gforce – 20L 308.52
In the Super Stock Class, Jimmy Maddison had the opportunity to wrap up the title, but would need a perfect score to do so. He set about it the right way, setting the pace in the first round, with EWS-returnee James Hart immediately on pace in second and former EWS Junior Champ Will Vertigan third. Jimmy was again fastest in round 2, with James again taking second and defending EWS Champion Tony Broad in third. Jimmy placed one hand on the title after taking the penultimate qualifying round and thus securing pole position. James continued his run of second places, with Will again third. Jimmy completed the clean sweep, topping round 4, with Jamie Hickin in second and James third.
As the A-final began, Jimmy continued his form from qualifying, opening a decent gap in the early laps. Some melee on lap three shuffled the pack, with James, Jamie and Will unfortunately dropping down the field, and Tony and Mason moving up to second and third respectively. This all played into Jimmy's hand as he opened a six-second lead. Tony and Mason battled for second place for the remainder of the final, with Mason eventually finding a way past the out-going champ a few laps from the end. None of this troubled Jimmy at all, as he cruised home to the A Final win, securing one of the most competitive titles in UK racing with a perfect score from the opening three events.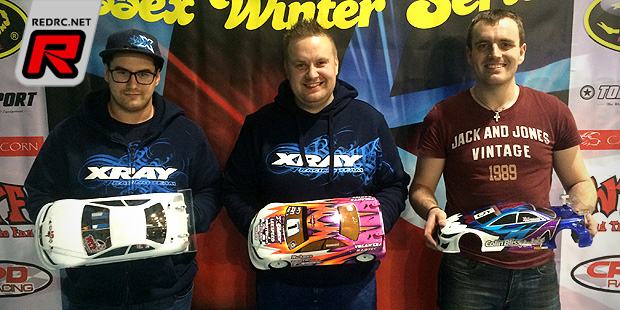 Super Stock A-final result:
1. Jimmy Maddison – Xray – 21L 313.83
2. Mason Weston – Xray – 20L 308.43
3. Tony Broad – Xray – 20L 309.86
4. Rich White – Xray – 20L 310.28
5. James Hart – Schumacher – 20L 310.96
6. Matthew Worton – ARC – 19L 300.35
7. Graham Kenny – Xray – 19L 300.56
8. Michael Ball – Yokomo – 19L 306.11
9. Will Vertigan – ARC – 18L 303.53
10.Jamie Hickin – Xray – DNF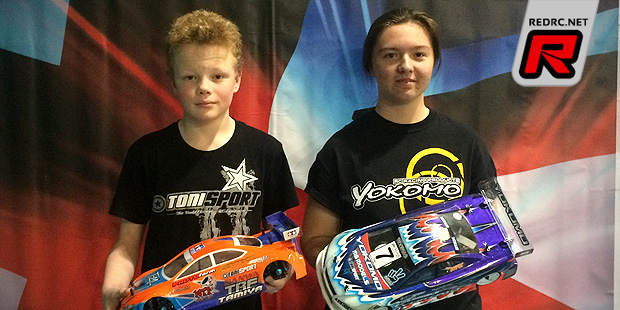 With Harley Eldridge securing the top junior slot in the Modified Class, it was Florian Joos, who had made the journey from Belgium to compete in this EWS event, making his trip worthwhile to be crowned best junior in the Super Stock class. The series continues with round 4 in January, again set to feature a star international field, ahead of the International Carpet Challenge in February.
Thanks to Oli Meggitt for the report.
---