December 21, 2015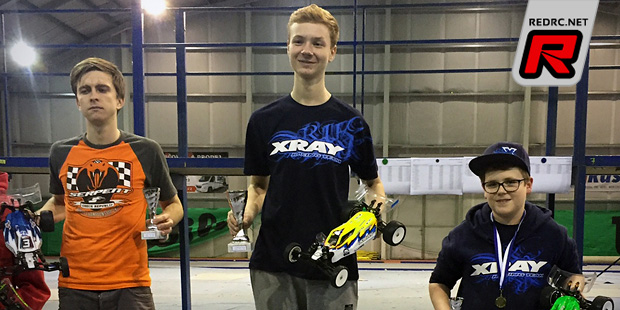 The third round of the Lestr Cup was held in Dubec over the weekend. Right from the start everyone was struggling with the low-grip carpet and in the 2WD class Kaja Novotny (Xray) made the best out of the conditions, taking the TQ for the triple A-mains. In the 4WD Buggy class it was again Kaja who came out fastest after TQing all three qualifying rounds. In the 2WD finals Kaja then made a clean sweep, taking the overall win from runner-up Jiri Mara (Serpent) and Xray teammate Max Götzl.
2WD Buggy A-main result:
1. Kaja Novotny – Xray
2. Jiri Mara – Serpent
3. Max Götzl – Xray
4. Honza Kapicka – Kyosho
5. Arnold Lorenz – Team Durango
6. Vaclav Broz – Serpent
7. Jiri Benes – Xray
8. Marek Ornst – Team Durango
9. Thomas Mager – Team C
10.Jaroslav Ruzicka – Team Durango
In the 4WD A-mains Kaja continued to dominate, again bringing home wins in all three finals to score his second win of the day, this time in front of Max Götzl (Xray) with Jiri Mara (Serpent) rounding out the top 3 result.

4WD Buggy A-main result:
1. Kaja Novotny – Xray
2. Max Götzl – Xray
3. Jiri Mara – Serpent
4. Lukas Zeman – Xray
5. Jiri Benes – Xray
6. Honza Kapicka – Kyosho
7. Jiri Dvorak – Xray
8. Marek Ornst – Team Durango
9. Frantisek Kalenda – Xray
10.Jirka Zmijak – Team Associated
Source: Xray [teamxray.com]
---