December 9, 2015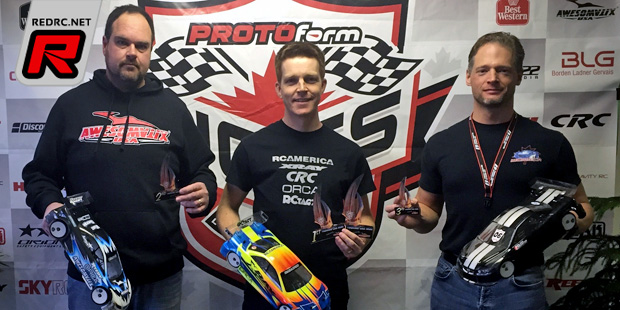 The Protoform Western Canadian Indoor Championship Series was held for the first time ever in the beautiful mountainside wine country of Kelowna, British Columbia. Round 4 was hosted by the KRC Club, with great teamwork and support from all the B.C. clubs for their premier WCICS event. Great weather helped racers from all around Western Canada make the drive, and in their first event ever they had the second highest registrations of any race so far in WCICS 25th season. In the Touring Modified class Xray driver Blake Bell drove his T4 from pole to checkered without looking back-for almost the 9th time in a row, three full events. Awesomatix' Korgae Scales, driving the new A800 belt car, was in his draft the entire race, just 1 second behind at the line. WCICS President, top privateer Josh Carter, drove his Xray T3 to a solid 3rd.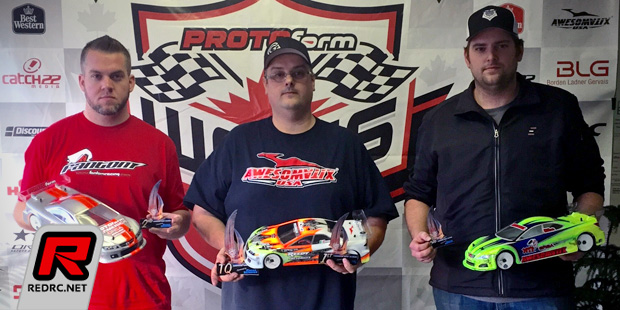 In the Touring Stock class TQ holder and Awesomatix driver Frank Bortolazzo drove from pole to pole without mistake, posting a fast lap to top 15 consistency of just 0.1 seconds. But it wasn't easy, he was being chased down by Xray's Luke Pittman, who posted the fastest lap of the race tracking him down. Doug Smith had the climb of the day, moving from 7th to 3rd.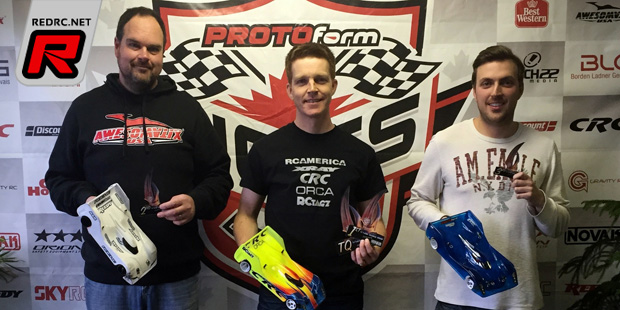 In the 1/12th Modified category CRC's National Champion Blake Bell would again take TQ, fastest lap, and the win. In his first 1/12th Mod race in years, Korgae Scales was fast, and put in a solid 2nd place. Kamloop's Jason Melynk, driving great this year, had a smooth race to finish in 3rd.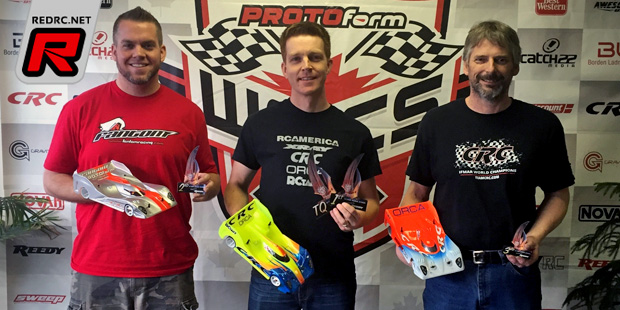 Reigning Canadian National Champion Blake Bell again put his CRC firmly in TQ in the 1/12th Stock class and lead right to the checkered. Xray's Luke Pittman drove his X12'16 to second, posting the fastest lap of the main as he chased Blake, putting constant pressure on "The Champ" for the full 8 minutes, finishing just 2.9 seconds behind after 8 minutes. Team CRC's Craig Roberts would take the last step on the podium by just 0.5 seconds over KRC President Earl Towson.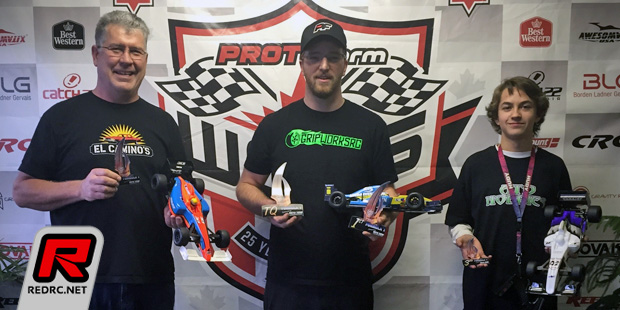 In the Formula class Alex Pate posted the fastest lap by almost half a second, and went from TQ to win in 5 minutes flat. The close battle was for second between Gert Swart and Brandon Rogers. Trading back and forth several times, Gert would cross the line just 0.7 seconds ahead of Brandon.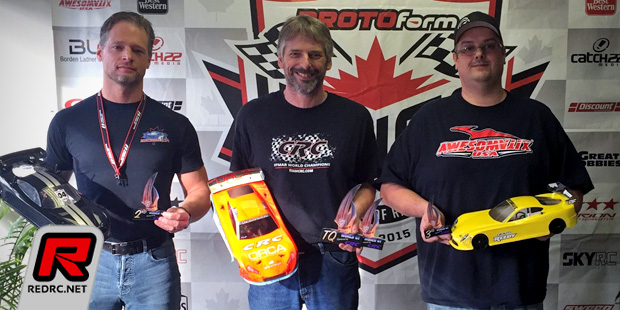 In WGT top privateer Josh Carter had TQ at the end of day 2, but Craig Roberts just put his CRC on pole in the last round. The race didn't disappoint, barely a second separating the two for the entire 5 minutes. It ended just as it started, Craig taking the win, Josh just behind, and 3rd place qualifier Frank Bortolazzo finishing off the podium with his new Roche WGT.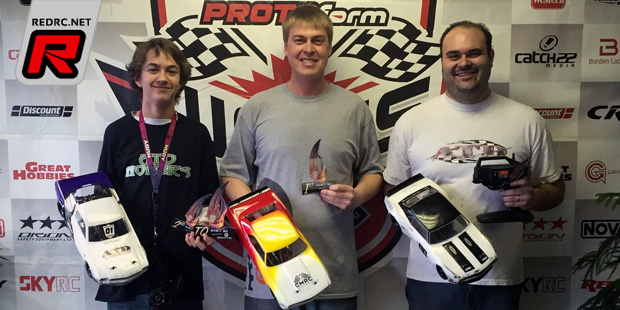 In the CTA category there was such a thing as RC karma. At the end of day 2 Kevin Soukoroff held TQ. He then stayed late helping Brandon Rogers and his father Jim with their car setup, only to have Brandon take TQ in the final qualifier. But good deeds come around, and in the main, Kevin had great speed and put a clean pass on Brandon to take the win. Brandon took second, and Justin Miranda third while Father Jim finished a nice 5th.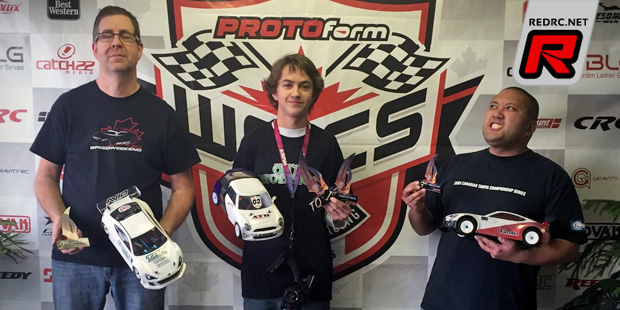 In Tamiya Mini and at the request of TQ holder Brandon Rogers, a special "good luck charm" announcer was called in just for this main. It worked, as rising young star Brandon drove a great race from start to finish, taking the checkered just a few steps ahead of Brent Wende. Vancouver's Chuck Debelen had a blast following the two all race long and finished off the podium in 3rd, letting out his most primal mini roar.
Source: WCICS [wcics.ca]
---