December 8, 2015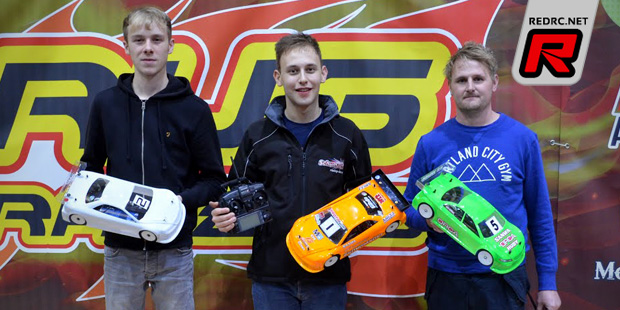 Round two of the Rug Racers series welcomed all drivers with a familiar track and somewhat unfamiliar sound, between the last round the organisers had listened to driver feedback and based on this feedback re-invested the money straight back into a new sound system amongst other more subtle changes including allocated pitting being trialled and a larger rostrum. Controlled practice got underway just after 8 for 11 heats of 4 classes. After a re-sort for those that didn't show this was reduced to 10 heats. In Open Modified Elliott Harper was clearly then man to beat taking 3 of 4 rounds but with Kyle Branson close behind and Elliot unable to finish round 4 Kyle would take pole position.

In Open Modified leg 1 Elliott Harper blasted into 29 laps with Kyle a distant 2nd with 27 ahead of Ashley Wiffen. Leg 2 was also taken by Elliott who had to battle with Kyle for the win. Ashley was again 3rd and this gave the overall top 3 of Elliott Harper, Kyle Branson and Ashley Wiffen.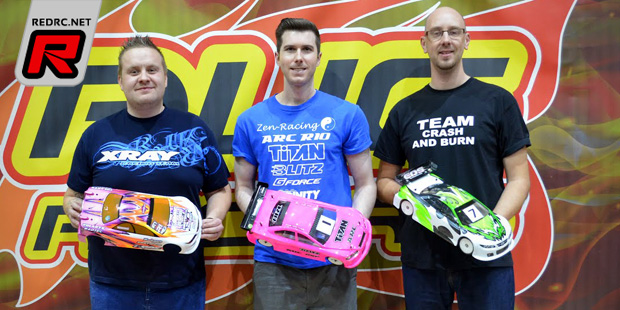 The opening 17.5 A-final had Jimmy Maddison taking the win from 3rd on the grid ahead of Matt Worton. Leg 2 and Matt lead from start to finish with the very close attention of Jimmy, while Matt drove a superb race to fend him off with the top 5 of Matt, Jimmy, Malc Hall, Michael Redshaw and  Chris Page all within 5 seconds of the leading pair. Overall Matt Worton took the win from Jimmy Maddison on the runner-up spot and Michael Redshaw in 3rd.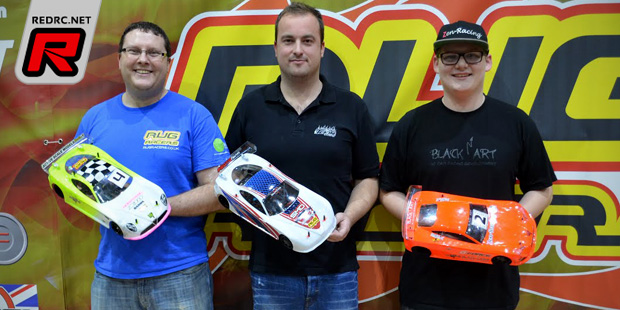 In the WGT A-final leg 1 Tom Hampson didn't fancy hanging about and after a clean start and multiple pileups he opened up a lead that would never be caught. Chris "Mr Mardave" came home 2nd ahead of Ollie Payne. In leg 2 Tom again got a clean getaway and left the scrapping behind him, Martin Southall was holding Ollie Payne at bay for a while before running out wide to end up 3rd behind Ollie. Overall Tom Hampson brought home the victory from Ollie Payne and Martin Southall.
With Ben Vincent poised to lead the GT12 A-final field away a rare mistake on lap 1 demoted him to last place and a solid fightback was on, but it wasn't enough though with Niall Cochran leading home Tim Hancock and Chris "Mr Mardave" Wilkinson. In leg 2 Ben lead lights to flag with Niall 2nd and Scott Morton in 3rd giving the overall to Niall, from Ben and Tim.
Source: The RC Racer [thercracer.com]
---